**** Highly Recommended **** Aliens have invaded!  Or have they?  Some people say yes, others say no way!  Guess what?  I say yes, aliens have landed!  In fact, I'd go so far as to say that something strange has taken over the theater Upstairs at Chicago Shakespeare, something eerie – doo, doo, de doo (cue the Twilight Zone music!).  Whatever it is, It Came From Outer Space! 
You can relax, It Came From Outer Space is a new musical by Joe Kinosian and Kellen Blair (the people who wrote Murder for Two).  It's a takeoff on Universal's 1953 3-D movie starring Richard Carlson and Barbara Rush.  Now considered a classic of science fiction cinema, It Came From Outer Space is based on a Ray Bradbury film treatment called The Meteor.  It Came From Outer Space is a clever comedy, with lots of campy melodrama, tongue-in-cheek dialog, physical humor, slapstick and puns that will make you groan.  I loved it!  4 BIG Spotlights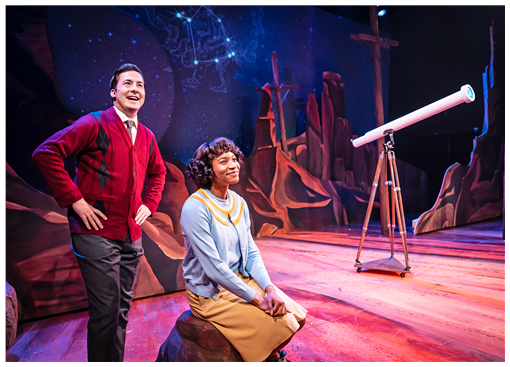 Astronomer/scientist John Putnam (Christopher Kale Jones) has lost several jobs and the respect of his fellow scientists due to his obsession with aliens.  He's finally found another job in a tiny New Mexico town where he's met Ellen Fields (Jaye Ladymore), who might be the love of his life.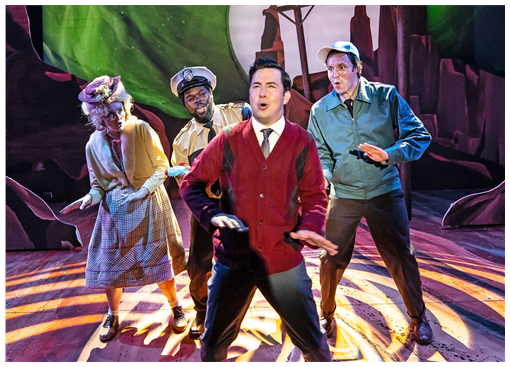 When John sees a meteorite crash in the desert, he rushes to the crater where he sees an alien spaceship.  When he tries to warn Sheriff Matt Warren (Alex Goodrich) and the local media, they just laugh at him.  Even Ellen isn't sure what to believe.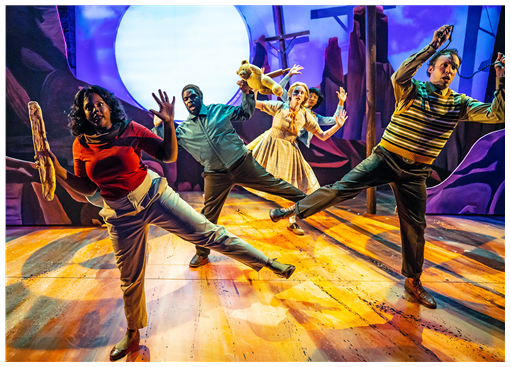 Meanwhile, the aliens need parts to fix their spaceship, so they morph into the shape of earthlings.  Unfortunately, they're largish jellyfish-like creatures with a single eye, so they can't quite duplicate the way earthlings walk and talk.  When John finally figures out how to communicate with the aliens he learns they just want to get their ship fixed, he convinces the townspeople to put down their weapons.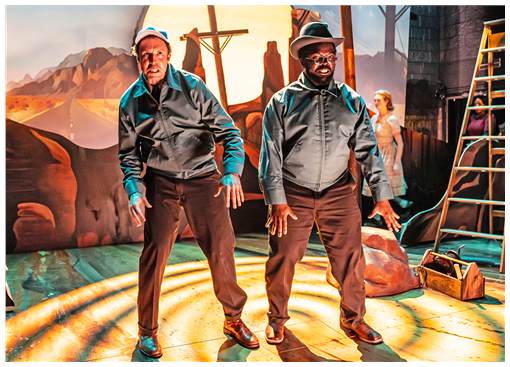 Four actors play all of the other characters; Alex Goodrich (Sheriff Matt Warren/George/ Prakaxias), Jonathan Butler-Duplessis (Borney/Frank/Coral), Ann Delaney (Maizie/Thalgorian-X) and Sharriese Y. Hamilton (Heckie/Grommulex).  Sometimes they change costumes, sometimes they just changed hats but whatever they did, they were just hilarious.  Watching Johathan Butler-Duplessis morph from a human into an alien – and back again – was one of the funniest bits of physical comedy I've seen in a long time!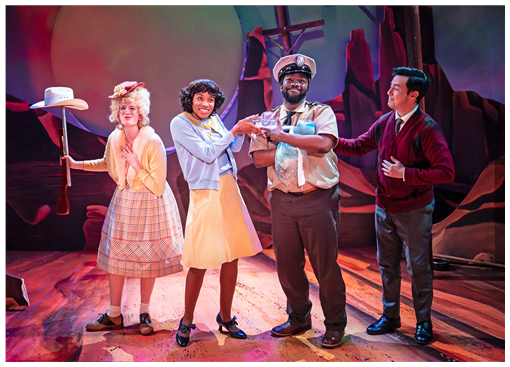 Every once in a while – usually when the action got frantic – someone would warn the audience to 'put on their 3-D glasses' and the action would almost freeze-frame.  Peace and friendship was established with peanut brittle.  By the way, my friends Richard and Phyllis Loslo, who are experts on classic movies informed me there was no peanut brittle in the movie!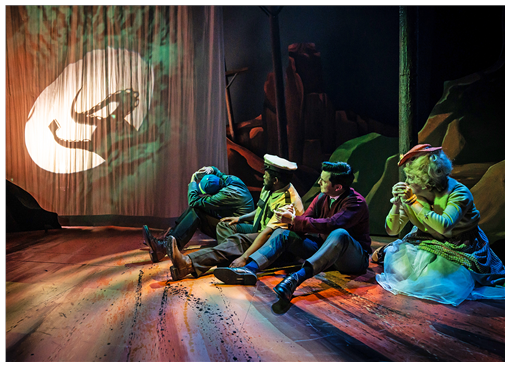 Kudos to Mieka Van Der Ploeg for the brilliant costumes, especially the jellyfish-like alien bodies; and to Scott Davis, whose set could have come straight from a 50s 3-D movie set.    
NOTE: Audience members must wear a mask at all times during their visit. 
It Came from Outer Space runs through July 31st in the theater Upstairs at Chicago Shakespeare Theatre on Navy Pier, Chicago.  Parking in CST's designated area in the Navy Pier Garage is available at a 40% discount with validation from CST.  Running time is 90 minutes, no intermission. 
Performances are Wednesday through Friday at 7:30 pm; Saturdays at 2:00 & 7:30 pm; Sundays at 3:00 pm with an additional performance on Tuesday, July 26th at 7:30 pm. 
Accessible performances: Open-captioned, Wednesday, July 29th at & 7:30 pm; ASL Duo-interpreted, Friday, July 22nd at 7:30 pm; Audio-described, Sunday, July 24th at 3:00 pm. 
Tickets range from $50-$60.  FYI (312) 595-5600 or www.chicagoshakes.com/qchristmas.