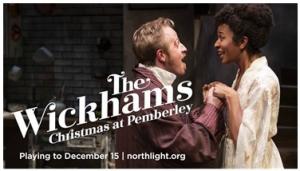 In "Miss Bennett: Christmas at Pemberley", the story was set in the Darcy drawing room, with the Darcy servants quietly doing their jobs.  While the family celebrates the holidays upstairs, "The Wickhams: Christmas at Pemberley" takes us downstairs to the servants' hall.  This play imagines the hustle and bustle the lives of the Darcy servants, although the family does pop downstairs more than one would expect. 
After marrying her dear Mr. Fitzwilliam Darcy (Luigi Sottile), Elizabeth (Netta Walker), whom everyone calls Lizzie, has settled into her role as chatelaine of a great house.  It's become a Christmas tradition to invite their extended family - including her sisters (married and unmarried) and their spouses as well as Darcy's cousins, Arthur and Anne de Bourgh – to spend the holidays.  Unfortunately, that means her sister Lydia Wickham (Jennifer Latimore) will be coming.  Although Lizzie is dreading her visit, at least Lydia will not be bringing her unfortunate husband who is not welcome in Darcy's house. 
Mrs. Reynolds (Penny Slusher), the housekeeper, is in charge of everyone/everything downstairs.  She's not too busy with the holiday bustle to keep an eye on the maids.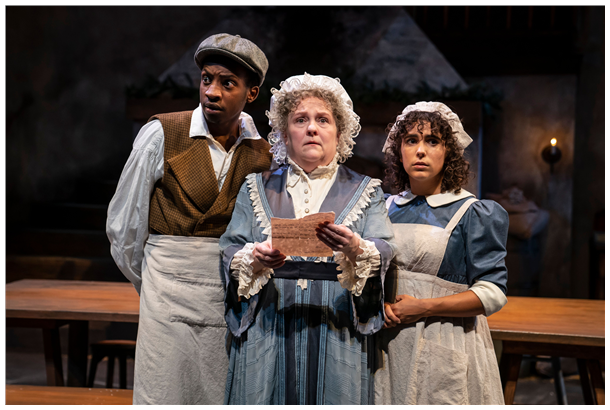 Whenever someone was about to do something she wouldn't approve, she'd stop them in their tracks by saying "I can hear you thinking". 
Brian (Jayson Lee) is a footman, although he has dreams of going to London.  When    Cassie (Aurora Real De Asua) applies for a position as maid, he's happy to give her a reference.  After Mrs. Reynolds agrees to give her for trial, Cassie works hard. 
Lizzie is forever popping downstairs for a word with Mrs. Reynolds.  As they huddle to discuss the plans, she shares her apprehension about Lydia's visit – and whenever she's downstairs, Darcy is sure to follow.  Each and every time they come down, the staff must stop what they're doing and curtsey/bow.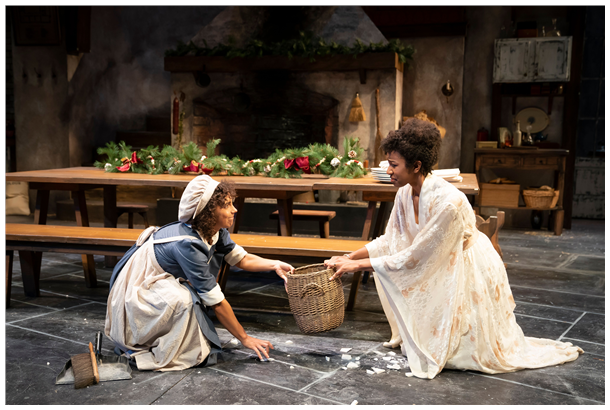 When Lydia arrives, she's like a cyclone, whirling through the house, exhausting everyone around her.  Lydia is unhappy in her marriage, although she would never admit that to Lizzie.  She has no friends or social life because Wickham leaves her alone for long periods of time without any money.  She still thinks he loves her as much as she loves him.
By the way, when Lydia ran away with Wickham, Darcy pursued them.  When he caught up with them, he forced Darcy to marry Lydia – to save her reputation – in exchange for having his debts paid off and a commission purchased for him. 
That night, in spite of Brian's efforts to block the door, George Wickham (Will Mobley) barreled his way into the kitchen, drunk as he can be.  Mrs. Reynolds scolded him but gave him a cup of tea.  She has a soft spot for him since she remembers him as a child in the house.  Wickham says he's there to see his wife, but he stays downstairs drinking.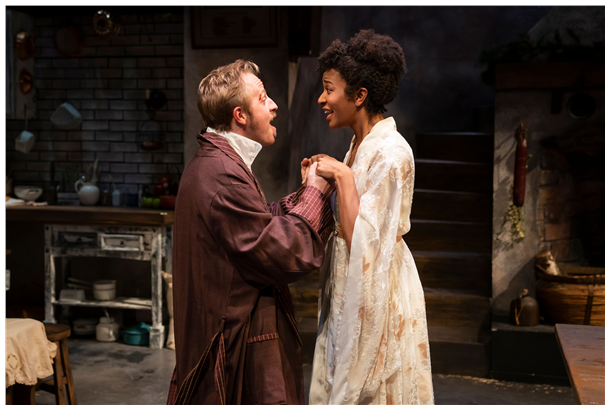 When Lizzie discovers he's there, she tries to get him to leave but when he refuses, she warns the staff to keep him away from Lydia.  Darcy has a fit when he finds Wickham in his house, but allows him to stay the night.  Wickham is a reprehensible character who plans to rob Darcy.  While he's waiting, he thinks it would be a good idea to grab Cassie for a quickie.  She fights back, Brian defends her. 
Please note, this is the world premiere of "The Wickhams: Christmas at Pemberley".  Although it's a 'manners' play, it's anything but stilted.  It takes the upstairs/downstairs theme in a new direction.  I think the cast must enjoy playing these fully fleshed out characters.  By the way, kudos to Will Mobley for his drunken ranting.  He made Wickham's drunken binge very real. 
Kudos to Director Jessica Thebus and the brilliant cast for bringing all the peccadillos of the English gentry to life.  Scenic Designers Richard and Jacqueline Penrod have created a gorgeous country manor.  Melissa Torchia's costumes are to die for!   Hurry and get your tickets, many performances are sold out!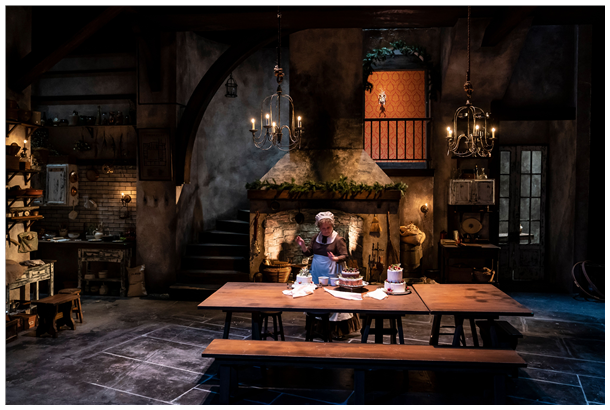 By the way, if you're interested in learning more about this family, several authors have written sequels.  I recommend "Death Comes to Pemberley", a mystery masterpiece by one of the best mystery writers ever, P.D. James, which takes place six years after the Darcy wedding. 
"Miss Bennett: Christmas at Pemberley" runs through December 22nd at Northlight Theatre, North Shore Center for the Performing Arts, 9501 Skokie Blvd, Skokie.  Parking is free.  Running time is 2 hours, 10 minutes, with an intermission.  Performances are Wednesdays at 1:00 at 7:30 pm; Thursdays at 7:30 pm; Fridays at 8:00 pm; Saturdays at 2:30 and 8:00 pm; and Sundays at 2:30 pm.  There will be an Open Captioning performance on Saturday, December 7th at 2:30 pm.  Tickets range from $30-$89.   FYI (847) 673-6300 or www.northlight.org.