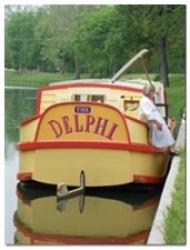 As matron of the Fouts Cabin, Becky Crabb told of life in the 1850s.  She came from Lake County in northern Indiana as a volunteer to help us with Christmas at Canal Park.  Becky is a leading organizer and past President of Midwest Outdoor Museums Coordinating Council (MOMCC).  She entertained many of our visitors.
The Fouts House features early settlers' finer things like dinnerware and basic cooking ware used on the fireplace.
A helper puts another log in the fireplace.  The pioneer Fouts family would use this space for cooking and as a source of heat for their two story house.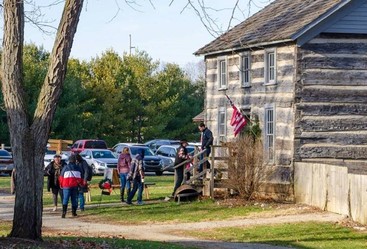 This year's Christmas Festival day was sunny but COLD.  Here at the Fouts Log Cabin the spirit was congenial as people walked to and from other buildings in Pioneer Village.
Inside the many cabins and craft shops of Pioneer Village there are craft items and tasty goods to be purchased-a treat to those who braved the cool outdoor weather.
An early form of a "variety store" or General Store was opened for the first time in this space along the Towpath.  Shopkeeper Beverly Seese (center) greeted the visitors.

Indoors in the Canal Center's Conference Room were twenty-two craft booths selling many special products from local vendors.  Christmas present purchases were being offered to nearly a thousand visitors that came for the festival.

Canal docents entertain the youth with "old fashioned" games and the making of ornaments in the Kuns Cabin.  this log structure was the first building moved to Canal Park in the early 1980s.  The log wall nearest the potbelly stove suffered fire damage at the previous Christmas event and has successfully been repaired by the Monday-Wednesday-Friday volunteer crew.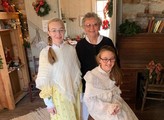 In the Bowen Cabin with hostess Karen Bradshaw are her two Great Grandchildren dressed for the canal era 1850s event.
In the Cooper Shop one can observe all the special tools and expert talent to make buckets, butter churns and barrels.  Peter Cooper is the Village Cooper.  Here he is splitting cedar to make more water bucket staves.
In this volunteer constructed "post and beam" Cooper Shop building people can view the craftsman's work and even purchase items.

In the Village Loom Shop are several big and small old looms operated by craftsmen who are ready to show visitors their products.  This shop is open at festivals and by appointment.
The Monday-Wednesday-Friday construction crew is nearing completion of the third cabin to be finished in the last 15 months.  It will serve as an overnight or weekend rental space for visitors wanting to experience living in a rustic cabin.
Mac and Chase work on filling in the gable ends of the loft.  These round logs differ from most of other cabins in our Park.  They came from Pittsburg across the Wabash River originally as part of the Monon Railroad crossing.  These logs were salvaged the first time before WWII.  The second time the logs were used they were to frame a house built near Oakdale Dam on Lake Freeman.  Third time is a charm as they now become a cabin in Canal Park.
Some pretty fancy wedding receptions happen in the Canal Center.  If you are looking for quality space for a wide variety of uses, book it with Jeanine Scowden Rservations Coordinator at 765-564-2870.
Handmade frozen Apple Dumplings in individual cups are still available at the Center.  The Canal Center is open every day from 1-4 pm.  Trails and the Canal Park are open daylight to dusk year around.  Museum access will be closed in January and February.