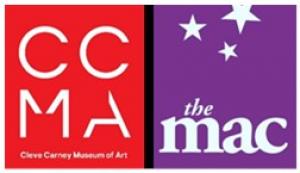 The Cleve Carney Museum of Art (CCMA) and McAninch Arts Center (MAC), located at 425 Fawell Blvd. on the College of DuPage campus, today announced they will celebrate the 113th birthday of the iconic Mexican artist Frida Kahlo with a drive-by birthday party from 9:30 – 10:30 a.m., Monday, July 6. In honor of Kahlo, CCMA will offer patrons a one-day $6 discount to kick off the on-sale of tickets to the upcoming landmark exhibition Frida Kahlo: Timeless, running June 5 – Sept. 6, 2021. Discount will be available online only at www.Frida2021.org with code FRIDA6.
The first 50 people to drive by will receive a bundtlet from Nothing Bundt Cake individually wrapped with a quote by Frida Kahlo, known for her profound and sometimes humorous commentary on life. Participants are encouraged to dress up in Frida-inspired clothing, flower crowns and accessories, with the best costume winning a $25 gift certificate to a local restaurant. The acclaimed Mariachi Monumental De México who wowed the crowd at the MAC's "Frida Fest" celebration this past September, will provide musical entertainment with a joyful rendition of Las Mañanitas, the traditional song Mexicans sing to honor one on their birthday and more, and the event will feature a balloon arch as well as a special larger than life Frida Kahlo surprise that needs to be seen to be believed.
"We don't typically discount our tickets, but Frida's birthday is a special opportunity for a celebration," said McAninch Arts Center Director and Frida Kahlo: Timeless Executive Director Diana Martinez. "We hope the community and Frida fans will be able to join us for this fun, socially distanced drive-by birthday party to both commemorate Frida and get excited about the exhibition coming next year."
The highly anticipated upcoming exhibition, Frida Kahlo: Timeless, will run June 5 – Sept. 6, 2021. A comprehensive presentation of Kahlo's life and works, it will feature 26 original pieces as well as an immersive historical exhibit that provides a framework of the life, circumstances and events that led to Kahlo becoming one of the most important painters of the 20th century and of our time.  
For more information about the Frida Kahlo birthday celebration or to buy tickets to the exhibition, visit www.Frida2021.org.
Note: Discount is available online only. The Box Office on campus will not be open. Offer is not retroactive, cannot be combined with other offers and does not apply to gift cards. Based on availability. Offer expires on July 6 at 11:59 p.m. CST.
About the Cleve Carney Museum of Art
The late Cleve Carney provided a significant legacy gift to establish the Cleve Carney Art Gallery at College of DuPage. The gallery opened in February 2014 with its inaugural exhibition Selections from Cleve Carney's Art Collection. The gallery has expanded 2,500 square-foot museum, is now the Cleve Carney Museum of Art, and will open this fall with a solo exhibition by Tony Fitzpatrick, Jesus of Western Avenue. The museum will maintain the standards set by the American Alliance of Museums. More information can be found at www.TheCCMA.org or by calling 630.942.3206.
About the MAC
The McAninch Arts Center at College of DuPage is located 25 miles west of Chicago near I-88 and I-355. It houses three indoor performance spaces (the 780-seat proscenium Belushi Performance Hall; the 236-seat soft-thrust Playhouse Theatre; and the versatile black box Studio Theatre), the outdoor Lakeside Pavilion, plus the Cleve Carney Museum of Art and classrooms for the college's academic programming. The MAC has presented theater, music, dance and visual art to more than 1.5 million people since its opening in 1986 and typically welcomes more than 100,000 patrons from the greater Chicago area to more than 230 performances each season.
The mission of the MAC is to foster enlightened educational and performance opportunities, which encourage artistic expression, establish a lasting relationship between people and art, and enrich the cultural vitality of the community. Visit AtTheMAC.org or facebook.com/AtTheMAC for more information.