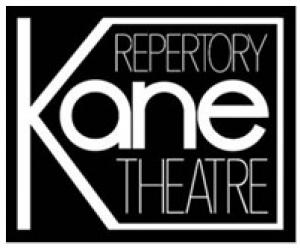 Kane Repertory Theatre Artistic Director Daniil Krimer and Managing Director Avery Bowne announce the selection of Hammaad Chaudry as the playwright for its new Multiplatform Commission. The yet to be titled commissioned play will be directed by Executive Producer Ansley Valentine and will premiere online March 29-April 11, 2021 with plans for an in-person production when it is safe to do so.
Tickets for the online production, $10 ($5 students), will be available at www.kanerepertorytheatre.com/box-office.
The Kane Repertory Theatre Multiplatform Commission was created to explore how virtual theatre can serve the transition of a brand-new play to the live stage. The Kane Repertory Theatre Multiplatform Commission selects one outstanding playwright to have a World Premiere of new play in two mediums—digitally this spring and, later, in-person when it is safe to do so. Hammaad Chaudry's play was selected to be developed over a months-long process, both in this digital moment is explored in its entirety, using that process to inform its premiere on the physical stage.
Artistic Director Daniil Krimer comments, "The Kane Repertory Theatre Multiplatform Commission is unique because it gives a playwright the chance to develop a play across mediums. In 2020 we have seen Shakespeare, Chekhov and Shaw transition from the stage to the screen, but we haven't yet seen any plays that premiered digitally, transition to the stage. In 2021 Hammaad will have his play produced virtually and have that inform how he wants the play to be staged in front of a live audience."
"In partnering with Hammaad Chaudry and Ansley Valentine on this ambitious project, we are fortunate to be working with artists of such unique talent. Hammaad's work has the great ability to unite people in their shared humanity. I cannot wait to see how his idea blossoms into a story," adds Managing Director Avery Browne. "When we started our work on the New Play Lab in March 2020, we reimagined how we could produce our work best, to be accessible to a wide audience and to be most productive to our artists while driving our mission to interrogate the American story. With that perspective, we devised 15 experiences with 14 playwrights from all over the country, each week enriching our community of artists and expanding our audience and their experience. Now, with the Multiplatform Commission, we are continuing our work with new plays and ensuring that the development process continues or an in-person experience."
The 2020 New Play Lab has featured actors and directors Mark Brokaw (Drama Desk Award, Obie Award and Lucille Lortel Award winner), Rondi Reed (Tony Award winner), Austin Pendleton (Tony nominee/Drama Desk recipient), James Vincent Meredith (Steppenwolf ensemble member), Francis Guinan (Steppenwolf ensemble member), BJ Jones (Artistic Director, Northlight Theatre), Eddie Torres (Co-founder Teatro Vista), Isabel Arraiza (Driven, Pearson), Karen Rodriguez (Steppenwolf ensemble member), Hallie Gordon (former Artistic Director, Steppenwolf for Young Adults), Kyle Beltran (The Cherry Orchard, In The Heights) Justin Lucero (Aristic Director, El Paso Opera), Jon Blake Hackler (Dallas Theatre Center ensemble member), Ken Barnett (Mozart in the Jungle, Too Much Sun) Anthony Irons (Lookingglass ensemble member), Kevin Asselin (Artistic Director, Montana Shakespeare), Michael Stebbins (Artistic Director, Door Shakespeare), Marcy Kearns (Associate Artistic Director, Chamber Theatre), Michael Patrick Thornton (Artistic Director, The Gift Theatre), and Barbara Zahora (Artistic Director, Oak Park Festival).
About Hammaad Chaudry
Hammaad Chaudry is a U.S. and U.K. based playwright. His plays include An Ordinary Muslim, which received its World Premiere at the New York Theatre Workshop where he was the Tow Foundation Playwright in Residence. The play was the recipient of The Edgerton Foundation New Play Award and The Laurens/Hatcher Theater Grant. Other plays include God Willing, Tokens, Kismat, Salaam Mr. Bush and Bobby and Rabia. His work has been staged/developed at The Public Theater, The Pershing Square Signature Center, The Flea Theatre, The Kiln Theatre, The Royal Court Theatre in London and The Royal Lyceum Theatre in Scotland.
He was a Van Lier Fellow at New Dramatists, is an alumni of The Public Theater's Emerging Writers Group and remains a Usual Suspect at the New York Theatre Workshop. He is also a graduate of The Royal Court Theatre's Young Writers Programme, where the theatre selected his work for the Young Writers Festival and Unheard Voices competition. He is a recipient of the New Playwrights Award from Playwrights' Studio Scotland. Residencies and workshops include: Cove Park Residency, Vineyard Arts Project Public Theater, Composer Librettist Studio (Nautilus Musical Theater). He holds an M.F.A. in Playwriting from Columbia University where he completed his studies on scholarship and a B.A. in International Politics and History from The University of Surrey in England.
About Ansley Valentine
Ansley Valentine (Director, Executive Producer) is a professional director and choreographer for the theatre and musical theatre and an educator with experience teaching professionally at the collegiate level and in both public and private performing arts high schools. Ansley holds an M.F.A. in Directing from Indiana University. He is currently a proud member of the Stage Directors and Choreographers Society (SDC) and Actors Equity Association (AEA). Ansley is also a graduate of the Arts Midwest Minorities in Arts Administration Fellowship, a program funded by the Ford Foundation to increase minority representation in leadership roles at American not-for-profit organizations. His many awards include a 2014 Telly Award, and a Kennedy Center Gold Medallion. He is past National Play Program Chair for Region III of the Kennedy Center American College Theater Festival. In that capacity, he helped to foster the writing and development process of a number of young playwrights including producing readings of new work. In the summer, he is Artistic Director of the Ohio Youth Ensemble Stage, a company that provides an inclusive performing arts experience for students regardless of ability or financial resources.
About The New Play Lab
The New Play Lab is an ongoing project that is committed to helping playwrights continue the development of their new scripts. 2020 was a year full of challenges and opportunities, and Kane Rep worked with 14 professional playwrights on their new works. Over the course of 5 months,15 plays, brought to life by more than 75 actors and directors, were produced. Funded by our generous audience and community, each and every participating theatre artist was compensated.
​The New Play Lab provides a virtual rehearsal room to each selected playwright, connecting them with professional actors from our ensemble and beyond. On Wednesday evenings, audiences are invited to join us for a virtual reading of the scripts on YouTube Live. The audience gets a firsthand look at the development of these works and becomes an integral part in the creative process by joining us for post-read discussions, where sharing questions, thoughts, and impressions with the team is welcome.
As the company looks forward to 2021, it envisions a year of hope—one that will bring artists and audiences back to the theatre and in physical community with one another. The Kane Repertory Theatre Multiplatform Commission reflects that hope.
About Kane Repertory
Kane Repertory Theatre is a home for professional, intellectually stimulating theatre. By using visceral performance to explore values in America, we seek to spark conversation, evoke empathy, and strengthen the community. We work to be one of the Midwest's leading regional theaters by forming an ensemble of dynamic artists, providing patrons of all ages with first class theatre education, and engaging new audiences through various outreach efforts.
For more information about Kane Repertory Theatre, visit https://www.kanerepertorytheatre.com/