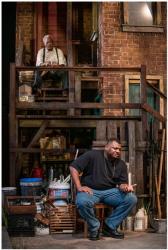 King Hedley (Kelvin Roston, Jr.) just got out of jail and he's living with his mother, Ruby (TayLar) and his wife, Tonya (Kierra Bunch).  He wants to start a family, although his relationship with Tonya is shaky at best. 
One day, he came home with a package of seeds which he planted in the back yard.  Although his buddy, Mister (Ronald L. Connor) makes fun of him, he maintains that there is good soil in the yard.
Stool Pigeon (Dexter Zollicoffer), who lives upstairs next door, gets upset if his newspapers are missing because he needs to go through them every day because he never knows what he needs to know.  Stool Pigeon sometimes predicts the future.  
Hedley and Mister are selling refrigerators – although the word 'stolen' is never used, the fact that the buyer can never inspect the refrigerators should be a clue.  When Elmore (A.C. Smith), a Southerner and a hustler shows up, Hedley and Mister try to sell him a refrigerator.  Even though they know Elmore is always running a con, they discount the price for him – taking a big loss.
Elmore, a former beau of Ruby's, is there to try to win her back.  In fact, soon after they decide to get married, everything goes to hell. 
Regina Garcia's set is an accurate depiction of an urban backyard, complete with trash, garbage cans, fences, back stoops; stairs leading up to second and third floor landings, even a postage stamp sized yard.   
"King Hedley II" runs through October 13th at the Court Theatre, 5535 S. Ellis Avenue.  Parking is free in the garage next door to the Court – you have to take a ticket to enter but you won't need it to exit, the gate stays up for 30 minutes after the performance. 
Running time is 2 hours, 40 minutes, with an intermission.  Performances are Wednesdays and Thursdays at 7:30 pm; Fridays at 8:00 pm; Saturdays and Sundays at 2:00 and 7:30 pm.  Tickets range from $37.50-$74.  FYI (773) 753-4472 or www.CourtTheatre.org.