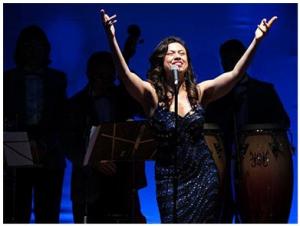 If you go to "La Havana Madrid", you'll be spending your evening in a nightclub straight out of the '60s.  You can even reserve a table for the evening.  You'll enjoy the salsa sounds of Carpacho y Su Súper Combo with vocals by the mysterious La Havana Madrid (Sandra Delgado) herself.  Kudos to Delgado, I can't even imagine someone else in that iconic part!      
By the way, bandleader Roberto "Corpacho" Marin played his bass at the original club.  The band includes Yendrys Cespedes, Music Director/Piano; Carol MacPherson, Trombone; Cristobal "El Animal" Flores, Timbales; and Guido Acevedo, Congas, plays gigs all over Chicago. 
"La Havana Madrid" is composed of vignettes from people who went to the club.  In addition to the empathy/sympathy I felt for these people, I got a history lesson.  
In 1960, Operation Peter Pan brought Maria (Ayssette Muñoz) and her brothers from Cuba while their parents stayed.  Their relatives in Chicago only had room for one of them, so she and her brother went to different foster homes in the suburbs.  As time went by, she was exposed to many new experiences which she shared with her parents in letters – leaves changing color and falling, snow, shredded wheat cereal for breakfast, and so on.  She loved La Havana Madrid because it was a chance to reconnect with her culture, if only for a very short time. 
Tommy Rivera-Vega returns in the role of Henry, who is celebrating his first anniversary  with his wife Moruja (Alix Rhode), at La Havana Madrid.  When Henry fell in love with Maruja, he couldn't support her, so he left Columbia and emigrated to the United States in search of work.  He got a job in a factory and saved his money.  Eventually, he saved enough to send for Maruja, but before her father would let her come, they were married by proxy.   
Carlos (Victor Musoni), who came from Puerto Rico, talked about the Puerto Rican migration – as neighborhoods gentrified – from LaSalle and Clark in Old Town to Lincoln Park, to Lakeview, to Wicker Park and finally to Humboldt Park.  He also talked about the prejudice he'd faced. 
Mike Oquendo is another returnee, in the role of Tony, the club owner, who wanted to give back.  His character is modeled after Tony Quintana, who actually did own the club.  He hosted a local Spanish television program and promoted Chicago salsa. 
Myrna (Ilse Zacharias), the former Miss Puerto Rican Day Parade Queen works as a hairdresser who is desperately trying to escape the nightmares of her past.
Marvin Quijada is another returning cast member, playing Carpacho, a musician from Columbia.  He tried different musical instruments, like piano and guitar, but he fell in love with the bass.  When he got to Chicago, he auditioned for various bands, only to be told he played with an 'accent'.  Who knew?
Teatro Vista's "La Havana Madrid" runs through June 22nd at the Den Theatre, Heath Mainstage, 1331 N. Milwaukee Avenue, Chicago.  Using SpotHero, I found parking in a nearby lot for just $8.  Running time is just about 2 hours with an intermission.  Performances are Thursdays and Fridays at 7:30 pm; Saturdays at 4:00 and 8:00 pm; and Sundays at 3:00 pm.  Tickets are $30 general admission, $50 table seating, and $60 front row table seating.  FYI (773) 697-3830 or www.thedentheatre.com.