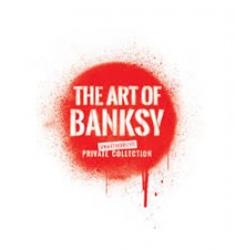 The Art of Banksy, the largest touring exhibition of authentic Banksy artworks sourced from private collectors around the world, is entering the final weeks of its Chicago run as the exhibition is slated to close on Oct. 31. Of the 80+ authenticated Banksy originals in the gallery that will soon be packed up and shipped to San Francisco for an additional exhibition, three in particular hold a timely significance.  
Banksy sent reverberations across the arts industry in 2018 when his piece "Girl with Balloon" was auctioned for $1.4 million at Sotheby's in London. As soon as the hammer fell, "Girl With Balloon" was sucked into a shredder hidden into the frame and torn to pieces in front of a shocked audience of London's elite. The destruction of the piece, now dubbed "Love is in the Bin," proved to make it more valuable. The owner will soon be auctioning the tattered work at Sotheby's in London for a price estimate of $5.54 million-$8.31 million on Oct. 14.  
The Art of Banksy in Chicago features three original editions of "Girl with Balloon" in blue, pink and red. "Love is in the Bin" is currently on a tour to Hong Kong, Taipei and New York City before its auction in London later this month. As The Art of Banksy enters the final weeks of its run, Chicagoans have a chance to view Banksy's trio of "Girl with Balloon" before "Love is in the Bin" sells for up to six times its 2018 value.  
Photo credit: Kyle Flubacker
The Art of Banksy features a wide array of the elusive British street artist's well-known images, alongside lesser known but equally provocative pieces. On display are prints, canvasses, screenprints, sculptures, unique works and limited-edition pieces mainly dated between the years 1997 to 2008, the period which resulted in Banksy's most recognizable and well-known works. 
Ticket prices for The Art of Banksy start at $39.99 ($29.99 for children 16 or younger), with timed, flexible and VIP ticket options available. Tickets are on-sale for viewings through Oct. 31, 2021. For more information about The Art of Banksy, visit banksyexhibit.com. Follow the exhibition on social media at @BanksyExhibit on Facebook, Instagram or Twitter. Please consult the website for updated information on COVID-19 protocols.  
About The Art of Banksy  
The Art of Banksy features more than 80 works by the elusive street artist including many of his most recognizable images such as "Flower Thrower," "Rude Copper" and "Girl with Balloon." Banksy's works are seen on city walls, bridges and streets throughout the world, but The Art of Banksy offers a rare chance to see a multitude of works in one location.   
In true Banksy style, The Art of Banksy is not authorized or curated in collaboration with the artist, but rather sourced from private collections allowing the public to see works that would otherwise stay hidden in private homes or warehouses. Banksy, whose identity is the art world's biggest secret, is an enigmatic artist and world-recognized activist. His graffiti-influenced stencil technique, often combined with anti-establishment slogans, is immediately recognizable and never fails to generate immediate attention.  
Seen by 750,000 people worldwide, The Art of Banksy has already generated excitement in London, Melbourne, Tel Aviv, Auckland and Toronto with rave reviews from critics all around the world. Harper's Bazaar advised "This isn't one to miss," Marie Claire proclaimed it "A must see!" while TimeOut Toronto described The Art of Banksy as "a welcome reminder of the explosive impact of the artist's works, and of the powerful potential of street art."  
Situated in the heart of River North adjacent to the Marina Towers, 360 N. State St. is quickly developing a reputation as a prime exhibition space. The modern venue's tall, overarching ceilings provide ample room to showcase Banksy's work in all its glory. Guests also have the opportunity to enjoy the space's outdoor balcony and a VIP/private reception room on the third floor. The venue stands in a bustling, energetic region of River North, amongst esteemed restaurants, hotels, music venues and more, just steps away from the Chicago Riverwalk. With on-site parking available, 360 N. State St. is easily accessible via numerous L and bus lines, including the nearby Grand Avenue CTA Red Line stop.   
About Starvox Exhibits  
Starvox Exhibits is a new division of Starvox Entertainment. Starvox Entertainment, founded in 2005 by Corey Ross, has ranked on Profit Magazine's list of Canada's top growth companies for four years running - the only live Entertainment Company ever to be on the list. Starvox produces unique live theatre properties, including: the hugely successful "Wow Variety Spectacular," currently in residence at Caesars Entertainment's Rio Casino, the record-breaking "Evil Dead: The Musical," successful touring West-End hit Harry Potter parody "Potted Potter: The Unauthorized Harry Experience," "Trey Parker's Cannibal! The Musical" and many others. Starvox Exhibits is also one of the founding producers of Immersive Van Gogh, the original immersive experience now on view in cities across North America.  
About [ collectivpresents ]  
[ collectiv presents ] is a full-service event promotion and production company focused on bringing unique and memorable concert experiences to fans and artist camps alike.  
Founded by Chris Den Uijl, Lucas King, and Michael Berg, [ collectiv presents ] has decades of experience in talent buying and event promotion and production across multiple genres, and in multiple cities and states throughout North America.