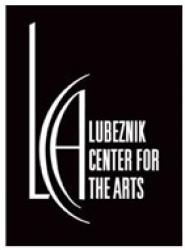 On Friday, November 1, Lubeznik Center for the Arts (LCA) will celebrate the opening of its newest exhibition, Living Architecture, which runs through January 4, 2020. All are invited to visit the center and enjoy art, complimentary light refreshments and a cash bar from 5 PM to 8 PM as part of LCA's First Friday cultural event series.
Lise Haller Baggesen
The Library of Refuseniks, 2018
Fabric from 6018North, bookshelves, texts
This exhibition is co-curated by Tricia Van Eck and Nathan Abhalter Smith and has traveled from 6018North, an exhibition space considered Chicago's home for experimental arts and culture. Living Architecture was developed with support from the Terra Foundation for American Art. The current presentation of Living Architecture is a collaboration between 6018North and LCA, sponsored by NIPSCO.
Eugenia Cheng
Sunset on the American Dream, 2018
Chalk on chalkboard paint
Sherwin Ovid
Beast of No Nation, 2018
Latex, ink, epoxy resin, holographic film, acrylic on canvas
First Friday attendees will want to explore Jamiah Calvin's The Healing, which ends November 2. As an artist, Calvin uses his art to reflect self-healing while yet striving for peace and tranquility in his own life. His work displays vulnerability, flaws, imperfections, pain; but in all things the complex beauty of human nature. This exhibition is on display in the NIPSCO Art Education Studios.
Dorothy Graden
Intermittent Manifestations
Attendees can also enjoy the work of Dorothy Graden in Perceived Realities, on display in the NIPSCO Art Education Studios. Graden's unique paintings are inspired by time spent hiking through the mountains and deserts of the American Southwest while studying ancient petroglyphs and prehistoric rock paintings.
Those interested in a more in-depth look at Living Architecture are also invited to attend two free events on November 9. From 11:00 AM to noon, LCA will host a curator-led tour of the exhibition. Between 1 PM and 4 PM, families are invited to the center for a Family Day featuring age-appropriate interpretive tours and onsite artmaking.
###
High resolution images are available upon request.
About Lubeznik Center for the Arts
Lubeznik Center for the Arts (LCA) is a 501(c)(3) non-profit that provides access to compelling exhibitions and programs that explore contemporary ideas. The organization is located at 101 W. 2nd St. at the lakefront in Michigan City, Indiana. 
Admission is free year-round. Gallery weekday hours are from
10 AM to 5 PM Weekend hours are from 11 AM to 4 PM. For more information, please visit www.lubeznikcenter.org or call
219-874-4900.