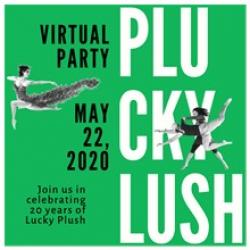 If there's any Chicago dance-theater company that thrives on the intimacy of live performance, it's Lucky Plush Productions.
But this year, Lucky Plush wants everyone to stay safe while still gathering with company members, donors, fans and friends to celebrate the company's 20th anniversary at Plucky Lush, its annual spring benefit fundraiser and performance.
So this year, Plucky Lush is going virtual.
Please join Lucky Plush, from the comfort of your home, on Friday May 22, 2020 at 7 p.m. CST to celebrate 20 amazing years of art-making and community engagement. All you need is WiFi and your favorite device to join the virtual party of the year. No mask or hand sanitizer needed.
Log on for a fun, interactive and exciting line-up of Plucky Lush activities including:
Interactive movement activities with Lucky Plush ensemble members
The debut of a retrospective video of the company's work from the past 20 years
Chances to win custom Lucky Plush merchandise and accessories
A live paddle raise and raffle
Culminating in a virtual dance party DJ'd by Michael Caskey
To make Plucky Lush as accessible to as many people as possible, Lucky Plush is offering a range of Pay What You Can prices, starting at just $10:
$10 – Artsy Amigo
$25 – Fabulous Fan
$50 – Cheeky Companion
$100 – Plucky Pal
$150 – V.I.P. (Very Important Plushie)
$200 – Anniversary Angel
Purchase tickets at luckyplush.com. Sponsorship levels also range from $1,000 to $10,000.
"With canceled tours and local performances due to COVID-19, Lucky Plush and our artists need the support of our community more than ever," said Lucky Plush founder and artistic director Julia Rhoads.
"This milestone event will bring Lucky Plush's signature combination of dance, comedy, storytelling and intimate staging right to your home. We look forward to laughing, dancing and celebrating 20 years with you!"
Ticket buyers will receive an emailed link to the party before the event. All proceeds will go directly to the company to help make up for the loss of earned income due to cancelled and postponed performances because of the COVID-19 pandemic.
Please note: Plucky Lush is family friendly. Pets included and encouraged.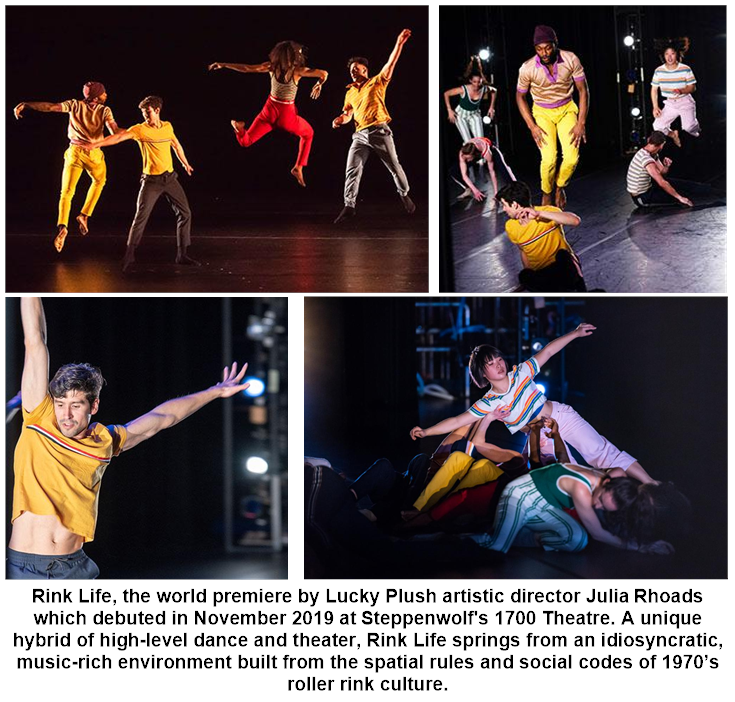 Keep moving: Lucky Plush Virtual Dance Lab line-up for May now posted
Lucky Plush continues to keep Chicago moving and shaking with its new Virtual Dance Lab in collaboration with the University of Chicago's dance program.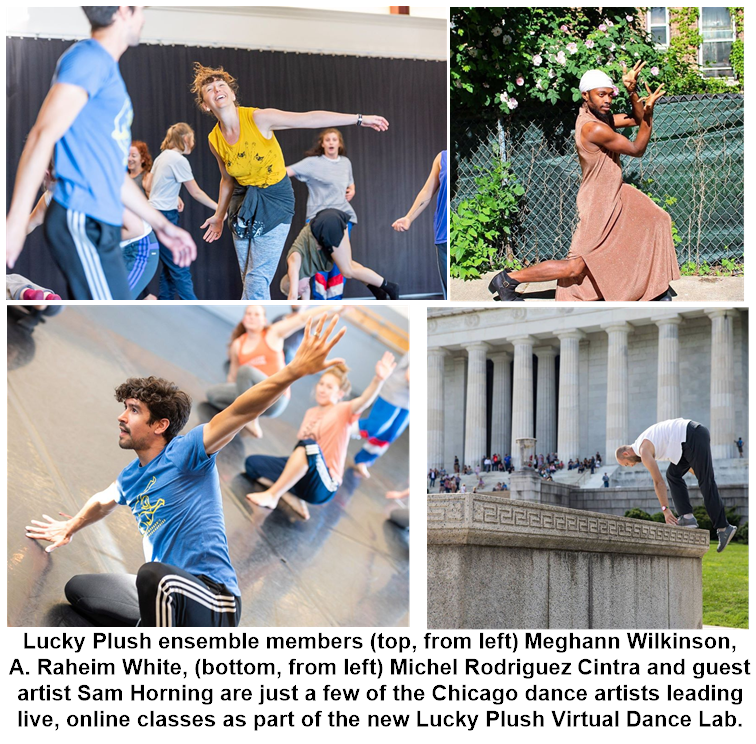 The Virtual Dance Lab schedule for May is now posted at luckyplush.com/virtual-dance-lab. Choose from more than 30 weekly online classes designed to keep people on their toes while staying put at home. All styles of dance, yoga, improvisation, kids' classes, physical theater, a wake-up dance jam and more are on offer, with options for beginners to veteran dance artists.
The Lucky Plush Virtual Dance Lab runs seven days a week. Classes are taught live via Zoom by ensemble members including Kara Brody, Michel Rodriguez Cintra, Jacinda Ratcliffe, A. Raheim White and Meghann Wilkinson, along with other top Chicago dance professionals.
Classes are Pay What You Can, with a suggested contribution of $5-$15 per class. All funds go toward paying Virtual Dance Lab teaching artists and administrative staff, all of whose work is being affected by COVID-19.
About Lucky Plush – Reinventing contemporary dance with humor and storytelling
Lucky Plush Productions (luckyplush.com) is a Chicago-based dance theater company led by founder and artistic director Julia Rhoads. Lucky Plush is committed to provoking and supporting an immediacy of presence – a palpable liveness – shared by performers in real-time with audiences.
A unique hybrid of high-level dance and theater, Lucky Plush's work is well-known for its carefully crafted dramatic and rhythmic arcs, pushing its artists to move beyond the predictable by earning the exciting slippage between – and surprising coherence of – technical choreography, casual dialogue, music and humor. Though rigorously composed, much of the company's work feels like it is generated spontaneously.
Since 2000, Lucky Plush has created 30+ original dance-theater works. In addition to performing in Chicago, the company has presented in over 55 U.S. cities from Maine to Hawaii, and its international partners span from New Zealand to Cuba.
Commissioning and development partners include the Harris Theater for Music and Dance, Museum of Contemporary Art Chicago, Krannert Center at the University of Illinois, The Yard (MA), Clarice Smith Performing Arts Center (MD), Flynn Center for the Performing Arts (VT), Door Kinetic Arts Festival (WI), and Links Hall Chicago. Presenting partners include the Institute of Contemporary Art/Boston (MA), Joyce Theater (NYC), ODC (CA), TITAS (TX), Spoleto Festival/USA (SC), NC State LIVE (NC), Portland Ovations (ME), Skirball Center (NYC), and the John F. Kennedy Center for the Performing Arts (D.C.), among others.
Lucky Plush Productions is the first and only dance company to receive the prestigious MacArthur Award for Creative and Effective Institutions, a recognition of the company's exceptional creativity and impact. Other awards include creation, residency, and touring awards from National Endowment for the Arts, National Dance Project, and National Performance Network; exchange awards from the MacArthur Foundation International Connections Fund; a presentation award from MetLife Foundation; and an achievement award from the Lester and Hope Abelson Fund for the Performing Arts at The Chicago Community Trust.
Lucky Plush performances have been cited in many "Best of Year" performance round-ups including in the Chicago Tribune, Chicago Sun-Times, Chicago Reader, Time Out Chicago, Chicago Public Radio and Boston Globe. New City hailed Lucky Plush "a brand of movement-based theater that can be comfortably called, without exaggeration, genius."
In fall 2019, Lucky Plush ensemble members were memorably seen cavorting larger than life across the 2.5 acre river-façade of the former Merchandise Mart building in Limelight Parade, a collaboration between Julia Rhoads and theater maker John Musial as part of Art on theMART, the largest permanent digital art projection series in the world.
Lucky Plush Productions is a resident company at Harris Theater for Music and Dance, where its staff and sustainability initiatives are based. For more information, visit luckyplush.com.