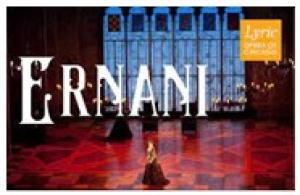 ****HIGHLY RECOMMENDED****  Lyric Opera of Chicago's 2022/2023 season is off to a blazing start, thanks in large part to a cast that includes a quartet of world-class performers each delivering a knock-out performance. Music Director Enrique Mazzola, a driving force behind Lyric's Early Verdi Series, also conducts this stellar production of Verdi's 1844 work "Ernani."  4 SPOTLIGHTS
That famous foursome is made up entirely of Lyric fan favorites, two of whom have appeared in a combined total of 36 roles on the Lyric stage over the course of the past two decades. All four of them, plus Mazzola himself, are highly regarded as extremely proficient interpreters of Verdi's entire canon.
The most dynamic performance may well be that of Quinn Kelsey as Carlo, the King of Spain. The formidable baritone has never sounded as strong and his acting abilities are on full display with this role. He is particularly effective in Act Two as he nearly spits his words at his fellow entourage, not knowing who he can trust. Are these men truly loyalist supporters or are they conspirators who are secretly planning his assassination? Kelsey fully shifts gears by Act Three, in which he delivers perhaps the evening's most plaintive aria as Carlo vows to become a better man, one who forsakes wealth and power, if he is successfully elected as the next Holy Roman Emperor.
Bass-baritone Christian Van Horn is Silva, the elderly guardian of the lovely Elvira and the man who desperately wants to marry her. While Van Horn is physically too young for this role -- most productions feature a singer in his sixties or early seventies -- he is vocally magnificent and at his prime, so it is a minor quibble and easily overlooked. Van Horn does not play Silva as an old man, so some of the references in Francesco Maria Piave's libretto when he is called "Old Silva" or when Ernani refuses to fight him in a duel by sword because he is too old and feeble come off as a bit humorous.
The love interest of both of these men is Elvira, sung by the mesmerizing soprano Tamara Wilson. If you were fortunate enough to hear Lyric's "Verdi Voices" last season you have some familiarity with just how special Wilson is as a performer. She and her co-star Russell Thomas (who was also featured in "Verdi Voices") have an undeniable chemistry on stage and their voices blend together beautifully. One almost wishes that Verdi had composed more duets in this opera so that the two of them could share more time on stage together to shine even brighter and longer.
Tenor Russell Thomas stars as Ernani, the nobleman disguised as an outlaw -- and later a pilgrim -- all in an effort to be with his beloved Elvira. Thomas possesses a rich and golden voice and can do incredible things with both his breathing technique as well as his phrasing. How he reaches his goal by arriving at certain notes is not only unique but enthralling. By the opera's conclusion, as Thomas twice utters the final syllables of Elvira's name, it is a moment that is not only heartbreaking but also devastating.
________________________________________________________
"Ernani" continues through October 1, 2022
The remaining performances are as follows:
                        September 16 at 7:00 PM
                        September 21 at 2:00 PM
                        September 25 at 2:00 PM
                        October 1 at 7:30 PM
Running time is approximately 3 hours with two intermissions