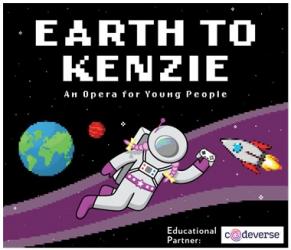 Lyric Opera of Chicago is excited to announce its latest opera for young people, Earth to Kenzie. This new Lyric commission, created especially for children ages 7-12 by composer Frances Pollock and librettist Jessica Murphy Moo, shows just how far your imagination can take you.
Tickets, which range from $10-20, are on sale for three performances taking place at the Vittum Theater (1012 N Noble St, Chicago) on Saturday, November 9 at 1pm and 3pm and Sunday, November 10 at 3pm. The cast of four singers will be accompanied by piano, and the 45-minute production will be presented in English. For tickets and additional information, visit www.lyricopera.org/kenzie.
Earth to Kenzie tells the story of Kenzie — a fifth grader with homework, asthma, and a big imagination. When she and her mother have to move into a family shelter, Kenzie finds refuge in the world of video games alongside her avatar, Edwin. Through their imaginary space adventures, Kenzie soon comes to realize that home is not a place, but rather a feeling of being surrounded by those you love. This opera adventure explores themes and conversations surrounding housing insecurity, technology's role in the lives of children, overcoming obstacles, and finding your place in the world.
Earth to Kenzie is a co-commission with Seattle Opera. Directed by Jess McLeod, it features soprano Kateri Gormley as Kenzie, mezzo-soprano Emma Ritter as Kenzie's mother, mezzo-soprano Christina Pecce as Edwin/Eddie, and baritone Keanon Kyles as the Teacher/Taxi Driver. Costumes are by Mieka van der Ploeg and the scenic design is by Jeffrey D. Kmiec. The music supervisor and pianist for the production is Yasuko Oura.
In addition to the public performances at the Vittum Theater, Earth to Kenzie is being presented for student groups in and around Chicago as part of Lyric's Opera in the Neighborhoods (OIN) program, which has been in existence for 23 years. OIN will present 30 performances at 15 sites this October and November, for an audience of nearly 20,000 students in grades 3-6.
The educational partner for Earth to Kenzie is Codeverse, the world's first fully interactive coding studio and development platform for ages 6-13. Students who attend an OIN performance will receive a free month of access to Codeverse's online learning program.
"Lyric is excited to present this new opera, created especially for young audiences and their adults, following last season's opera for families, Rhoda and the Fossil Hunt," said Cayenne Harris, vice president of Lyric Unlimited. "Introducing children to the art form of opera using a story that is relevant to today's audiences is an important part of our mission."
Families interested in introducing opera to young children should also save the date for Lyric's second annual Family Day at Lyric, taking place Saturday, May 16 at the Lyric Opera House from 11am – 3pm. The exploratory day will include a tour of the orchestra pit, hands-on demonstrations of operatic stagecraft, and costume try-ons, among other activites. Visit www.lyricopera.org/familyday for more information and to reserve your tickets.  
BIOS
Frances Pollock (Music) has written operas for Washington National Opera, the PROTOTYPE Festival, Lyric Opera of Chicago, Seattle Opera, and American Opera Projects. Her opera, Stinney (co-librettist Tia Price), won the "Best of Baltimore" award in 2015 and was programmed at the 2019 PROTOTYPE Festival. This coming year she will write music for Opera Omaha, Yale University, the Chautauqua Summer Festival, the Detroit New Music Ensemble, and Bel Cantanti Opera in Silver Springs, Maryland. Frances is a founding member of the new music non-profit, Prima Volta. Originally from North Carolina, she holds a bachelor of music degree in theory and composition from Furman University, where she studied with Dr. Mark Kilstofte. She graduated from Peabody Conservatory with a master of music degree in vocal performance under the tutelage of Dr. Steve Rainbolt. She is continuing her doctoral studies at Yale University this fall.
Jessica Murphy Moo (Libretto) is a writer, editor, and teacher. She wrote the libretto for An American Dream, an opera that had its world premiere at Seattle Opera in August 2015, and which was seen at Lyric Opera of Chicago (Harris Theater) in March 2019. In 2016, she was selected to attend Tapestry Opera's Librettist-Composer Laboratory. Her fiction has appeared in The Atlantic; Image; Memorious; and Signs of Life, an annual anthology for Seattle writers. Her nonfiction has appeared in Poets & Writers Magazine, The Atlantic Online, ParentMap, and Portland, among other publications. In 2006, she received the Milton Postgraduate Fellowship at Seattle Pacific University. She has held teaching positions at Emerson College, Harvard University, Boston University, and Seattle Pacific University. She now teaches nonfiction writing for UW Professional & Continuing Education and is Seattle Opera's publications editor. She has an MFA from Emerson College.
Chicago director Jess McLeod returns to Lyric after directing Chicago Voices: Stories and Songs of Chicago in 2016/17 and Lyric's EmpowerYouth! production, Empower, during the 2017/18 season. McLeod is currently resident director of Broadway in Chicago's Hamilton and directs regularly in Chicago (Goodman, Victory Gardens, A Red Orchid Theatre) and regionally (Woolly Mammoth, Long Wharf, Actors Theatre of Louisville).
Lyric Opera of Chicago is committed to redefining what it means to experience great opera.  The company is driven to deliver consistently excellent artistry through innovative, relevant, celebratory programming that engages and energizes new and traditional audiences.  
Under the leadership of general director, president & CEO Anthony Freud, music director Sir Andrew Davis, music director designate Enrique Mazzola, and creative consultant Renée Fleming, Lyric is dedicated to reflecting, and drawing strength from the diversity of Chicago. Lyric offers, through innovation, collaboration and evolving learning opportunities, ever more exciting, accessible, and thought-provoking audience and community experiences.  We also stand committed to training the artists of the future, through The Patrick G. and Shirley W. Ryan Opera Center and to becoming increasingly diverse across our audiences, staff, programming and artists - magnifying the welcoming pull of our art form, our company, and our city.
Through the timeless power of voice, the splendor of a great orchestra and chorus, theater, dance, design, and truly magnificent stagecraft, Lyric is devoted to immersing audiences in worlds both familiar and unexpected, creating shared experiences that resonate long after the curtain comes down.
Join us @LyricOpera on Twitter, Instagram, and Facebook. #Lyric1920 #LongLivePassion.
Major support provided by the Nancy W. Knowles Student and Family Performances Fund. Earth to Kenzie and Opera in the Neighborhoods are supported by Lead Sponsor J. Christopher and Anne N. Reyes and co-sponsors an Anonymous Donor, Sasha Gerritson and Eugene Jarvis, Robert and Evelyn McCullen, The Jane Wilson and David Mayhew Stone Charitable Trust, Roberta L. and Robert J. Washlow, and Wintrust Community Banks.
   
                 Lyric Unlimited Chicago Public Schools Bus Scholarships are supported by the U.S. Bank Foundation.