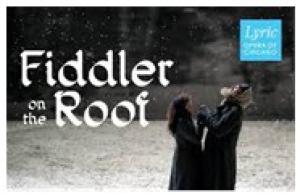 ***RECOMMENDED*** It is always a joyous experience to attend a musical at Lyric Opera of Chicago. Their stage is so large and their technical capabilities nearly endless that curious theatre-goers often wonder how a design team will approach their particular staging of any given show presented there. Plus, hearing the score of one of your favorite shows performed by a full orchestra is priceless. When the show happens to be one that has not been in the line-up of the regional subscription-based companies for over two decades, like "Fiddler on the Roof," it is an added incentive to seek out this wonderful production. While "Fiddler" may no longer be as popular as it once was -- still performed in high schools and local community theatres around the world and revived on Broadway five times since its debut in 1964 -- it has had only one professional touring production in the Chicagoland area since 2000. Lyric's "Fiddler" will hopefully introduce this musical to a whole new generation.  3 SPOTLIGHTS
However, this being a Lyric Opera production, it is by no means a traditional (no pun intended) take on the standard versions that you may have seen in the past. Director Barrie Kosky has filled his "Fiddler" with distinctly European sensibilities. Born in Australia, Kosky recently completed a ten-year tenure as the Artistic Director of the Komische Oper Berlin. His work there, as well as living in Berlin and being surrounded by and immersed in that culture, has clearly informed this "Fiddler."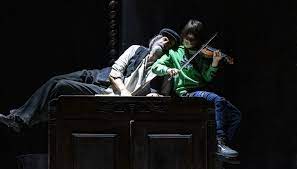 The show opens in present day, as a young child plays with modern toys and finds a violin in a closet. Plucking the first notes of the score on his instrument causes endless knocking from within the closet. Once the doors burst open, the stage is flooded with people. These are the inhabitants of the village of Anatevka.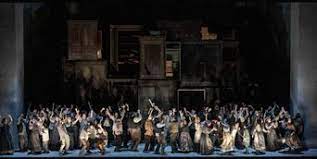 All of the musical numbers that you may be most familiar with are in the first act. The rousing "Tradition" opens the show, followed by the whimsical "Matchmaker, Matchmaker" and the well-known "If I Were a Rich Man." The euphoric "To Life" is tremendous and, of course, the iconic "Bottle Dance" is still a guaranteed show-stopper, retaining much of Jerome Robbins' original choreography. Perhaps the most arresting and beautiful number is "Sunrise, Sunset." Kosky has staged this brilliantly, as the action seamlessly blends into the movement, we see three different couples from constantly shifting perspectives.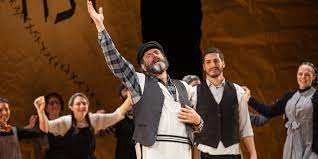 Set Designer Rufus Didwiszuz has created a towering semi-circular wall of discarded wardrobes, table tops and parts of chairs to delineate the houses and small huts that the villagers live in. When one character enters another's house, they arrive through the doors of the wardrobe. The set dominates most of Act One, which runs a hefty 110 minutes, with all of the grandeur and spectacle found within that act. By Act Two, the stage is bare except for one tiny wardrobe. With all of the clutter cleared away, the second act really gets to the emotional heart of this "Fiddler."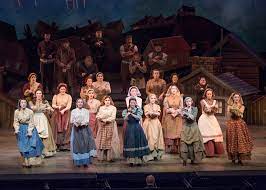 Amidst silently falling snow, the evening's most tender moment occurs with "Do You Love Me?" The milkman Tevye (Steven Skybell, who is sensational throughout) has a heart-to-heart discussion with his long-suffering wife, Golde (Debbie Gravitte, in a very solid performance). These two deliver such honest and heartfelt emotions during this magnificent duet that it is pure theatrical magic.
By evening's end, as the young fiddler plays while Tevye and his family are forced to flee their beloved Anatevka, the futures of all of these characters are as uncertain as the final note of the score which is never heard.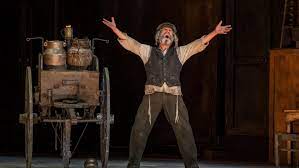 ______________________________________________
"Fiddler on the Roof" continues until October 7, 2022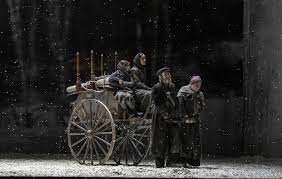 The remaining performances are as follows:
October 2 at 2:00 PM
October 6 at 7:00 PM
October 7 at 7:00 PM
Running time is approximately 3 hours and 20 minutes with one intermission