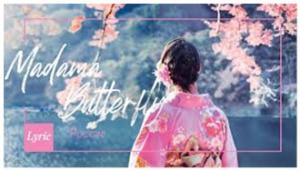 Unaffected by illness and showing no signs of fatigue was the glorious Puerto Rican-born soprano Ana Maria Martinez in the title role of Cio-Cio San. Martinez has sung this role earlier in the season in Paris and will reprise it again at the Metropolitan Opera in April. She is an audience favorite at Lyric and we are very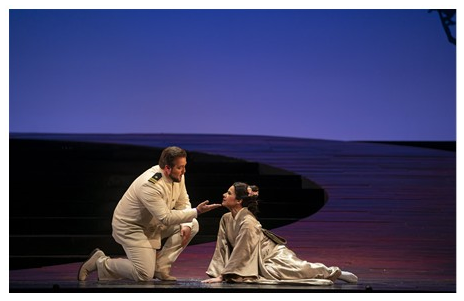 fortunate to have the opportunity to hear her magnificent vocal power and appreciate her easy command of what is quickly becoming her signature role.
Most everyone knows the story of "Madama Butterfly" and the rather simplistic libretto by Giuseppe Giacosa and Luigi Illica tells a very straightforward narrative of the former geisha who meets U.S. Navy Lieutenant. B.F. Pinkerton (tenor Brian Jagde) and falls in love with him in Nagasaki, Japan in the early part of the 20th century. Cio-Cio San plans to marry Pinkerton and, in order to do so, she converts to Christianity. This angers her entire family and they disown her and abandon her to a life married to a naval officer. Pinkerton envisions a life of pleasures and world travel, without any real commitment to Cio-Cio San. Not surprising since he "secured" her in a deal with a marriage broker.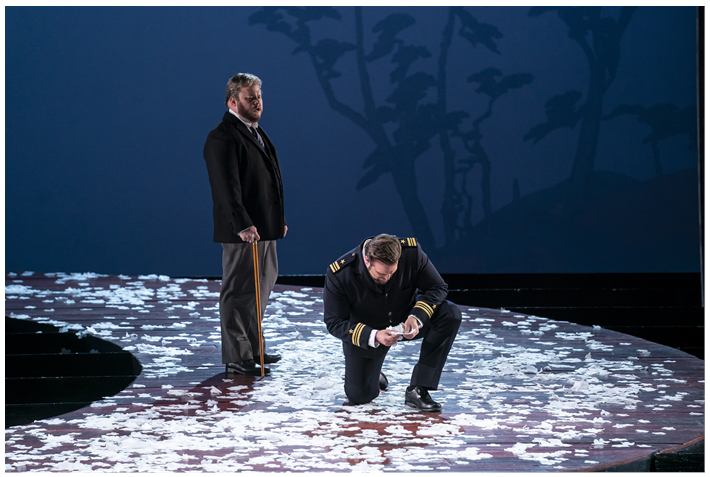 Far more sympathetic to Cio-Cio San's plight is the American consul Sharpless (baritone Ricardo Jose Rivera stepping in for the ailing Anthony Clark Evans). Within no time, Pinkerton's ship has set sail with him upon it. Left all alone, Cio-Cio San really has only one friend and companion -- her maid Suzuki (mezzo-soprano Deborah Nansteel). Failing to give up hope for Pinkerton's return, Cio-Cio San waits three long years until the day she sees his ship return to the harbor. Pinkerton has returned, but tragically it is not to retrieve Cio-Cio San but for some other much more selfish reason. Devastated by his actions she has no other option but to take matters into her own hands -- with brutally destructive consequences.
Rivera was most impressive in the role of Sharpless, especially considering that he did not have much notice before learning that he would be singing the role. He was absolutely splendid. Nansteel was also very strong as the sweet and subservient Suzuki.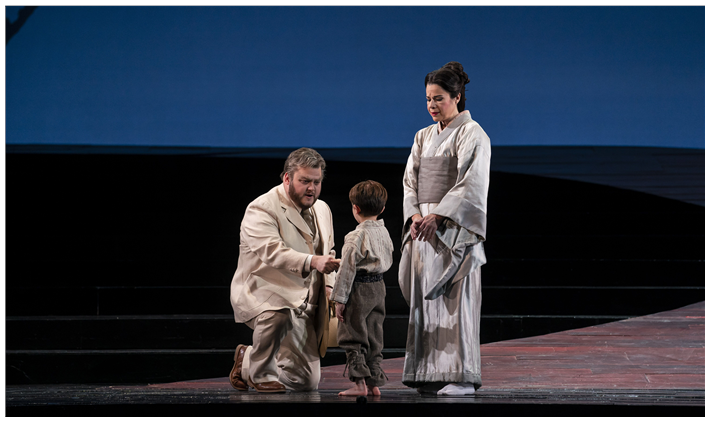 But the highest praise must be heaped upon Martinez. Vocally she captured the cheerful expressiveness and enthusiastic girlish joy of a young Cio-Cio San, who is only 15 years old when she becomes wedded to Pinkerton. She is a fantastic interpreter of this emotionally challenging role -- from her strong acting as the ever-faithful and loyal wife to her fierce passion in refusing to be viewed as a young woman who has been exploited or become a passive victim in her own life. Martinez's very controlled physicality only adds more authenticity to the performance, whether she is sipping a cup of tea or adjusting the sash of her kimono, it is all done with very specific detail which is an exact replica of Japanese ritual.
It should be noted that for the March 4 and March 7 performances, the role of Cio-Cio San will be sung by Lianna Haroutounian and the role of Pinkerton will be sung by Brandon Jovanovich.
____________________________________________________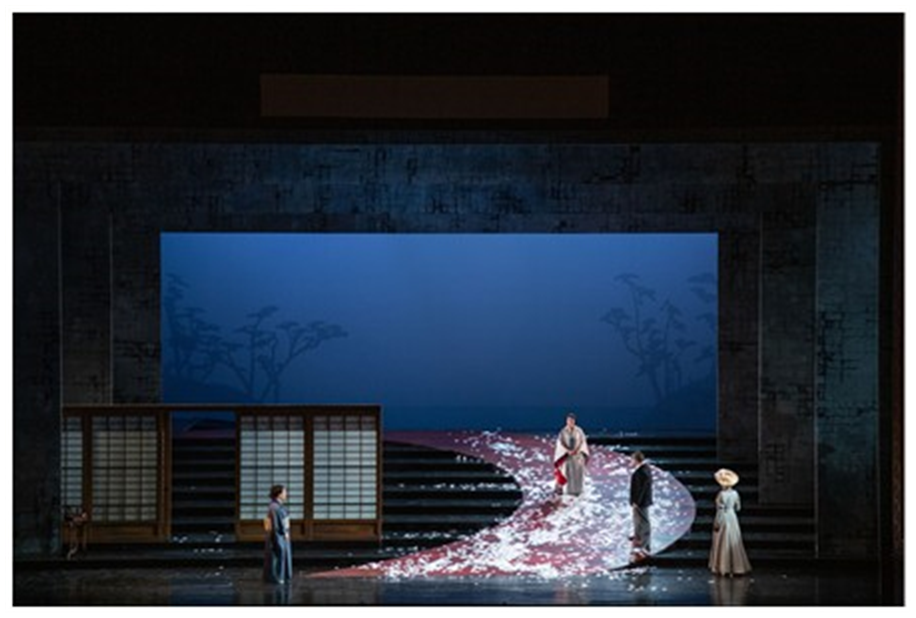 "Madama Butterfly" continues to March 8, 2020
Lyric Opera of Chicago is located at 20 North Wacker Drive, Chicago, IL
Remaining performances are as follows:  Saturday, February 29 at 7:30 PM; Wednesday, March 4 at 2:00 PM; Thursday, March 5 at 2:00 PM; Saturday, March 7 at 7:30 PM; and Sunday, March 8 at 2:00 PM.
For tickets, call 312-827-5600 or visit www.lyricopera.org
Running time is 2 hours and 55 minutes with one intermission