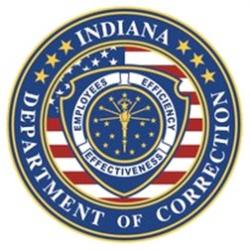 Extraordinary leaders possess three traits that set them apart:  will, fortitude and self-efficacy.
Executive Director of Staff Training and Development, Nancy Riley presented this award on behalf of IDOC Commissioner Rob Carter.  Ms. Riley stated, "Warden Davis, all three of these traits describe how you have handled yourself not only during this pandemic, but also during your whole career with the department.  You have been a great leader, mentor and friend to all staff in the department."
Warden Davis, upon receiving the award, stated, "This award is not just for me, but also the staff at this facility.  I have an awesome team who continues to stay positive through the difficult times and keeps the offenders positive when things are uncertain.  I would not have received this award without my staff behind me."
Jan has worked for the Indiana Department of Correction for 37 years. She has held many titles including:  Correctional Officer, Counselor, Case Manager, and Administrative Assistant.  She was promoted to Warden of the Henryville Correctional Facility in 2006 and transferred to Madison Correctional Facility as the Warden in 2007. 
Madison Correctional Facility Warden Jan Davis and Deputy Warden Leslie Phelps
Looking for a new career?  We are hiring now!  
Links to More Information on IDOC Career Opportunities
Click This for All IDOC Career Opportunity and Benefit Information
Click this to Visit the IDOC Facebook Recruiting Page
Call or email Recruitment and Retention Coordinator Carlos Williams during regular business hours: 765-524-7743, email CarlWilliams@idoc.in.gov.
#TellOurStory#InThisTogether#HeroesWorkHere