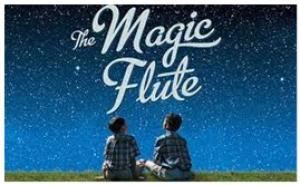 ***RECOMMENDED***  To state the fact that the Lyric Opera of Chicago has a passionate love affair with Mozart's The Magic Flute may be a bit of an understatement. The company has produced this 230-year-old work innumerable times since its Lyric debut in 1966. This production marks the fourth time that it has graced their stage within the past 15 seasons -- with the most recent being in 2017. Regardless of whatever iteration of The Magic Flute that you may have encountered in the past, it's a very safe bet that you have never seen anything like this one.  3 SPOTLIGHTS
The reason for that is, in large part, thanks to the genius of Suzanne Andrade and Barrie Kosky. These two innovative artists co-conceived and co-directed this opera nearly ten years ago for the Komische Oper Berlin. Relying solely on the beauty and humanity of Mozart's score and with a heavy nod to Emanuel Schikaneder's improvised contributions to the libretto they have reimagined The Magic Flute and built their version from the ground up.
Add in Paul Barritt's endlessly fascinating and inventive hand-drawn animation and you have the most magical The Magic Flute that you will ever come across – dare one say even more dazzling than Julie Taymor's splendid and puppet-filled production for the Metropolitan Opera. Seen by over 700,000 people worldwide thus far, Lyric was wise to license this work now so that Chicago
audiences as well can finally be captivated by its abundant charms.
Is this the best opera to introduce children, young adults or the average novice opera-goer to the rapturous glory and wonder of the art form known as opera? For the most part, the answer has to be a solid yes. While certain initial details within the first act may be confusing to someone who is not familiar with the fairytale quality of this work or the folklore upon which it is based, a quick perusal of the plot synopsis in the front of your program should clear up any uncertainty before the curtain rises. One such instance is the very clever way that we learn how the three ladies punish Papageno and render him mute. The details are illustrated via a visual metaphor. Subtle instances such as this are delightful to those who pay very close attention.
Andrade and Kosky's concept presents this The Magic Flute as a silent film from the 1920s, with a heavy emphasis on German Expressionism. The set consists of a large proscenium arch within the proscenium arch of the Lyric Opera house, with a red velvet curtain that is raised to reveal a large silver screen upon which a movie would be projected. All of the action takes place in front of and within that screen. Certain doors swivel open or closed, platforms mysteriously thrust outwards towards the audience and windows abound so that you feel as if you are viewing an enormous Bavarian Advent calendar with life-sized surprises revealed when each new door or window is popped open. It is through these openings that all of the singers make their entrances and exits. In such a fashion the players are performing within the animation
and responding or interacting directly with it. Conductor Karen Kamensek controls the pacing and revival director Tobias Ribitzki spent over two weeks on the choreographic elements alone to ensure that the entire cast perfectly hits their mark every single time that they take the stage as they mesh seamlessly with the animation.
Such rigid precision and technical discipline can drain a performer and hinder their development of creating a solid character. Vocally this entire cast is wonderful but there are, sadly, some static characterizations. At times you may feel as if you are merely watching a movie playing out before you and what should be a grand opera with huge sets and spectacular costumes may tend to feel a bit two-dimensional.
But there are plentiful joys to be had here.  Soprano Ying Fang is marvelous as the kidnapped princess Pamina, complete with a Louise Brooks-inspired bob haircut. Tenor Pavel Petrov is captivating as the hero Tamino, the prince who will endure any trials to earn the love of Pamina. Baritone Huw Montague Rendall is downright endearing as Papageno, the bird catcher in search of love and accompanied by an animated feline companion that nearly steals the show. Rendall is a stand-in for Buster Keaton and captures that particular silent film star's great physicality. The Queen of the Night, coloratura soprano Lila Dufy, deftly handles the role's demanding vocal fireworks. Tenor Brenton Ryan is the masked Monostatos, villainous henchman to the evil Sarastro (bass Tareq Nazmi).
In a production laden with video projection which can sometimes feel as if it's engulfing the entire stage, the evening's most memorable moment may also be its simplest. When Fang launches into Pamina's gorgeous aria Ach, ich fuhl's in the final act, she is beneath a single barren tree as the snow falls silently upon her lamentation. No massive sets or lavish costumes required – this is a grand opera after all.
Go and be thrilled by this uniquely theatrical experience…and that darn cat.
The Magic Flute continues until November 27, 2021
Remaining performances are:
November 14 at 2:00 PM 
November 17 at 2:00 PM 
November 19 at 7:00 PM                    
November 27 at 7:30 PM
Running time is 2 hours and 45 minutes with one intermission