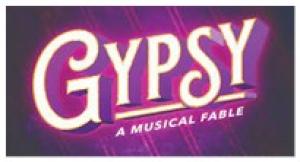 **** Recommended   The Marriott Theatre production of Gypsy is a musical treat.  I've seen Gypsy multiple times so I wasn't particularly excited to see it again, but this production reached out and grabbed me.  This Rose (Lucia Spina) is phenomenal.  She absolutely owns the stage.  The rest of the cast is pretty darn good too.  I'm pretty sure Gypsy will reach out and grab you too.  4 Spotlights
Everyone knows the story (which is mostly true) about Mama Rose, the pushiest stage mother of all time, who is bound and determined to live her dream of stardom through her daughters.  Because she doesn't think her older daughter, dark-haired Louise (Milla Liss), has any talent, she concentrates on blonde Baby June (Elin Joy Seiler).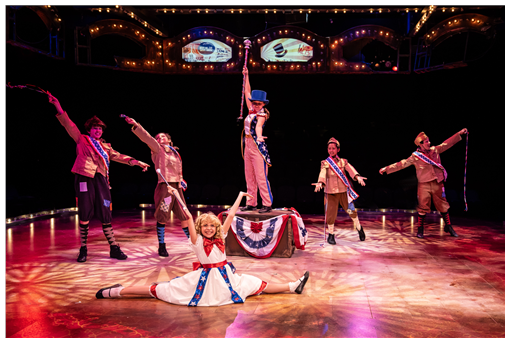 After 'borrowing' a stake (a gold retirement plaque) from Pop (Cedric Young), she developed a corny act, Baby June and her Newsboys, and hit the Vaudeville circuit.  Along the way, she picks up Herbie (Nathaniel Stampley), an agent turned candy salesman who falls in love with her.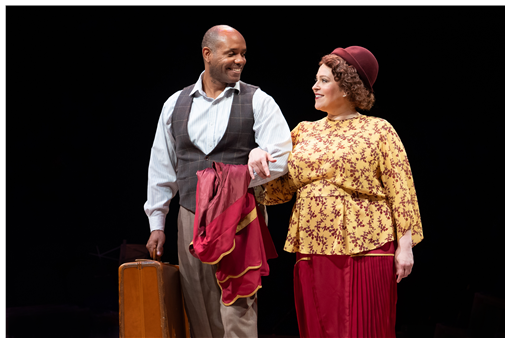 As the kids grow up, Baby June becomes Dainty June (Tori Heinlein), while Louise (Lauren Maria Medina) stays as one of the newsboys.  After Rose adds a cow to the act, Louise moves into the front of the cow.  Finally, Herbie scores an audition in New York, the producer offers a gig in another theater. 
When Rose finds out that he's only interested in June, even offering to pay for acting lessons for her, she throws a hissy fit, and refuses the booking.  Shortly after that, June elopes with Tulsa (J'Kobe Wallace), one of the newsboys.  When Rose tries to move Louise into June's spot, the rest of the now grown-up newsboys quit, and the act breaks up.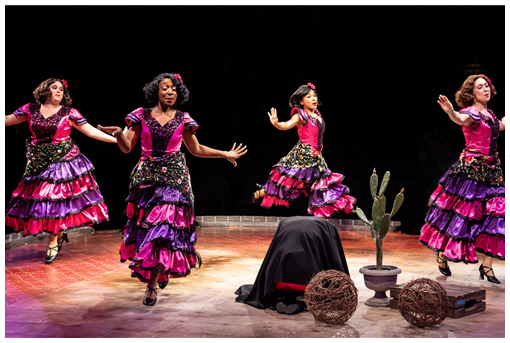 Collecting four star struck girls – and their allowances – the act becomes Rose Louise and her Hollywood Blondes.  When Herbie accidentally books the act into a burlesque house, Mama Rose finally recognizes that Vaudeville is dead.  She announces she'll marry Herbie at the end of their two week run. 
After Louise agrees to sew some costumes for Mazeppa (Sawyer Smith), she and her co-workers, Tessie Tura (Emily Rohm), and Electra (Leanna Rubin), instruct her in proper stripping techniques, absolutely bringing down the house with their dance moves in You Gotta Get a Gimmick.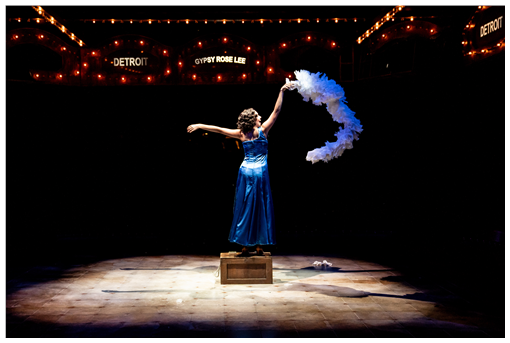 At the end of the run, everyone is ready for the wedding but Rose finds out that the star stripper has cancelled.  She forgets all about Herbie and convinces Louise to take the gig.  She does, and Gypsy Rose Lee is born.  
Although you'll hear enough Let Me Entertain You for anyone, the other iconic songs in Gypsy will be familiar too.  You can't go wrong with music like Everything's Coming Up Roses, Some People, Small World, You'll Never Get Away from Me and Together Wherever We Go.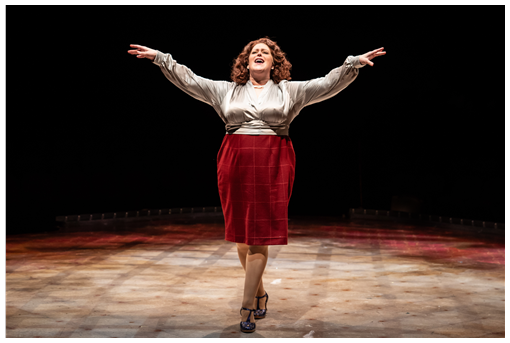 Many cast members play multiple parts.  If they've not been mentioned above, I'm including them in this list: Daryn Whitney Harrrell, Jordyn Helvie, Christopher Kelley, Kevin Kulp, Steve O'Connell, Joseph Primes, Laura Savage, Ayana Strutz, Arik Vega and Annie Yokom, with Elliot Angsurat, Lucian Gutfraynd and Jojo Nabwangi in the ensemble.  Rose's dog is played by Sir Reginald "Reggie". 
The Marriott Orchestra includes Brad Haak (Conductor/Keyboard), Kevin Reeks (Associate Conductor/Keyboard), Sean McNeely (Flute/Clarinet/Alto Saxophone), Emily Beisel (Flute/Clarinet/Tenor Saxophone), Hardin Butcher (Lead Trumpet), Chris Davis (Trumpet), Steve Duncan (Trombone), Trevor Jones (Acoustic Bass/Orchestra Contractor) and Andy Wilmoth (Drums).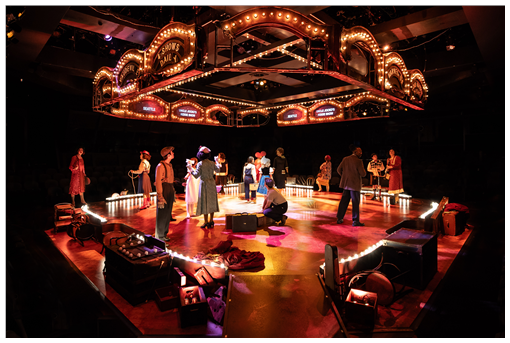 Gypsy runs through October 13th at the Marriott Theatre, 10 Marriot Drive, Lincolnshire.  Parking is free; valet parking is also available.  Running time is two hours, 30 minutes, with an intermission.  
Performances are Wednesdays at 1:00 & 7:30 pm; Thursdays at 7:30 pm; Fridays at 8:00 pm; Saturdays at 4:00 and 8:00 pm; Sundays at 1:00 and 5:00 pm with select Thursday 1:00 pm matinees.  There are a limited number of dinner-theatre packages available on Wednesdays and Thursdays.  Tickets start at $55 excluding tax & handling fees.    FYI (847) 634-0200, www.ticketmaster.com or www.marriotttheatre.com.