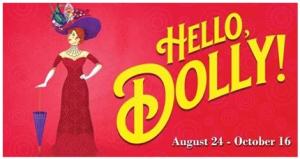 ★★★★★ In spite of all the problems that tried to get in the way of their production of "Hello Dolly", the Marriott Theatre and its cast came through with flying colors to bring a for sure Jeff Recommended production. One of the problems with a piece like this is the star who Dolly was written for. Carol Channing was unique and very special and created a "matchmaker" that was wonderful. In the film version, Barbra Streisand took on this character. Let me tell you about Heidi Kettenring (who most Chicagoans know is a wonderful actress) and what she has done with this role. She has recreated this character with her own special chemistry, making Dolly Levi her own! I was sure that we would see something special tonight, and under the direction of Denis Jones, who also did some wonderful choreography, you will be dazzled.
One of the problems a director faces when working on an in-the-round-stage is lack of scenery and set. In order to make up for this, they need to create a dazzling production with special moments that take one's breath away. Jones does this with solid dance routines and a wonderful courtroom/dining scene that is a highlight that you will remember for years to come, Kettenring took full advantage of her talent during this scene where she devours a meal with the entire cast watching in anticipation of the show continuing. BRAVO!
"Hello Dolly" with a book by Michael Stewart and Music by Jerry Herman is based on Thornton Wilder's amazing play, "The Matchmaker". Its a love story. In reality, it is four love stories and is as comical as one might expect. Dolly is a matchmaker who has been hired to find a match for Horace Vandergelder ( played to perfection by David C. Girolmo). Part of the magic of this production is that he is in real life married to Ms Kettenring. Watching them onstage together is a real treat. As it turns out, Horace is supposed to end up with Irene Molloy of New York ( a wonderful portrayal by Rebecca Hurd). She owns a hat shop in New York and he is to meet her to propose. It turns out that Dolly has chosen Horace to be her husband, so she must use her wily skills to convince Horace that in the end,  she is the one.
Horace has two employees, Cornelius Hackl ( another wonderful character role by Alex Goodrich, who is masterful at comedy) and young Barnaby Tucker ( Spencer Davis Milford is perfect and then some) who have never left Yonkers and decide to go on an adventure. They meet Ms Molloy and her assistant Minnie ( a charming Amanda Walker) and they go off for a special evening, not knowing that their employer will be at the same restaurant. They also have very little money with them.
The other love story involves Vandergelders' niece Ermengarde ( Emily Ann Brooks) and her fiancée , Ambrose ( deftly handled by Michael Turrentine). I told you there are four love stories!
The production is filled with solid songs such as "It Takes A Woman",  "Put On Your Sunday Clothes", "Before The Parade Passes By", "Dancing", "It Only Takes A Moment", "So Long Dearie" and of course "Hello Dolly" as you have never seen it before!
Brad Haak and the orchestra were wonderful ,never drowning out the voices on the stage. The tech aspects were spot on. Costumes (Theresa Ham), lighting ( Jesse Klug), sound (Michael Daly), props ( Sally Zack) wigs ( Miguel A. Armstrong and Megan Pirtle) with solid production  management by Meg Love and solid stage management by Jessica Banaszak. There are times the cast members go up one aisle and come back the next with a change of costume and sometimes character. Not easily done without the help of the crew.
As I always say, the ensemble is quite important to making a production like this work- this one should be up for an award on its own merit. Terrell Armstrong, Brian Bandura, Collin Bradley, Christine Bunman, Kaylee DaCosta, Marisa Fee, Sam Griffin, George Keating ( who has been a Marriott regular for decades and as always is wonderful), Ian Liberto, Johanna McKenzie Miller, Jenna Napolitano, Alex Pouloutides, Palash Ranjit, Emma Rosenthal, Laura Savage and Richard Strimer. They made it happen! The choreography in the dinner scene is powerful and almost cirque-like.
"Hello Dolly" will continue thru October 16th with performances as follows:
Wednesdays  1 p.m. and 7:30 p.m
 Thursdays 7:30pm
 Fridays :8:00pm
 Saturdays  4:00pm & 8:00pm
 Sundays 1:00pm & 5:00pm
The Marriott Theatre is located in Lincolnshire at Ten Marriott Drive
Just south of Route 22 and East of Route 21 on the grounds of the Marriott Resort of Lincolnshire
Show Type: Musical
Box Office: 847-634-0200