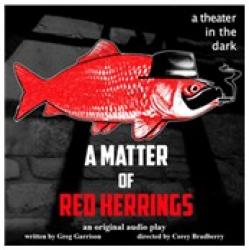 **** Recommended **** A Matter of Red Herrings. a mystery spoof produced by A Theater in the Dark, is a terrific new option for theater lovers.  You don't have to go to a theater to enjoy it!  You listen to it! Just like an audio book or a podcast, you can listen wherever you are – at home, in your car, even while you're working out!  You'll be laughing in no time listening to all the bad puns and detective story clichés.  4 Spotlights
A Matter of Red Herrings was written by Greg Garrison (who also plays Wilhelm Wrong and the Announcer), and directed by Corey Bradberry (who plays Rod Wrong).  Original music by Paul Sottnik adds to the drama. 
Set in 1929 in Chicago, A Matter of Red Herrings, follows a jaded private detective, Stainless Steel (Amy Gorelow), who gets a case tracking down a priceless artifact, from, of all people, her ex-wife, Vesper Kind (Laura Michele Erle). 
Although Steel woul rather work alone, she dons her fedora and takes on overweight, over 50, detective-in-training, Watley Holm (Julian "joolz" Stroop), telling him detectives have to forget ABC 'cause it will get you DOA.
At the luxurious apartment owned by Armand Valdez (Christopher Meister), they learn that the artifact they're looking for is the centerpiece of his priceless collection which also includes the Maltese Falcon, Chekov's Gun and the Purloined Letter.
As Steel and Watley navigate Chicago's underworld, they hear that The Red Herring is the wager in an upcoming race, the Dastardly Derby which will have Chicago's deadliest criminals in attendance.  There are lots of surprising twists and turns in this intriguing tale, but you'll have to listen to learn more! 
Kudos to the cast. Amy Gorelow is just cynical enough as Detective Stainless Steel.  By the way, her name is the impetus for multiple metal-related jokes.  Julian 'joolz' Stroop seems to be an unassuming trainee, at least until he interviews the Ice Queen solo.  Christopher Meister finds different accents and inflections as he plays Vinnie Valconi, Armand, Valdez, and more.  Laura Michele Erle is wonderful as Vesper Kind and the Ice Queen.  The real criminals turn out to be the Wrong Brothers – Wilhelm played by playwright Greg Garrison and Rod, played by Director Corey Bradberry.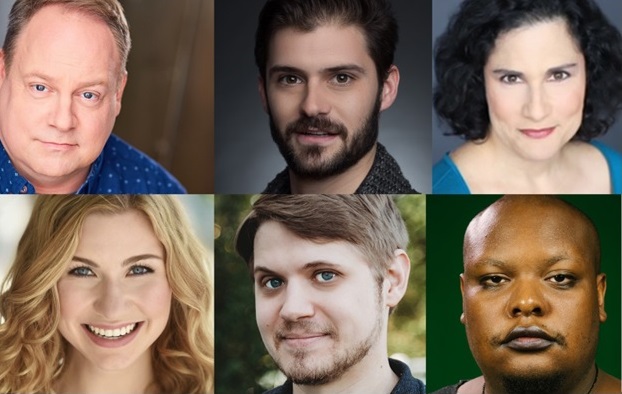 TOP - LEFT TO RIGHT Christopher Meister, Corey Bradberry, Amy Gorelow.
BOTTOM - LEFT TO RIGHT Laura Michele Erle, Greg Garrison, Julian 'joolz' Stroop
Next up for A Theater in the Dark: A Murder in the Court of Xanadu will be released this fall, followed by The White City: An Audible exhibition on H.H. Holmes, Murderer in early 2023. 
A Matter of Red Herrings is in an open run and available to the public for streaming at $10 per stream at www.atheaterinthedark.com.  Season passes for all three productions are $25 and available at www.theatreinthedark.com/store/2223seasonpass. 
Patreon subscriptions are available at www.patreon.com/atheaterinthedark for $3.25 per month and will provide access to A Theater in the Dark's entire library of streamable audio plays including Three Stories Up, A War of the Worlds, A Christmas Carol in the Dark and A White Whale as well as access to the 2022-23 season productions. 
 
Note: I don't often add anything to my reviews, but in this case, I had to add this video trailer ...
Woah! Our video trailer has hit the internet.
Have 60 seconds for a couple of jokes?
Another great review, this time from Spotlight on Lake! Check out some of what they had to say:
Order Your Stream or Digital Download Today