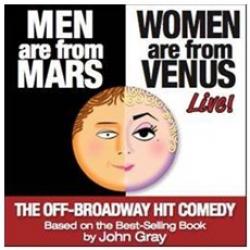 Broadway In Chicago is delighted to announce that individual tickets for the Off-Broadway hit comedy MEN ARE FROM MARS – WOMEN ARE FROM VENUS LIVE! are on sale now. MEN ARE FROM MARS – WOMEN ARE FROM VENUS LIVE! will play Broadway In Chicago's Broadway Playhouse at Water Tower Place (175 E. Chestnut) for a limited two-week engagement from February 11 – 23, 2020.
MEN ARE FROM MARS – WOMEN ARE FROM VENUS LIVE! is a one-man fusion of theatre and stand-up, and is a light-hearted theatrical comedy based on the New York Times #1 best-selling book of the last decade by John Gray. Moving swiftly through a series of vignettes, the show covers everything from dating and marriage to the bedroom. This hysterical show will have couples elbowing each other all evening as they see themselves on stage. Sexy and fast paced, this show is definitely for adults, but will leave audiences laughing and giggling like little kids!
After beginning in Paris in 2007, MEN ARE FROM MARS – WOMEN ARE FROM VENUS LIVE! has been seen by more than one million people around Europe. It debuted in the United States in February 2013 in Raleigh, North Carolina and will be playing to audiences around the United States and Canada throughout the year. 
The talented team assembled for this production continues with the award winning playwright Eric Coble, direction by Broadway veteran Mindy Cooper, and animation & video production by the talented animators at Bazillion Productions.
For more information, visit: www.marsvenuslive.com.
PERFORMANCE SCHEDULE
Tuesdays at 8:00PM
Wednesdays at 8:00PM
Thursdays at 8:00PM
Fridays at 8:00PM
Saturdays at 4PM & 8PM
Sundays at 2PM & 6PM
TICKET INFORMATION
Individual tickets for MEN ARE FROM MARS – WOMEN ARE FROM VENUS LIVE! will go on sale Friday, November 15 and all tickets will be $69. Individual tickets will be available by calling the Broadway In Chicago Ticketline at (800) 775-2000 or by visiting www.BroadwayInChicago.com. Tickets are available now for groups of 10 or more by calling Broadway In Chicago Group Sales at (312) 977-1710 or emailing GroupSales@BroadwayInChicago.com. 
ABOUT BROADWAY IN CHICAGO
Broadway In Chicago was created in July 2000 and over the past 19 years has grown to be one of the largest commercial touring homes in the country.  A Nederlander Presentation, Broadway In Chicago lights up the Chicago Theater District entertaining more than 1.7 million people annually in five theatres.  Broadway In Chicago presents a full range of entertainment, including musicals and plays, on the stages of five of the finest theatres in Chicago's Loop including CIBC Theatre, James M. Nederlander Theatre, Cadillac Palace Theatre, and just off the Magnificent Mile, the Broadway Playhouse at Water Tower Place and presenting Broadway shows at the Auditorium Theatre.
Broadway In Chicago proudly celebrates 2019 as the Year of Chicago Theatre.
For more information, visit www.BroadwayInChicago.com.
Facebook @BroadwayInChicago ● Twitter @broadwaychicago ● Instagram @broadwayinchicago ● #broadwayinchicago