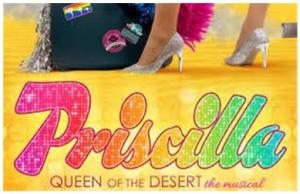 **** Recommended **** Mercury Theatre's production of Priscilla: Queen of the Desert is all about disco music and 'dancing queens' in sequined costumes.  It's totally over-the-top and a fabulously fun time!  Unless you're a Grinch, you go home laughing and happy.  The whole premise, the adventures of three drag queens driving across the Australian Outback, is insane, but don't let that get in the way.  No one else does!  People were whooping it up from the first note.  I love Priscilla Queen of the Desert and I think you will too!  4 Spotlights. 
Priscilla opens in a glittery club in downtown Sydney with Tick (Josh Houghton), the three Divas (Heather J. Beck, Lydia Burke and Jessica Brooke Seals) and the company singing/dancing to It's Raining Men.  When Tick leaves the stage, Miss Understanding (Darren Patin) joins the Divas for a vigorous rendition of What's Love Got to Do With It.   
Backstage, Tick gets a phone call.  It's his 'dirty little secret', his wife, Marion (Brittany D. Parker), calling.  She wants Tick to come back to Alice Springs and spend some time with their eight-year-old son, Benji (Gabriel Solis).  When Tick admits he can't afford the airfare, she offers him a gig in the casino she manages.
Tick persuades his friend Adam/Felicia (Shaun White), to go along.  He goes to see another friend, the transsexual, Bernadette (Honey West), only to learn her husband has just died.  After the funeral, he persuades her to go along, too.  Felicia and Bernadette take an immediate dislike to each other, resulting in lots of snarky cracks.
They buy an old bus for their trip.  Set Designer Johnathan Berg-Einhorn has put together 4 separate but linkable sections which are easily moved around the stage.  Turned one way, it looks like an old bus, turned the other way, curtains and pink flowered wallpaper.
On the trip, as they travel through places like the Road to Nowhere, the Middle of Nowhere and the Back of Beyond, everything that could go wrong, does!  In one town, they enjoyed an evening out with the locals only to find that someone painted homophobic slurs on the bus.  Tick and Bernadette take it badly but Adam/Felicia produces a bucket of paint from somewhere and they paint the bus pink pink! 
When the bus breaks down miles from nowhere, they meet a tour guide/mechanic named Bob (Michael Kingston), who fixes the problem and invites them to put on a little show.  His showbiz-crazy wife, Cynthia (Ayana Strutz), furious when she's not asked to perform, steals the show.  Bob has a crush on Bernadette, so he joins the trip. 
The toe-tapping score includes Madonna hits, Material Girl and Like a Virgin as well as disco favorites like I Love the Nightlife, I Will Survive, Shake Your Groove Thing, Boogie Wonderland and Cyndi Lauper's hit, Girls Just Wanna Have Fun.  There's even a John Denver hit, Thank God I'm a Country Boy.
Almost every song becomes a major production number, with the divas re-appearing – even in the desert – for most.  A curious note: all the music was pre-recorded and some songs were lip-synced. 
Kudos to Costume Designer, Bob Kuhn, on the costumes!  Some sparkle and glitter, some are outrageous – think clashing patterns and colors and flip-flops as a design element!  Then there are Keith Ryan's wigs – some are gorgeous, some are just wacky!  Some are helmets that look like blue and pink hair.   
The Divas and the rest of the energetic ensemble – John Cardone, Marcus Jackson, Michael Kingston (until 8/14), Brittany D. Parker, Darren Patin, Jason Richards (starting 8.15), Ayana Strutz and Matthew Weidenbener – dance in the club, play cowboys and cowgirls, as well as hookers and thugs in the Outback with equal enthusiasm. 
Note:  Guests are required to wear masks while inside the building. 
Priscilla. Queen of the Desert runs through September 11th at the Mercury Theater, 3745 N. Southport, Chicago.  Parking is a challenge in this neighborhood, so I suggest using one of the parking apps.  Running time is approximately 2 hours with an intermission.  Performances are Wednesday through Friday at 7:30 pm, Saturday at 2:00 & 7:30 pm, Sunday at 2:00 pm.  Tickets range from $39-850.  FYI www.mercurytheaterchicago.com.