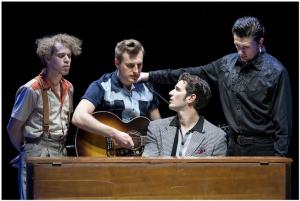 As you probably already know, "Million Dollar Quartet" is based on a real event, an impromptu jam session involving Johnny Cash (Christopher J. Essex), Jerry Lee Lewis (Nat Zegree), Carl Perkins (Shaun Whitley) and Elvis Presley (Rustin Cole Sailors) at Sun Records Studio in Memphis on December 4, 1956. 
Sam Phillips (David Folsom), the owner of Sun Records, had discovered all four singers, and signed them to contracts at different times.  In desperate need of cash to keep his business going, he sold Elvis Presley's contract to RCA.  Although he always regretted the need, the money kept his business going – and allowed him to invest in a new Memphis business venture called Holiday Inn! 
On December 4th, newly signed Jerry Lee Lewis, was eager to show off his talent hen Carl Perkins and his brother Jay (Zach Lentino) along with a drummer named Fluke (Kieran McCabe), arrived at the studio for a recording session.  While Perkins was working on a song called "Matchbox", Phillips decided the song needed piano backup and brought in Jerry Lee.  Needless to say, the arrogant and very abrasive Lewis rubbed Perkins the wrong way. 
Elvis Presley and his girlfriend, Dyanne (Laura Savage) dropped in for a visit with Phillips because Presley wanted Phillips to come to RCA and manage his career.  Since he was expecting Johnny Cash, Phillips planned a celebration because Johnny Cash was going to sign a new contract.  When the guys started jamming, Phillips decided to record the meeting.
"Million Dollar Quartet" has great country, rockabilly and gospel music.  In addition to singing songs like "Blue Suede Shoes", "Brown Eyed Handsome Man" and "Down by the Riverside" as a quartet, they each sing the lead in many of their individual hits. 
In addition to "Matchbox", Perkins leads in "Who Do You Love" and "My Babe".  Johnny Cash leads in "Folsom Prison Blues", "Sixteen Tons" and "I Walk the Line".  Johnny Lee Lewis, who was just starting out that night, sang "Great Balls of Fire" and Elvis Presley, who was already a star, sang "Long Tall Sally", "Peace in the Valley" and "Party".  Dyanne got in the act too, singing Peggy Lee's hit, "Fever", as well as "I Hear You Knockin'". 
The stage goes dark after Phillips' picture of the session is projected above the stage.  This isn't the end of the show, so don't rush out!  If you do, you'll miss the fun.  It's a concert after the musical, complete with an encore!  After donning sequined jackets,  Elvis Presley sings "Hound Dog", Johnny Cash sings "Ghost Riders in the Sky", Carl Perkins sings "See You Later, Alligator" and in an encore, Jerry Lee Lewis sings "Whole Lotta Shakin' Goin' On". 
By the way, this show is perfect for Marriott's typical audiences, since most of them were probably in their teens in 1956.  You just can't help chair dancing through "Million Dollar Quartet"!  Take your teens, they'll have a great time.  If you don't like rock and roll, don't go! 
"Million Dollar Quartet" runs through March 16th at the Marriott Theatre, 10 Marriott Drive, Lincolnshire.  Parking is free, valet is also available.  Running time is 90 minutes, no intermission.  Performances are Wednesdays at 1:00 and 7:30 pm; Thursdays at 7:30 pm; Fridays at 8:00 pm; Saturdays at 4:00 and 8:00 pm; Sundays at 1:00 and 5:00 pm, with select Thursday 1:00 pm shows.  Tickets range from $50-$60.  FYI (847) 634-0200 or www.marriotttheatre.com.