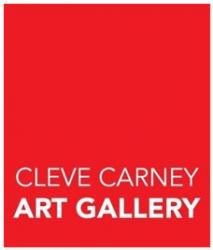 The Cleve Carney Museum of Art (CCMA), located at 425 Fawell Blvd. on the College of DuPage (COD) campus, today announced a series of virtual talks with contemporary artists in February, March and April of 2021. A continuation of the museum's long-running Visiting Artist Series, the talks will be presented online and are free to the public.
The three-part 2021 Winter/Spring Visiting Artist Series will begin Tuesday, Feb. 16 at 11 a.m. and feature a conversation with Kansas-based sculptor Misty Gamble, whose life-sized figurative ceramic sculptures challenge conventional standards of morality, normalcy and propriety. Co-founder of Studio Nong: International Sculpture Collective and Residency Program, Gamble will discuss her conceptual and technical processes, influences, and development as an artist.
A second talk, taking place Wednesday, March 17 at 11 a.m., will feature architect and urban designer Paola Aguirre Serrano. Serrano, the founder of BORDERLESS, a Chicago-based urban design and research practice, was recently appointed by the City of Chicago as Commissioner of Chicago Landmarks and is a member of the Cultural Advisory Council. Included in Newcity's 2020 "Design 50: Who Shapes Chicago" list, she will discuss creative civic design and engagement interventions that address social equity.
Closing out the virtual season Thursday, April 22 at 11 a.m., CMMA will present an Earth Day-themed panel featuring contemporary artists Erin Wiersma, John Sabraw and Terry Conrad. Moderated by COD Professor of Art History David Ouellette, the conversation will explore each artist's creative process, address how they work with materials or concepts connected to nature, and the importance of environmental activism to their practice.
"We are proud to continue to be able to serve the college community, students and the public with direct access to leading contemporary artists and designers working in the field," said Cleve Carney Museum of Art Curator Justin Witte. "The presenters taking part in the upcoming talks are engaging with vitally important issues, from climate change to feminist practice."
All talks will be available at https://theccma.org/vas-20202021. An archive of past talks by groundbreaking contemporary artists, including Nick Cave, Faheem Majeed and Luftwerk, is also available for viewing at www.theccma.org.
About Misty Gamble
Misty is the recipient of a number of honors including awards from the Martin Wong Foundation, National Conference for the Education of Ceramic Arts and the Ellice T. Johnston Foundation. In 2008, she received an artist grant from the Ruth Chenven Foundation and was honored as a Ceramics Monthly Emerging Artist. Misty has been awarded long-term residencies at Watershed Center for the Ceramic Arts, where she earned the Howard Kottler Fellowship, and the Armory Art Center in West Palm Beach, Florida. Additionally, Gamble was invited to lead an Artist-Invite Artist Residency at Watershed and was an invited artist at Project Art in Cummington, Massachusetts. In 2014, Gamble was an invited artist at C.R.E.T.A Rome and has continued to study or teach in Italy since 2013. Gamble is the co-founder of Studio Nong: International Sculpture collective and residency program. Studio Nong travels to China (2013,2016) and Europe to accomplish residencies that focus on clay figurative sculpture.
About Paola Aguirre Serrano
Paola Aguirre Serrano is founder of BORDERLESS — a Chicago-based urban design and research practice focused on cultivating collaborative design agency through interdisciplinary projects. With emphasis on exchange and communication across disciplines, Borderless explores creative civic design and engagement interventions that address the complexity of urban systems and social equity by looking at intersections between architecture, urban design, infrastructure, landscape, planning and community participatory processes. Paola is an active educator, and currently teaches architecture at The School of the Art Institute of Chicago, has taught urban design at the Sam Fox School of Design Washington University in St. Louis and social impact design at Archeworks.
Erin Wiersma
Erin Wiersma's artistic practice focuses on the body's capacity to absorb and respond to an environment. Based in the Flint Hills of Kansas, she is creating works on paper with the land at the Konza Prairie Biological Station, one of the few remaining protected grasslands in the world. This body of work has fostered recent interdisciplinary and community-based collaborations. Erin is represented by Robischon Gallery in Denver, Colorado and Galerie Wehlau in Munich, Germany. Her work has been featured in Minding Nature at the Center for Humans & Nature, OnVerge at the CUE Foundation, Art21 Online Magazine, and Two Coats of Paint. Erin received her BA from Messiah College and completed her MFA at the University of Connecticut. She is an Associate Professor of Art at Kansas State University.
John Sabraw
Artist, activist, and environmentalist, John Sabraw was born in Lakenheath, England. Sabraw's paintings, drawings and collaborative installations are produced in an eco-conscious manner, working toward a fully sustainable practice. Sabraw's art is part of numerous collections including the Museum of Contemporary Art, Honolulu, the Elmhurst Museum in Illinois, Emprise Bank, and Accenture Corp. He has most recently been featured in TED, Smithsonian, New Scientist, London, and Great Big Stories. Sabraw is a Professor of Art at Ohio University where he chairs the Painting + Drawing program.
Terry Conrad
Terry Conrad is interested in the community aspects of printmaking and the trace materials found within the landscape. In 2014, he was awarded a grant to develop the Adirondack Forum, a collapsible venue made of old printing blocks and other found wood that functioned as a meeting place, performance space and classroom. In 2018, he joined a Scientific Research Cruise on the Robert Gordon Sproul, to sample benthic foraminifera in the Santa Barbara Basin on a trip funded by the National Science Foundation.
Conrad is a recipient of the 2017 New York Foundation for the Arts Fellow in Drawing, Printmaking and Book Arts, the 2015 and 2016 Grant Wood Fellowship in Printmaking, residencies at The Elizabeth Murray Residency (New York), Frans Masereel Centrum (Belgium), Penland School of Craft (North Carolina) and the Vermont Studio Center. He received his BFA from Alfred University and his MFA from Cranbrook Academy of Art. Conrad is an Assistant Professor in Printmaking at the University of Iowa.
About the Cleve Carney Museum of Art
The late Cleve Carney provided a significant legacy gift to establish the Cleve Carney Art Gallery at College of DuPage. The gallery opened in February 2014 with its inaugural exhibition "Selections from Cleve Carney's Art Collection." In fall 2020, the gallery was expanded to a 2,500 square-foot museum. The Cleve Carney Museum of Art is scheduled to open June 5 with the highly anticipated "Frida Kahlo: Timeless" exhibition. The museum will maintain the standards set by the American Alliance of Museums. More information can be found at www.TheCCMA.org and on social media @CleveCarneyMuseumofArt.