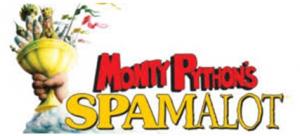 This rollicking romp is chock full of silly shtick – all the sight gags, pratfalls and double entendres you could ask for.   I think the thing that makes this even more fun was watching the Mercury cast embrace the essential silliness that is Monty Python. 
"Spamalot" begins with an Historian (Adam Fane) who introduces the audience to Merry Olde England and the legend of King Arthur.  Of course, the ensemble didn't catch the name of the country, since they open with a rousing tribute to Finland, "Fisch Schlapping Song." 
King Arthur (Jonah D. Winston) and his faithful sidekick Patsy (Greg Foster) – clip-clopping with coconut shells, travel across England, seeking knights for Arthur's brand new Round Table.   At the first castle he approaches, the soldiers in the towers are just not interested, being distracted by their discussion about the ability of migratory birds to carry coconuts. 
The Historian reports that plague has hit many – most – parts of England.  As carts go around, people bring out their dead.  As Brother Maynard (Adam Ross Brody) picks up a body, the body – aka Not Dead Fred (Adam Fane) – announces he's not dead yet, upon which the good Brother clunks him in the back of the head with a shovel and announces he's dead now!  Not Dead Fred and the ensemble sing "I Am Not Dead Yet", one of my favorite "Spamalot" songs.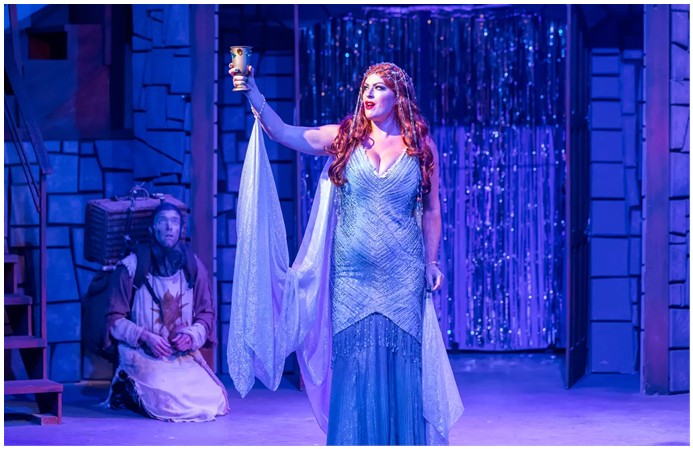 A peasant named Dennis (David Sajewich) and his Mother (Daniel Smeriblio), who live on a collective, debate the legitimacy of Arthur's claim to be king.  To prove that he really is king, Arthur calls upon the Lady of the Lake (Meghan Murphy).  The glamorous Lady of the Lake sings a sultry song about how Arthur got Excalibur, while her ladies in waiting, the Laker Girls cheer.  Dennis gets a blond transformation and signs on as Sir Galahad. 
In quick progression, King Arthur signs Sir Lancelot (Karl Hamilton), Sir Robin (Adam Ross Brody), and Sir Bedevere (Daniel Smeriglio).  As King Arthur and the Knights go off on their quest singing "Find Your Grail",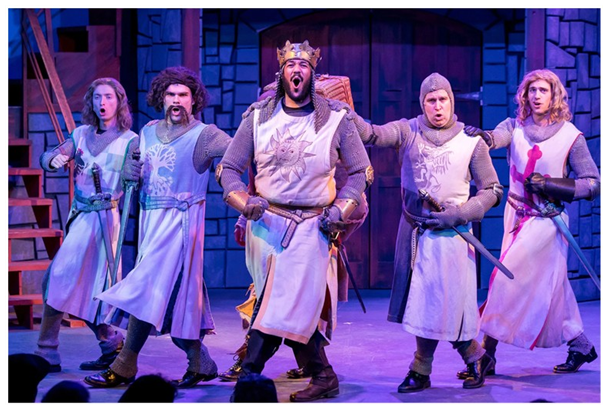 they encounter the scary Knight who says Ni (Karl Hamilton) who demands a shrubbery for passage through the forest. 
Sir Robin is scared off by the Black Knight (Sajewich) after which his own personal troubadours sing "Brave Sir Robin" a rather unflattering portrait of a knight; King Arthur then meets – and bests the Black Knight.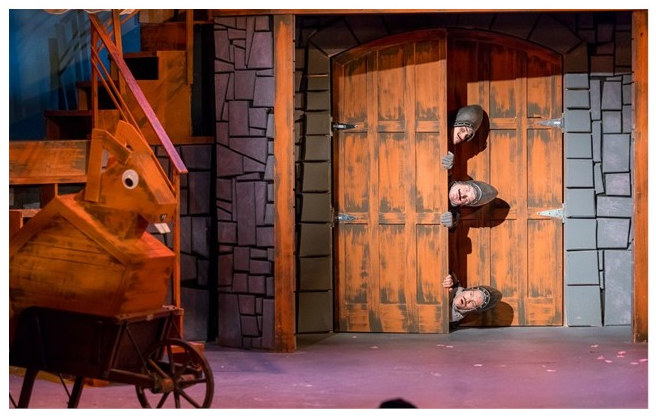 At a French castle, Arthur is where he is taunted by a snarky French Guard (Hamilton).  They build a rabbit as a diversion to get into the castle, but forget to put someone inside.  Finally, they're told they won't succeed in their quest until they put on a Broadway show, a subject that only Sir Robin knows anything about - "You'll Never Succeed on Broadway". 
You'll love the musical numbers.  Some of my favorites - "The Diva's Lament" in which The Lady of the Lake, wearing a dressing gown, stomps out on stage to ask what happened to her part; "The Song
That Goes Like This", a love song which fits into a certain part of any musical; "All for One!" - a song about Camelot which has the line "where they eat ham, and jam, and Spam a lot"; and of course, "Always Look on the Bright Side of Life."
"Monty Python's Spamalot" runs through November 3rd at the Mercury Theater, 3745 N. Southport Ave., Chicago.  Valet parking is available.  Running time is 2 hours and 10 minutes with an intermission.  Performances are Wednesday through Friday at 8:00 pm; Saturdays at 3:00 pm and 8:00 pm; Sundays at 3:00 pm.  Tickets range from $40-$80.  FYI (773) 325-1700 or www.MercuryTheaterChicago.com