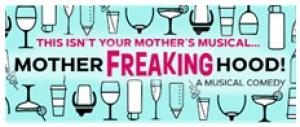 **** Highly Recommended **** MotherFreakingHood! A Musical Comedy playing through June 11th in the Venus Cabaret at the Mercury Theater, is a freaking laugh riot!  It takes all those not-so-precious lowlights of motherhood – the ones that you've conveniently forgotten (or would really prefer to forget) – and spins them into hilarity.  No kidding, this irreverent show pushed every motherhood button.  It will have you in stitches!  Ladies, get your mothers, sisters, partners and gal pals together for an experience like no other.  4 BIG Spotlights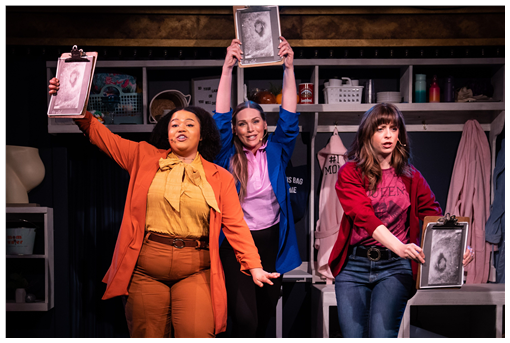 MotherFreakingHood! was written by college roommates (University of Kansas) Julie Dunlap and Sara Stotts.  They claim writing this musical was "… cheaper than therapy" while raising their own kids.  The show is directed by Heidi Van with Music Direction by Linda Madonia. 
The show opens as three women react to a pregnancy test.  Two are gloriously happy, the third not so much.  The three women meet for the first time at the doctor's office as Everywoman (Maya Rowe) gives each her first sonogram.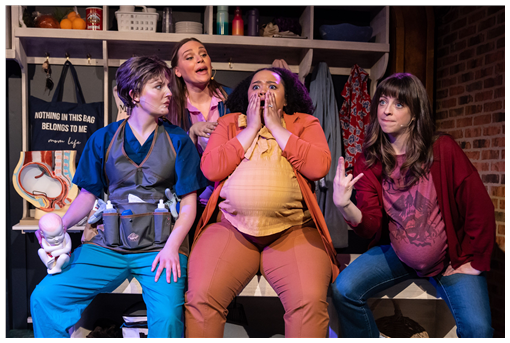 (l to r) Maya Rowe, Tafadzwa Diener, Jacquelyne Jones, Leah Morrow
Angie Miller (Jacquelyne Jones) has gon,e through the ups and downs of fertility treatments to get here, and she's ecstatic.  She's living in cloud-land, however, thinking that a baby won't disrupt her idyllic life.   
Rachel Nixon (Tafadzwa Diener), who already has a son, is a planner.  She got pregnant the very night they tried, and she's positive this baby will be a girl.  Rachel is the woman we all love to hate – her life is so perfect she even makes her own greeting cards.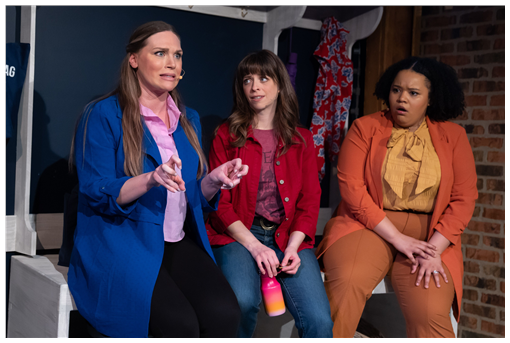 Marcia Burger (Leah Morrow) cannot believe she's pregnant again.  She has already raised three teenaged daughters and she's ready to live again.  Pregnancy means cancelling her trip to Cancun, not to mention her Wine of the Month membership.  Her comments about the realities of labor and delivery are to die for!   
When they all give birth on the same day – Angie and Rachel, girls, Marcia, a boy – they decide they're destined to be friends.  They meet on Mondays at 'their' bench in the park while their kids play in the sandbox. As the years pass, they deal with pre-school, kindergarten, PTA, teen angst, mothers night out and more.    
By the way, Maya Rowe, as Everywoman, has a different costume in almost every scene.  She's a doctor/nurse, she's a teacher, she's a principal, she's vamping in a nightclub, she's a salesperson and so on.  Basically, she's hilarious!   
Note: Masks are encouraged but not required in the theater.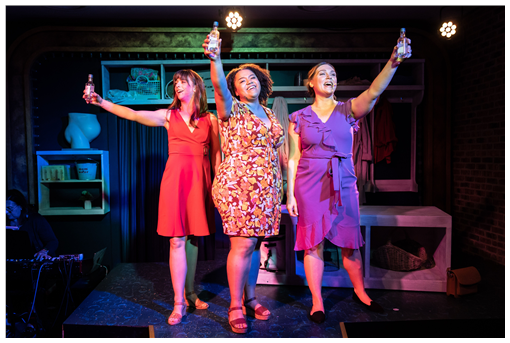 MotherFreakingHood! runs through June 11th in the Venus Cabaret at the Mercury Theater, 3745 N. Southport, Chicago.  Valet parking is available.  Street parking is at a premium, so if you go that route, I suggest using a parking app. 
Running time is just under two hours including an intermission.  Performances are Fridays at 8:00 pm, Saturdays at 3:00 & 8:00 pm, Sundays at 3:00 pm.  Tickets are $65, with Premium Reserved Tables at $260.  FYI www.mercurytheaterchicago.com