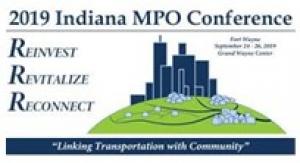 There were many sessions on multi-modal transportation and the management of these various modes. The highlights of every conference are the various walking tours offered on one afternoon. The overwhelming response of these tours and of the conference itself was the surprising vibrancy of the downtown Ft. Wayne area. 
While navigating the downtown area, one could view huge murals, streetscapes, positive activity and investments that were paying dividends to the community. While walking on Tuesday evening at 8:30 pm, one could see the energetic mood as dozens of residents were out enjoying the park and downtown area. 
More time was needed to fully explore and fully enjoy the Ft. Wayne area. Thank you to our partners at NIRCC for hosting this wonderful event.