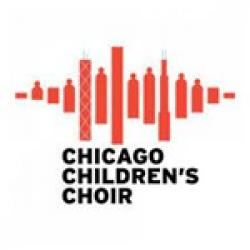 Chicago Children's Choir (CCC), a nonprofit organization that inspires and unites youth from diverse backgrounds to become global ambassadors through music, is proud to be featured in Chance the Rapper's Magnificent Coloring World concert film, which premiers on Friday, August 13 and playing at AMC Theatres and subsidiary partners nationwide.
Directed by Jake Schreier and produced by Chance's House of Kicks and Park Pictures, Magnificent Coloring World marks the first time an individual recording artist has independently distributed a film through AMC. The concert film was recorded during Chance's Magnificent Coloring World Tour with Chicago Children's Choir musicians—including current singers, alumni and instrumentalists—and followed the rapper's historic 3X Grammy Award winning 2016 mixtape Coloring Book. The release of the film celebrates the album's fifth anniversary.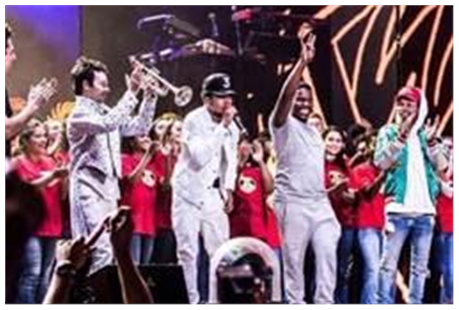 Chance the Rapper and Chicago Children's Choir singers at the Magnificent Coloring World concert at Guaranteed Rate Field in 2016. Courtesy of Chicago Children's Choir.
"We were honored to embark on this journey together," said Josephine Lee, Chicago Children's Choir President and Artistic Director. "Our collaboration is a reflection of the unique power of Chicago's artists and young people to unify, captivate, and move the world through music. The release of the concert film is especially meaningful as we emerge from a time of isolation. Like Chance, we've been inspired to continue to create during the pandemic, and we hope to provide uplifting messages and opportunities as we collectively tackle the trauma of our time."
Chicago Children's Choir's relationship with Chance the Rapper started with their prominent appearance on the Coloring Book mixtape and blossomed into a series of close collaborations and performances, including a festival at (what is now) Guaranteed Rate Field in 2016 and a performance at Lollapalooza in 2017, in addition to the new concert film. The Choir was also featured on "Zanies and Fools" from Chance's debut album, The Big Day (2019), as well as on his virtual concert Chi-Town Christmas (2020). These collaborations were the genesis of the Choir's partnership with Peter CottonTale, Chance's Music Director, who called on the Choir to participate in "Together," an original song for Google's 2020 Year In Search video that premiered on The Late Show with Stephen Colbert and was seen by more than 240 million people around the world.
Note: Film features explicit language.
About Chicago Children's Choir
Founded in Hyde Park in direct response to the Civil Rights Movement in 1956, Chicago Children's Choir (CCC) has grown from one choir into a vast network of in-school and after-school programs driven by one mission: to inspire and change lives through music. CCC has impacted the lives of more than 50,000 diverse youth throughout its 64-year history. Since its founding, CCC has focused on building programs that reflect the racial and economic diversity of Chicago. Eighty percent of youth served are from low-moderate income homes, with over 4,000 students annually participating completely free of charge. All singers in CCC programs receive some level of subsidy. High school seniors enrolled in CCC have a 100% graduation rate, becoming global ambassadors who carry on CCC's core values in a wide array of professional fields.
Under the leadership of President and Artistic Director Josephine Lee, Chicago Children's Choir has achieved new heights and revolutionized the youth choral arts through innovative creative partnerships and new artistic endeavors. The Choir collaborated with GRAMMY Award-winning music director and producer Peter CottonTale on his original song "Together" for Google's 2020 Year in Search video, which went viral with more than 230 million views. Other recent projects include the PBS national broadcast of the new staged production of Leonard Bernstein's MASS under the direction of Marin Alsop in July 2018 and 2019 with two frequent creative partners: the Chicago Symphony Orchestra and Ravinia Festival; Lyric Opera's production of Dead Man Walking and Tchaikovsky's romantic thriller The Queen of Spades with select Chicago Children's Choir singers cast as the children's chorus; the world-premiere hip-hop musical Long Way Home, written and directed by the renowned Q Brothers Collective, which played to five sold-out houses in 2018; and collaboration on Chance the Rapper's debut studio album The Big Day (2019) as well as a collaboration on his GRAMMY Award-winning Coloring Book (2016) studio recording and tour performances. CCC has served as a model for youth choirs across the country including Boston Children's Chorus, Denver Children's Choir and Indianapolis Children's Choir.
Learn more at ccchoir.org.
Chicago Children's Choir members featured in the film are:
Chicago Children's Choir Singers
Alex du Buclet
Allie Bradford
Sophia Byrd
Pierce Colbert
Alex Good
Henry Griffin
Chloe Johnson
Georgia Kay
Olivia Katz
Jacquelyn Kinder
Brandon Lampkin
Tramaine Parker
Isaiah Robinson
Ellen Sandner
Jonathan Swain
Kevin Walters
Maxine Wint
Chicago Children's Choir Orchestra
Christian Anderson
Kayla Burggraf
Marquis Carter
Melanie Clevert-Sarapa
Lipeng Chen
Meena Cho
Joe Clark
Matthew Davis
Emelinda Escobar
Christopher Ferrer
Eric Kummer
Paul Lowry
Matt Martin
Emily McClean
Jesse McQuarters
Lerryn Schaefer
Danielle Simandl
Victor Sotelo
Daniel Won
Chicago Children's Choir Staff
Sarah Fader
Cece Hill
Rebecca Shorr
President & Artistic Director