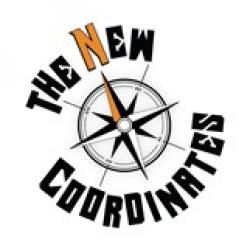 The New Coordinates, formerly The New Colony, is pleased to launch its 2021-22 season with the world premiere of Love in the Time of Jonestown – A Radio Play, streaming on demand from October 28 – November 21, 2021 at thenewcoordinates.org. Sinister and seductive, this brand-new audio experience by Ensemble Member Omer Abbas Salem and directed by Sophiyaa Nayar explores the splendid ache of acceptance and the profound bliss of betrayal. Tickets ($15) go on sale Monday, October 4th at  thenewcoordinates.org. The press screening is Thursday, October 28.
Love in the Time of Jonestown will feature Tina El Gamal (Reporter), Niko Kourtis (Henry), Tommy Malouf (Ahmed, Congressman Ryan), Omer Abbas Salem* (Rassoul), Stephanie Shum* (Wendy) and Mary Williamson (Jim Jones).
We want you to be safe – to feel supported. We want to create space for everything about you because we love you exactly as you are. We want to break oppressive systems and rebuild a world that not only accommodates all of us, but celebrates and fosters our beautiful individuality. All we ask is that you come with an open mind, an open heart, and a willingness to dialogue. Welcome to Jonestown, we hope you'll stay. 
The production team includes Eric Backus (sound design and original music), Nadya Naumaan, (associate director), Catherine Miller (dramaturg) and Devonte E. Washington (production stage manager).
*Denotes The New Coordinates Ensemble Member
About the Artists
Omer Abbas Salem (Playwright) is a Chicago actor and playwright. As an actor, he's worked with The New Coordinates, Jackalope Theatre, Steep Theatre, Silk Road Rising, Griffin Theatre, The House, Bailiwick Chicago, Actors Theatre of Louisville and The Atlantic Theater. His play Mosque4Mosque was developed through the National Queer Theater and then chosen for further development through Steppenwolf Theatre's SCOUT Program. The Secretaries was workshopped through The New Coordinates, a semi-finalist in Definition Theatre's Amplify Commission, and developed through the Goodman Theatre's Future Labs. Pretty Shahid was commissioned as part of Jackalope Theatre's 2020/21 New Frontier Series. He is a member of the 2021/22 Goodman Playwrights Unit and is the recipient of the 2021 Cunningham Commission through DePaul University. He was an apprentice of the Actors Theatre of Louisville (17/18) and a proud ensemble member with Steep Theatre and The New Coordinates. He is represented by DDO Artist Agency and the Gersh Agency. More at www.omerabbassalem.com.
Sophiyaa Nayar (Director) is from New Delhi, India. Most recently, she directed Shakuntala by Lavina Jadhwani (Future Labs, Goodman Theatre). She is a member of the Women's Project Lab 2020-22, an ensemble member with Definition Theatre, member of Director's Lab Chicago 2017 and was a resident in Milwaukee Rep's 2017/18 season. She is part of the SDC Foundation's Observership Class, through which she worked on Soft Power by Jeanine Tesori and David Henry Hwang at The Public. Recent work includes: Good Years by Ada Alozie (Definition Theatre), Being Julia Roberts by Omer Abbas Salem (Jackalope Theatre), MLK Project by Yolanda Androzzo (Writers Theatre), EthiopianAmerica By Sam Kabede (Definition Theatre) which won BTA Awards for Best Play, Featured Actor and Actress and a Jeff Award for Fight Choreography. She just finished workshopping a screenplay with Sundance Collab under Jessica Sharzer. Learn more about her on sophiyaanayar.net
About The New Coordinates
The New Coordinates (formerly The New Colony) develops New Art and New Artists in order to educate and build New Audiences. Now in its 13th year, The New Coordinates has established itself as "one of Chicago's essential off-Loop companies" (Chicago Tribune). Through the development of countless new plays and musicals, 32 world premieres, and a conscious shift toward becoming an anti-racist theatre, The New Coordinates has cultivated a diverse audience of theatergoers eager to have a voice in the storytelling. Conversation, collaboration and innovation remain at the heart of everything they produce. The New Coordinates' work has been honored with five non-Equity Jeff Awards, Broadway In Chicago's 2011 Emerging Theatre Award, and their shows have gone onto productions across the country and beyond. thenewcoordinates.org