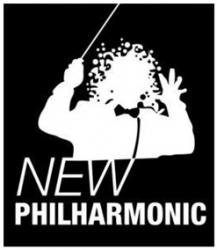 New Philharmonic, under the baton of Maestro Kirk Muspratt, opens the orchestra's fall 2020 concert programming with "The Music of John Williams," streaming 7:30 p.m. Saturday, Oct. 24 and 3 p.m. Sunday, Oct. 25. Music from some of Williams' most loved cinematic scores are featured in this 95-minute concert that includes a 15-minute pre-recorded MAC chat with Maestro Muspratt at intermission. For the safety of the musicians, the concert was recorded outdoors at the McAninch Arts Center's Lakeside Pavilion without an audience. This is a paid ticketed event viewable on the set performance dates only. Tickets and additional information are available at www.AtTheMAC.org. This is concert is made possible with generous support from the JCS Fund of the DuPage Foundation.
"Since the audience cannot come to the performance, we are bringing the performance to the audience," said Muspratt. "What they'll see is a full-scale, multi-camera production. What they'll hear is nothing short of extraordinary. Ticket buyers will be provided a link where they can download the show program. They'll be able to experience all of this from the comfort and convenience of their own home."
With a cinematic career spanning more than six decades and honors including 24 Grammy Awards, five Academy Awards and four Golden Globe Awards, John Williams is regarded as one of the greatest American composers of his time. This thrilling concert will include selections of his music from popular films including "ET: The Extra-Terrestrial," "Close Encounters of the Third Kind," "Jaws," "Raiders of the Lost Ark" and "Jurassic Park," plus music from the "Harry Potter," "Superman" and "Star Wars" series. Tickets for the John Williams Concert are $40 per household, and can be purchased at www.AtTheMAC.org. Ticket purchasers will be sent a link prior to their concert.
A special three-show subscription package is available for $99. The streaming package includes the John Williams concert, as well as "Sing-Along with the Symphony" and New Year's Eve concerts. Subscriptions include a free subscription to West Suburban Living magazine. Anyone wishing to subscribe may email themac@cod.edu, call 630.942.3008, or order online at www.AtTheMAC.org.
** Events, dates, artists, prices, venues subject to change.
About New Philharmonic
New Philharmonic, the only professional orchestra based in DuPage County, Ill., has inspired classical music enthusiasts in Chicago and the suburbs for more than 40 years. It continues to thrive with the goal to give innovative treatment to both classic compositions and modern works while striving to make the music accessible to new audiences and youth through a variety of educational efforts. Today, under the direction of Kirk Muspratt, named 2018 Conductor of the Year (Professional Orchestra) by Illinois Council of Orchestras, New Philharmonic consists of more than 60 professional musicians and performs more than a dozen concerts a year, reaching more than 7,500 from the greater Chicago area annually. New Philharmonic was recently honored with the Illinois Council of Orchestras' 2020 ICO Award in the category Programming of the Year.
About the MAC
McAninch Arts Center (MAC) at College of DuPage is located 25 miles west of Chicago near I-88 and I-355 at 425 Fawell Blvd. It houses three indoor performance spaces (the 780-seat proscenium Belushi Performance Hall; the 236-seat soft-thrust Playhouse Theatre; and the versatile black box Studio Theatre), an outdoor venue, the Lakeside Pavilion, plus the Cleve Carney Museum of Art and classrooms for the college's academic programming. The MAC has presented theater, music, dance and visual art to more than 2 million people since its opening in 1986 and typically welcomes more than 100,000 patrons from the greater Chicago area to more than 230 performances each season.
The mission of the MAC is to foster enlightened educational and performance opportunities, which encourage artistic expression, establish a lasting relationship between people and art, and enrich the cultural vitality of the community. For more information about the MAC, visit www.AtTheMAC.org, www.facebook.com/AtTheMAC or www.twitter.com/AtTheMAC.
Support for New Philharmonic is provided in part by the JCS Fund of the DuPage Foundation; Sullivan Taylor, Gumina & Palmer, P.C.; the Illinois Arts Council, a state agency; WFMT 98.7 FM, WDCB 90.9 FM and the College of DuPage Foundation.
Established as a 501(c)(3) not-for-profit charitable organization in 1967, the College of DuPage Foundation raises monetary and in-kind gifts to increase access to education and to enhance cultural opportunities for the surrounding community. For more information about the College of DuPage Foundation, visit www.foundation.cod.edu or call 630.942.2462.
Programs at the MAC are partially supported through a grant from the Illinois Arts Council Agency.