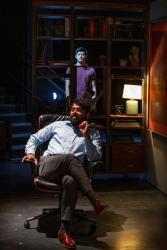 "Next to Normal" is clearly not your standard musical. Brian Yorkey's book (he also wrote the lyrics) mines the darkest reaches of mental illness and is about as atypical of the themes found in most successful Broadway shows as you can get. Buoyed by the propulsive music of Tom Kitt's mostly rock score, "Next to Normal" casts a discerning eye upon a suburban family that is in crisis.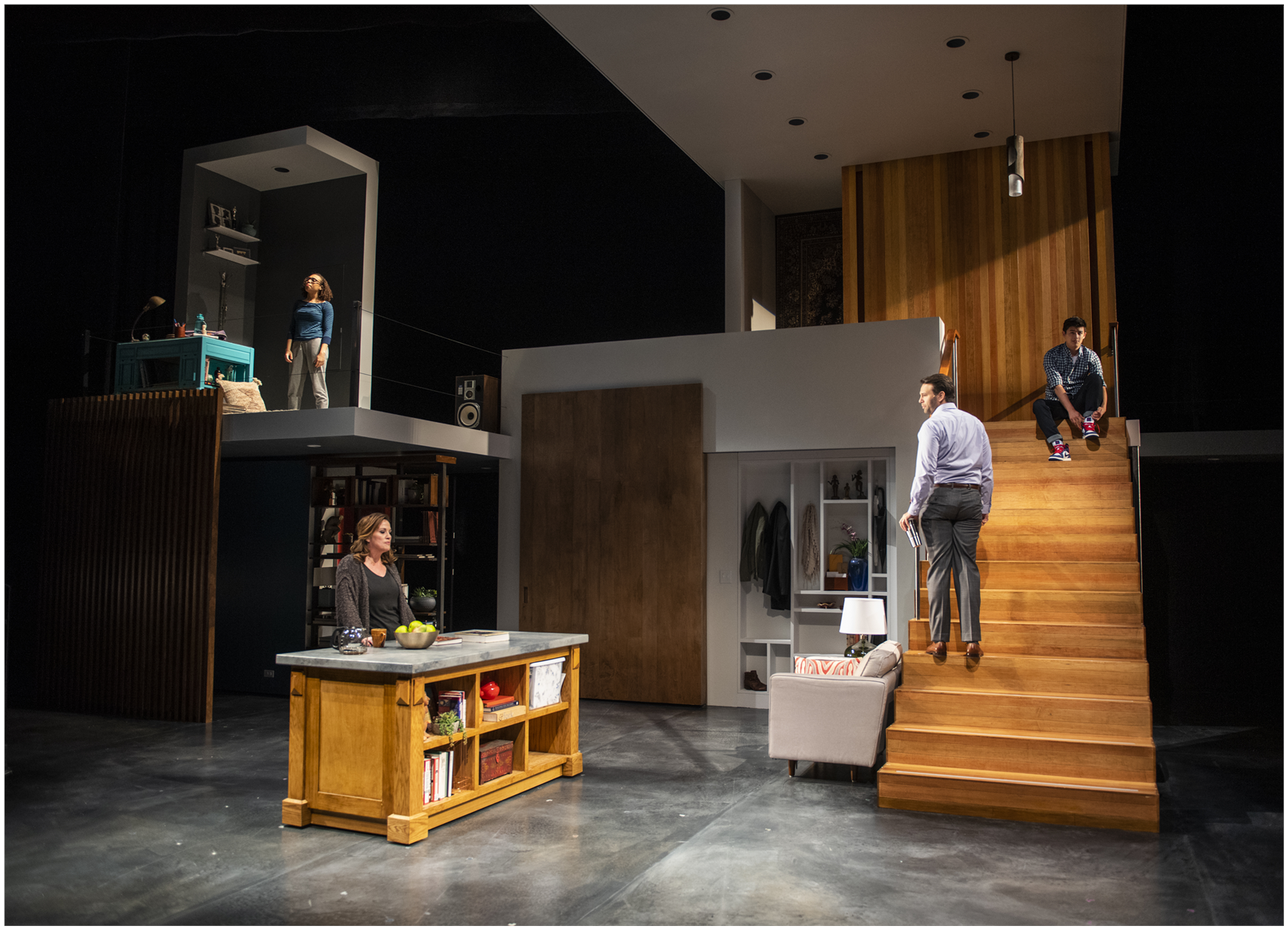 Diana Goodman (Keely Vasquez) is a wife and mother who is also struggling with bipolar disorder. Her husband Dan (David Schlumpf) is optimistically hopeful and supportive of her treatment while also remaining a strong father. He seems to have a particularly secure emotional connection with his teen-aged daughter Natalie (Kyrie Courter), while Diana has a soft spot for their son Gabe (Liam Oh). Rounding out the cast are Alex Levy as Henry, who is Natalie's somewhat nerdy boyfriend, and Gabriel Ruiz as two distinctly different doctors (Dr. Madden and Dr. Fine) who attempt to assist Diana in her recovery.
Because Cromer still maintains a duality in his career where he equally balances both professions of directing and acting -- he appeared on Broadway opposite Denzel Washington in the 2014 revival of "A Raisin in the Sun" -- it allows him to be a somewhat more emotionally sympathetic director in how he handles his actors. That skill shines beautifully and brightly throughout this ensemble.  All of the performances are grounded in naturalism and resonate tremendously. Cromer, whose work seems to excel when his characters are on the precipice of catastrophe, has crafted an indelible portrait of a highly dysfunctional family that has been destabilized yet somehow manages to hold onto their quest for finding the light, even in the direst of circumstances.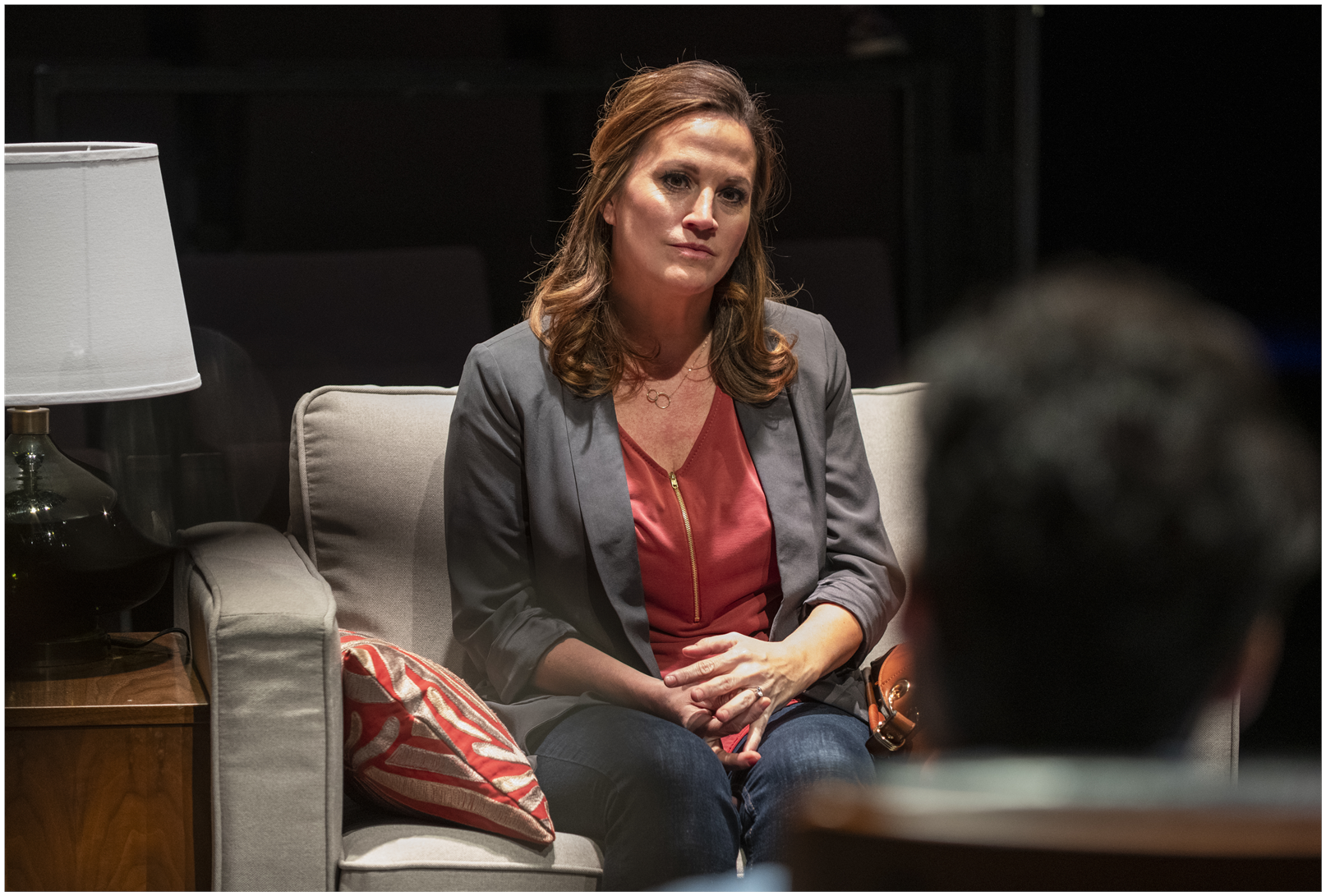 Vasquez is magnificent as Diana, a woman who is dealing with the confusion caused by her condition persistently throwing her off course. Initially brooding and reeling with grief, Vasquez delves even deeper into Diana's depression as she seeks therapy and countless doses of various medications. By Act Two her character, due to some extreme attempts at ECT, has major memory loss and can virtually recreate herself. Courter captures all of the awkwardness of the vulnerable Natalie and the emotional distance that separates mother and daughter is palpable. You yearn for a moment when Diana could be able to just embrace her daughter, physically, but the most maternal form of affection that you will see here is a tender shoulder squeeze of encouragement. When Vasquez and Courter sing the 11 o'clock number "Maybe" (which contains the lyrics that give this show its title), the result is the most compassionate scene of the evening.
Perhaps the greatest surprise is Liam Oh as Gabe. Hard to believe that Oh is merely a freshman at Northwestern University. Gifted with a very strong singing voice, let's hope that he decides to stay in Chicago upon his graduation so that we will get to see much more of him in the future.
__________________________________________________________
"Next to Normal" continues its run until June 16, 2019
Writers Theatre, 325 Tudor Court, Glencoe, IL (in The Alexandra C. and John D. Nichols Theatre).
Box Office: 847-242-6000 or www.writerstheatre.org
Tuesdays - Fridays at 7:30 PM (with select 3:00 PM Wednesday matinees on May 29 and June 12)
Saturdays at 3:00 PM and 7:30 PM
Sundays at 2:00 PM and 6:00 PM (except June 2 and June 16)
Open-Captioned performance: Thursday, May 30 at 7:30 PM
Prices for all performances range from $35 to $80. Purchase early for best prices.
Running time is approximately 2 hours and 40 minutes with one intermission.