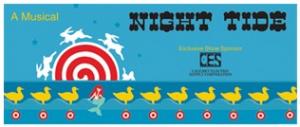 *** Recommended   The Towle Theater is open again!  It was wonderful to return to one of my favorite theaters where I got to catch up with friends and see the world premiere of quirky little musical mystery called "Night Tide" -  kind of a Creature Feature/Beach Boys mash-up.  "Night Tide" is hard to classify.  It seems like a light, beachy comedy, but the funny bits have dark undercurrents.  Although the story seems to be about young love, it has elements of horror and despair.  The music, however, will have you dancing in your seat.  3 ½ Spotlights
The beach singers (kind of a Greek chorus throughout the show), Odd Sam (Michael Idalski), Rocky (Beck Buechol) and Stormy (Nikki Dizon) open the show with a prologue called "Get Off the Beach".  The song is about danger, suspense and dread with a rock & roll beat, sung with a blasé attitude – at least until Rocky & Stormy are dragged off by a giant tentacle. 
It's 1962, Johnny Drake (RJ Cecott), a naïve young sailor, has shore leave.  He just wants to have some fun, maybe meet a girl.  He ends up in a strange little beach town where everyone on the boardwalk warns him to stay away from Mora (Brittany Vogel).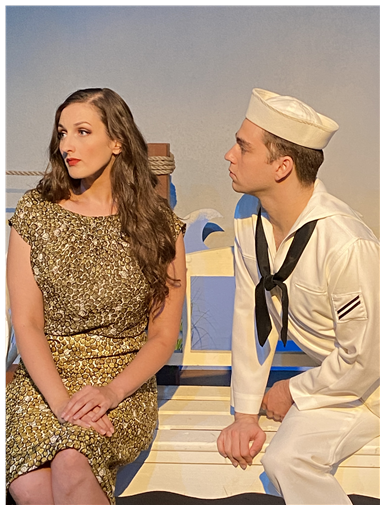 When Johnny sees a beautiful but sad young woman sitting on a bench, he introduces himself.  When he learns this is Mora, he's interested and intrigued.  She tells Johnny to go away, but he doesn't listen, so she leaves.  Later, when Johnny visits the Mermaid attraction at the side show, he sees Mora the Mermaid. 
Just who is Mora?  Is she really a murderer/siren/mermaid or does she just play one?  She is self-destructive, tormented by her possibly abusive past.  The townspeople say that two bodies of young men have washed up on the beach and she's the only connection between them.  Did she or didn't she?  She could almost echo Jessica Rabbit who said "I'm not bad.  I'm just drawn that way"
Ellen (Capri Gehred-O'Connell), who runs the carousel on the board walk, seems like a nice young woman.  Is she really trying to warn Johnny – or is she just jealous of man-magnet Mora?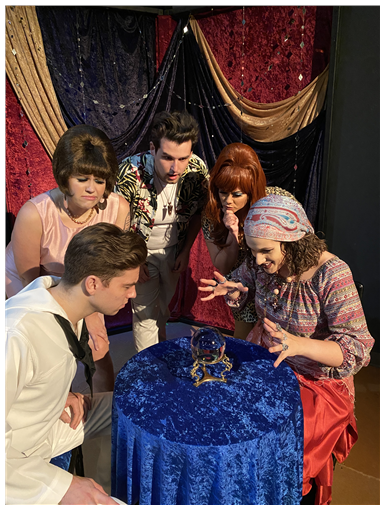 Madame Romanovitch (Maria Alexandra), the fortune teller on the boardwalk, swans around swishing her red velvet skirt, wearing an abundance of jewelry including a Wonder woman-esque head band/tiara.  Alexandra is perfect for this park!  Doing Johnny's reading, she interrupts herself, swishing her skirt into dramatic poses.  She reads horror and death in the cards and the crystal ball, suggesting a dark cloud hovering over Mora. 
Captain Murdock (Ian Rigg) owns the sideshow mermaid attraction.  Noticing Johnny's interest in Mora, the Captain invites him into his den filled with sinister oddities to warn him away from her.  He says that found her abandoned and alone.  He raised her, loved her and she's his- meaning Johnny better stay away if he knows what's good for him!
Meanwhile, the Mystery Woman (Laura Powell) beckons Mora.  As she hums and gesticulates, Mora starts moving jerkily - almost like a marionette – toward her.  The Mystery Woman appears and disappears for seconds at a time, never saying a word.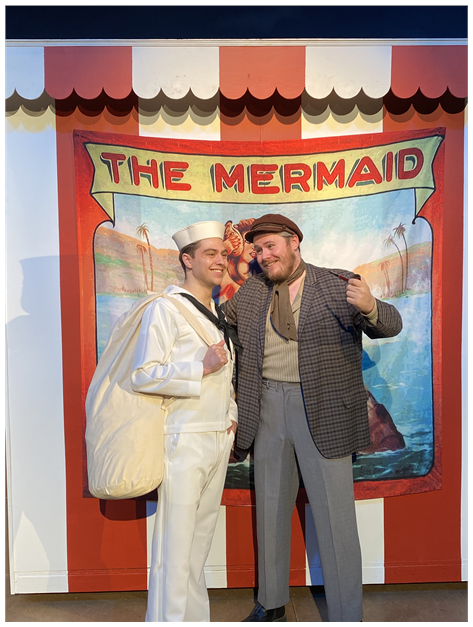 All that drama should make this a horror story, but the Beach singers tie it all together, while keeping it light and fun.  One number, a dance extravaganza called "Witch of the Water" – sounded just like a Beach Boys hit.  In the nightclub scenes, Rocky and Stormy sparkled with sequined dresses and go-go boots. 
"Night Tide" credits: book (script) and lyrics by Taylor Tash, music by Nathania Wibowo.  It had its first staging at the New York Musical Festival in 2017.  The Towle production was directed and choreographed by Towle Managing Director, Jeff Casey; Set and Costume Design by Director of Administration, Kevin Bellamy. 
The Towle has a new musical team this year, Musical Director TJ Anderson and Vocal Director, Stephanie Rohr.   Musicians for this show: TJ Anderson, keyboard; Steven Moeller, guitar; Aaron Zemelko, bass; and Ron Fary, percussions.
Playwright Taylor Tash was in the audience for opening night.  After the performance, he and the cast sat down for a Q and A with the audience. 
Explaining how "Night Tide" came to be - he said that his writing partner was into fairy tales and Disney movies where he's into serial killers, so he needed to figure out how to meld the two.  When he ran across "Night Tide" a "worse than awful" 1961 B-movie thriller (which starred a young Dennis Hopper), he found the perfect vehicle.  He added that his musical was inspired by the movie, but not based on it.  He added that all the characters were in the movie except for the beach singers who became the lighter side of the show.  Their names are all ocean related.  Rocky and Stormy kind of obvious, Odd Sam, which is supposed to hint at Odysseus, not so much.    
**** Note: Guests are required to wear masks while inside the building. 
"Night Tide" runs through October 3rd at the Towle Theater, 5205 Hohman Avenue, Hammond.  Parking is free and abundant in the rear.  Running time is about 1 hour, 45 minutes with an intermission.  Performances are Friday and Saturday at 8:00 pm, Sunday at 2:00 pm.  Tickets are $21.  FYI (219) 937-8780 or www.towletheater.org.