**** Highly Recommended **** Nobody is better at contemporary jazz than Giordano Dance Chicago.  Their spring program, Illuminate, was a masterpiece of movement.  The world premiere of Autumn Eckman's Retroverse was worth the two-year wait, while the other premiere, 3, choreographed by Joshua Blake Carter, was a joy to watch.  The Giordano dancers are so strong, so talented, so creative, they absolutely blew me away!  4 Spotlights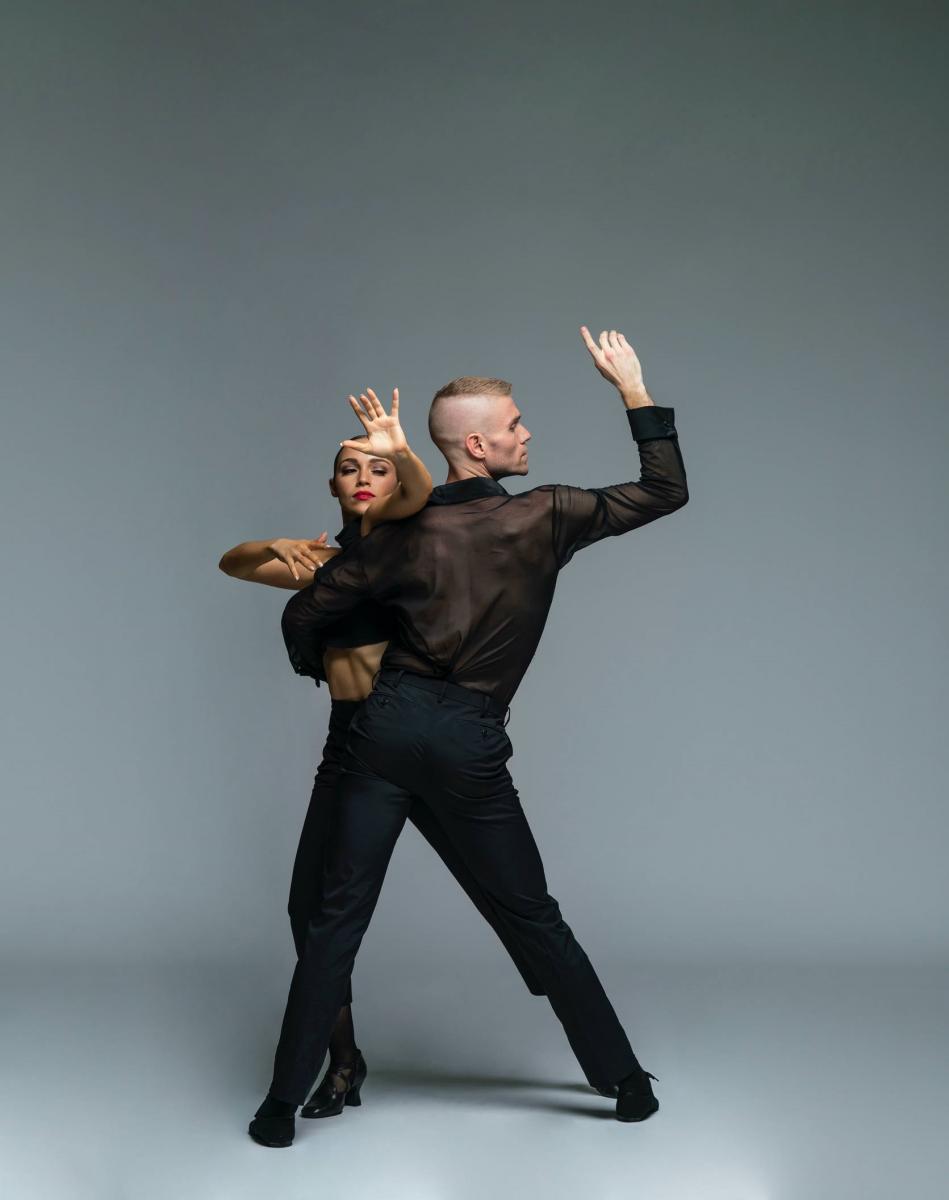 EXit4, choreographed by Koresh to music by DJ Nadar, Greg Smith, Jonathan Lee Bowels, and Le Trio Joubran.  It seemed to be drums, drums and more drums, punctuated by an occasional group shout.  I thought it was rather tribal, with dancers moving about the stage in clusters of at least five, then breaking apart to dance alone.   At one point, all five male dancers were literally crab-walking across the stage.  This was definitely my least favorite piece. 
On the other hand, I loved The Man That Got Away, choreographed by Sherry Zunker to music by Harold Arlen and Ira Gershwin with vocals by Judy Garland.  This stylish, flirty dance is performed by a single female dancer, Ashley Downs, who dances around, under – and sometimes on – The Man.  The gimmick is that he never moves, even when she leaps on him!  GDC Executive Director Michael McStraw makes a guest appearance as The Man. 
A Ritual Dynamic, choreographed by Joh Lehrer to music by White Derbakeh & DJ Disse features the entire GDC Ensemble of 15 dancers.  Although the music is heavily into percussion it's not at all militaristic.  This piece featured precision movement with dancers literally leaping over each other. 
For the World Premiere of Retroverse, choreographed by Autumn Eckman to music composed by Dan Myers, the ten GDC dancers wore white (in sharp contrast to the first three pieces).  In the first half of the piece, the dancers were looking back with ever-shifting pairs dancing to discordant music.  In the second, they were feeling hopeful about the future with more hopeful music and joyful leaps.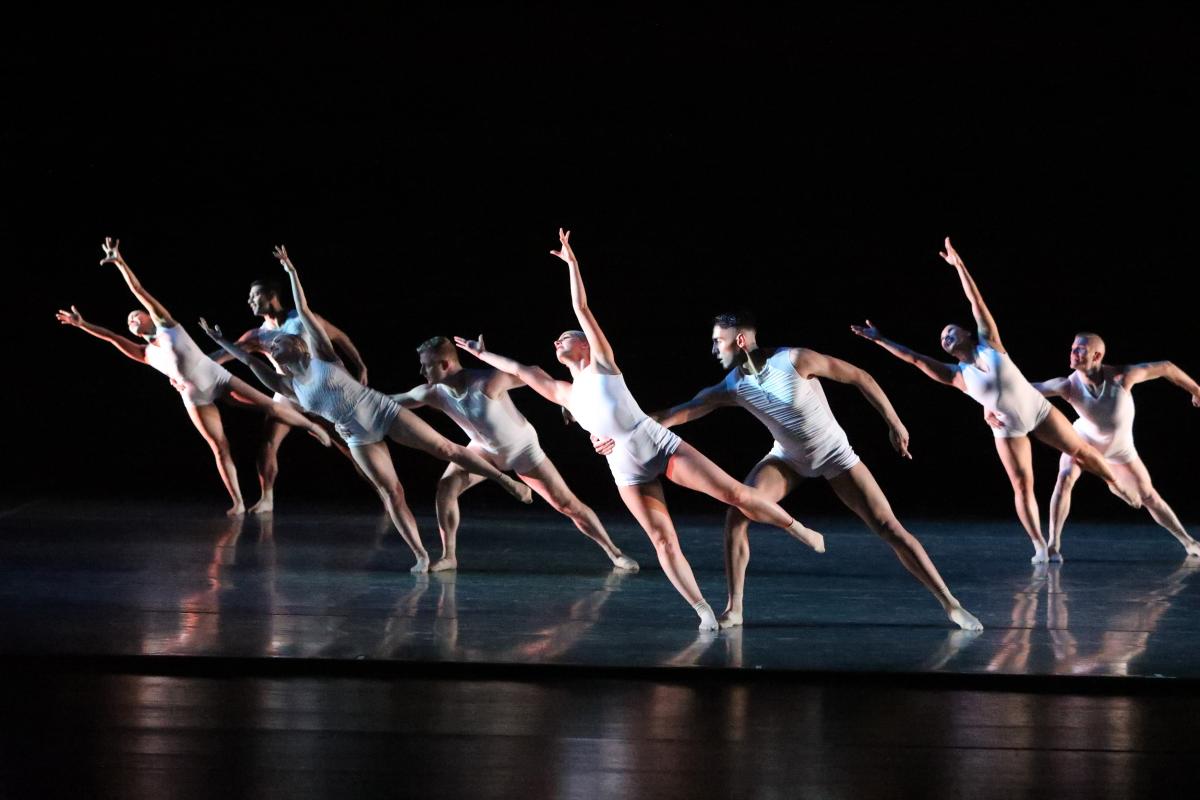 The World Premiere of 3, choreographed by Joshua Blake Carter to music by Laura Mvula with Metropole Orkest, conducted by Jules Buckley, was a joy to watch.  The music was lilting, the movements precise yet fun.    Wearing white crop tops, grey & white striped Capri pants and white sneakers, Adam Houston, Katie Rafferty and Fernando Rodriguez celebrated the fun of being outdoors.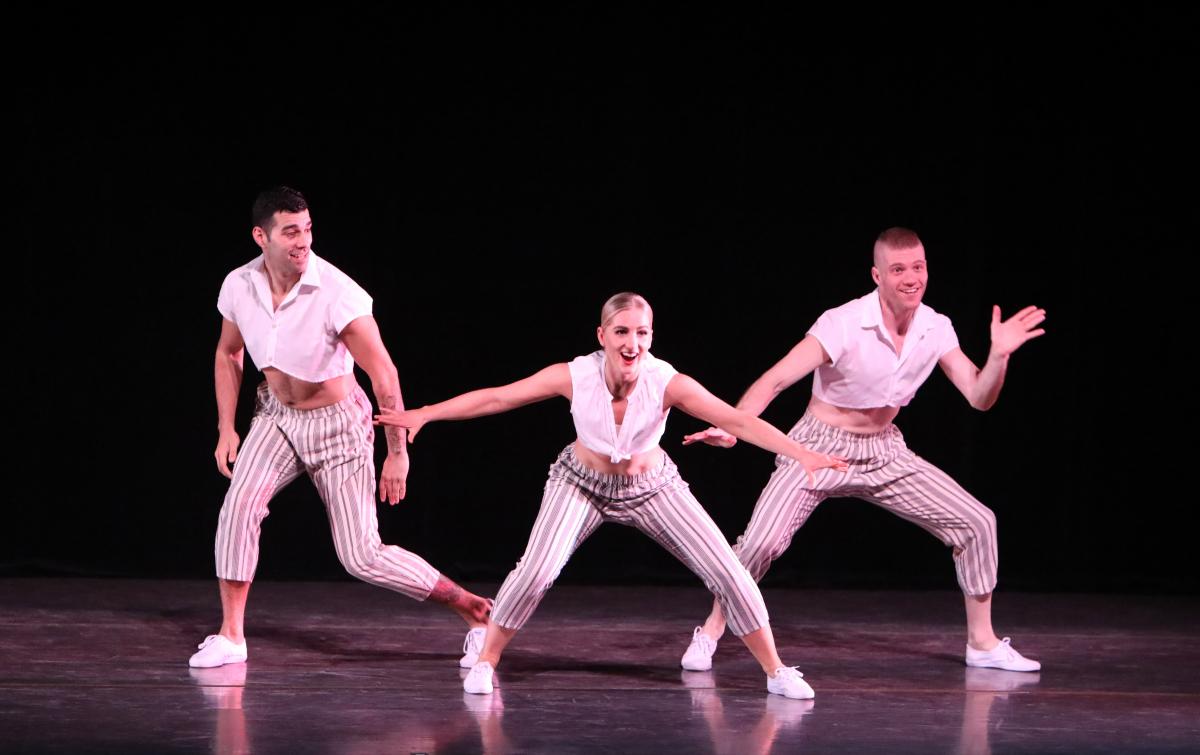 The final piece, Feelin' Good Sweet choreographed by Ra Leeper to music by Anthony Newley/Leslie Berceuse, Ted White/Aretha Franklin, and Michael Brennan, performed by Michael Bublé, Aretha Franklin and Maren Wade, was stylish, swinging and very, very cool!  It was flirty and sexy and I loved it!    
GDC Dancers: Ashley Downs, Ryan Galloway, Rosario Guillen, Amanda Hickey, Adam Houston, Skyler Newcom, Onjélee Phomthirath, Katie Rafferty, Fernando Rodrigues and Erina Ueda. 
After I raved about the performance, a friend asked how long it was running.  When I told her there were only two performances, she wondered why.  My best guess, the Harris is a huge venue.  It's more economical to fill it for two performances than it would be to rent a smaller venue for more performances.  Still, I do wish there were more opportunities to see this wonderful company in action. 
Next up for GDC: the GDC Legacy Ball gala, 7-11:00 pm June 2nd, at the Ravenswood Event Center, 4043 N. Ravenswood Avenue, Chicago.