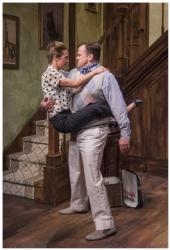 It's dress rehearsal, and Mrs. Clackett, played by Dotty Otley (Amy J. Carle), is trying to get through the opening scene of a play called "Nothing On", which is not going well at all.  It's 1:00 am, and cues are missed, lines are blown, props are missing, doors won't open or close properly, a contact lens goes missing, and then there's Selsdon Mowbray (Will Casey), playing the burglar, who can't be trusted anywhere near a bottle of booze.  As Director Lloyd Dallas (Mike Tepeli) repeatedly stops the action, he emphatically reminds everyone that the show is opening in less than 24 hours. 
Flavia Brent, who plays Belinda Blair (Amy Rubenstein), who is kind of an 'earth mother' to the cast, fills Lloyd in on the company gossip.  Dotty and younger lead actor Garry Lejeune (Ryan McBride), who is playing Roger Tramplemain, are involved.  Frederick Fellowes (Scott Duff), who is playing her husband, Philip Brent, needs reassurance because his wife just left him.  What Belinda didn't know was that in spite of a previous liaison with Poppy Norton-Taylor (Erica Bittner), the stage manager, Lloyd hired his non-acting girlfriend Brooke Ashton (Rochelle Therrien) to play Vicki (the pretty girl in her underwear). 
Although Act I has some very funny moments, it definitely functions as a set-up for Act II, which offers the audience a rare opportunity to see the feuding cast create chaos backstage.  At Windy City, that means everyone actually goes backstage!  Be warned, however, seating is on a motley collection of chairs and benches.  Some people will have to climb a ladder and sit on the upper level.  To say sight lines are not always the best is an understatement.  
So, in Act II, Poppy has called the five-minute cue for the actors, but there's no sign of Dotty.  She and Garry are feuding, and she won't speak to anyone.  After Poppy and stage hand Tim Allgood (Alexander Quiñones) alternate with conflicting cues to the audience, Lloyd shows up to find out what's going on.  He sends Tim out to buy flowers and a bottle of wine for Brooke.  The flowers end up in several sets of wrong hands, while everyone tries to keep the wine away from Selsden.  Watching that bottle get tossed from person to person for without a slip is marvelous fun. 
In Act III, three months have passed and the company is on the last stop on the tour.  The performance is an absolute disaster.  Backstage, everyone is feuding, onstage, they're just going through the motions.  This is also the funniest of the three acts.  By the way, kudos to Ryan McBride for one of the best (funniest) stage falls I've ever seen.  
If you're looking for 'immersion' theater, Windy City Playhouse is the place to go.  Their last production, "Southern Gothic", in which the audience is in the room with the actors, was/is a smash hit.  In fact, demand for tickets was so high Windy City has added a second venue.  "Southern Gothic" is now in an open run at Windy City Playhouse South, 2229 S. Michigan Ave.  Tickets range from $65 - $100.  FYI (773) 891-8985 or www.windycityplayhouse.com.    
"Noises Off" runs through May 12th at Windy City Playhouse, 3014 Irving Park Rd., Chicago.  Metered street parking is available.  Everyone enjoys the cozy lobby with a full-service bar serving old-fashioned cocktails.  Running time is approximately 2 hours, 35 minutes, with two intermissions.  Performances are Wednesday through Saturday at 7:30 pm, Sundays at 3:00 pm.  Tickets range from $45-$85.  FYI (773) 891-8985 or www.windycityplayhouse.com.