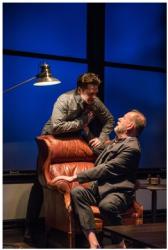 Churchill's point-counterpoint dialogue has a sort of staccato rhythm punctuated with pregnant pauses and implied conclusions.  It was fascinating to listen to the suspense build and try to figure out which character is the villain – or is there a villain?
A father, Salter (William Brown), is confronted by his son, Bernard (Nate Burger), who has learned that he is not unique.  That there are others out there just like him.  At first he's calm but questioning, almost pulling things from Salter.  To his horror, he learns that he wasn't even the first – and that's as far as I will go.  Suffice it to say there are enough twists and turns in this plot to satisfy anyone. 
The cast is brilliant.  Nate Burger plays three different characters, bestowing each of them with a distinct personality.  William Brown is masterful as the narcissistic Salter, who wanted what he wanted when he wanted it.  If something or someone didn't fit into his radar scope, he discarded it.  He felt no guilt since he was able to justify everything.
"A Number" runs through June 9th in The Gillian Theatre, Writers Theatre, 325 Tudor Court, Glencoe.  Free parking is available Free parking is available in the Metra lot a short walk from the theater. 
Running time is one hour, no intermission.  Performances are Tuesday through Friday at 7:30 pm; Saturdays at 3:00 and 7:30 pm; Sundays at 2:00 and 6:00 pm; and select Wednesdays at 3:00 pm.  Tickets range from $35-$80.  FYI (847) 242-6000 or www.writerstheatre.org.