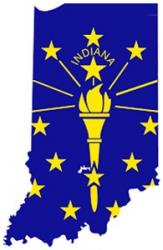 Indiana Quick Quiz
Indiana's "Golden Age of Literature" was a period from around 1880 to 1920.  Here are four prominent authors of that era.  Match each author to the correct title below.
1.  Booth Tarkington  2.  Lew Wallace  3.  Gene Stratton Porter  4.  Meredith Nicholson
A.  A Girl of the Limberlost   B.  The Magnificent Ambersons   C.  The House of a Thousand Candles         D.  Ben Hur 
Answers Below 
Once Upon a Time in Indiana, edited by Charity Dye
1849     Charity Dye was born in Kentucky.  She moved with her family to Indianapolis where she graduated from the Normal School and became an English teacher at Shortridge High School.  She authored books about state history and promoted peace and women's suffrage.  In 1916, she served on the state's Centennial Commission.
1853     The second Indiana State Fair was held in Lafayette.  The first fair had been the year before in Indianapolis.  For the next few years, the event would be held in different cities, including Madison, New Albany, Fort Wayne, and Terre Haute  The special guest speaker at the Lafayette fair was New York newspaper editor Horace Greeley.  
1927     A trailer carrying the Sahara Grotto Drill Team was struck by an interurban car near 23rd and Emerson in Indianapolis.  It was the worst interurban accident in city history, with 14 people killed and 6 injured.  The trailer was being towed to a dance barn near Pendleton.  
1931     The ferry boat between Madison, Indiana, and Milton, Kentucky, tied up at the dock for the last time.  The Margaret J was the last of her kind to carry passengers back and forth across the Ohio River.  The opening of a steel bridge in 1929 spelled the beginning of the end for the ferry system, which had operated for over 125 years.  
1933     United States Secretary of Labor Frances Perkins visited Indianapolis.  The first woman ever to serve on the Presidential Cabinet, she attended a downtown conference on labor.  Later she was a dinner guest of Governor Paul V. McNutt at the Governor's Mansion.  That evening she addressed a crowd at the Murat Theater on the topic "The New Challenge to Industry."
1962     A crowd of over 18,000 greeted President John F. Kennedy as Air Force One landed at Weir Cook Airport in Indianapolis.  It was JFK's first visit to the city since his election, and he was welcomed by Governor Matthew Welsh, United States Senator Vance Hartke, and Senate Candidate Birch Bayh.  The Indianapolis Star reported that "the President looked tan and healthy" and that he wore a "Navy blue suit with a blue tie pin-pointed with small white dots."
HOOSIER  QUOTE OF THE WEEK
"No government can long endure that fails to guarantee to its people the right to live as human beings."  - - Paul V. McNutt
Did You Know?

The 2020 Census is Coming Soon     
The federal government relied on Census data to provide over $17.9 billion in funding to Indiana for fiscal year 2016 from the 55 largest federal spending programs.  Although each program's funding formula is complex (and in most cases unique), Indiana's 17.9 billion in funding roughly equates to $2,710 per person each year.
ANSWERS:  1. B  2. D  3. A  4. C
Watch HOOSIER  HISTORY HIGHLIGHTS live from the Indiana Statehouse each Friday morning on social media:
Facebook @ Indiana Statehouse Tour Office and Education Center
Instagram @ INStatehouseTourOffice
Twitter @ INSthouseEdCntr
INDIANA STATEHOUSE TOUR OFFICE - Indiana Department of Administration
Guided tours of the Indiana Statehouse are offered Monday through Saturday.  For more information, check our website listed at the bottom of this page.
NOTE:  The Statehouse will be closed on Monday, October 14, in observance of Columbus Day. 
(317) 233-5293 | captours@idoa.in.gov