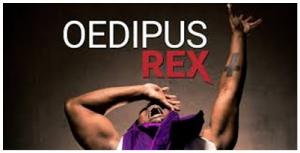 As the audience is seated, everyone noticed the stage, a stark white and greay space with a triangular split in the floor and extra tall steps at the rear.  After the lights are dimmed, the play begins with the sounds of labored breathing.  As the lights come up, several people can be seen crawling slowly forward, simultaneously blowing out each breath.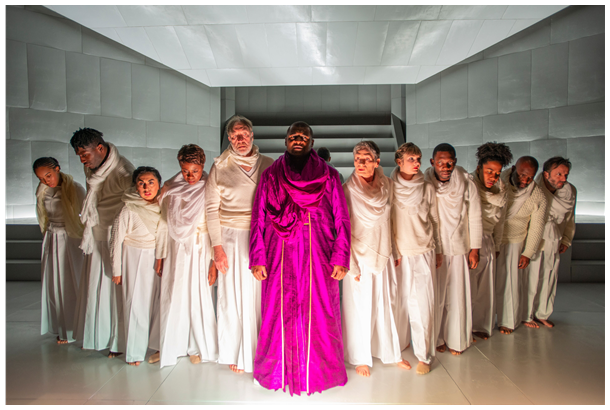 The people of Thebes, who are suffering from some kind of plague, entreat the king to help them.  The king, Oedipus (Kelvin Roston, Jr.) sends his brother-in-law, Creon (Timothy Edward Kane) to the Oracle for help.  Creon reports that the plague is a punishment sent by Apollo for the Thebans failure to find the murderer of King Laius.  Oedipus vows to find and punish the murderer.    
The background – When King Laius and Queen Jocasta hear a prophecy that their son would kill his father and marry his mother, the king ordered the queen to kill their infant son.  She couldn't do it, so she gave the baby to a servant to kill, but the servant gave him to a shepherd.  The shepherd gave him to the childless king and queen of Corinth who raised him as their own son.  When Oedipus learned he was not their natural son, he left to consult the Oracle.  On the road he encountered a small troop of men.  They apparently had words, a fight broke out, and Oedipus killed an older man who turned out to be King Laius (his father).  Further along, he saved Thebes from the Sphinx so they made him king.  Soon after, he married Queen Jocasta (his mother) – end of background.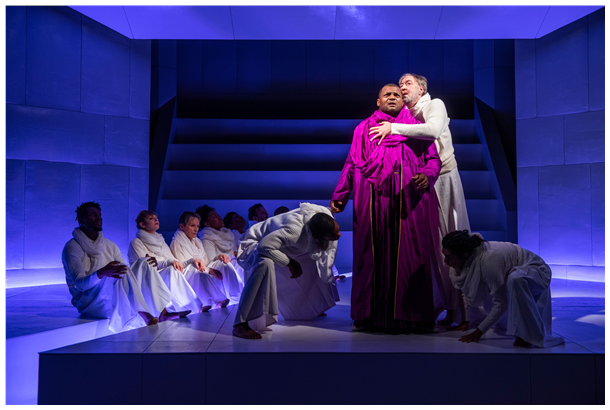 Oedipus summoned the blind prophet Teiresias (Christopher Donahue) who told him he didn't want to know the answer.  After threats were made, Teiresias told Oedipus that he, himself, was the murderer.  Oedipus couldn't believe what he heard so he decided that Creon must have paid the prophet to tell that story.  He threatened to have Creon executed, but banished him instead.  Now he was even more determined to find answers.  Even Queen Jocasta (Kate Collins) was unable to sway him.  Of course Oedipus continued, finding everyone involved in that long ago episode, making the tragic conclusion inevitable. 
Kudos to Jacqueline Firkins for her costume designs which hinted at ancient Greece, yet fit right into the twenty-first century.  With the exception of Oedipus, Jocasta and Creon, everyone in the cast wore white pleated palazzo-style pants, tunic style tops and extra-long scarves draped in different ways.  Creon's icy green costume differed only in that he wore a formal jacket rather than a tunic.  Oedipus wore a rich purple costume with gold trim.  Jocasta wore a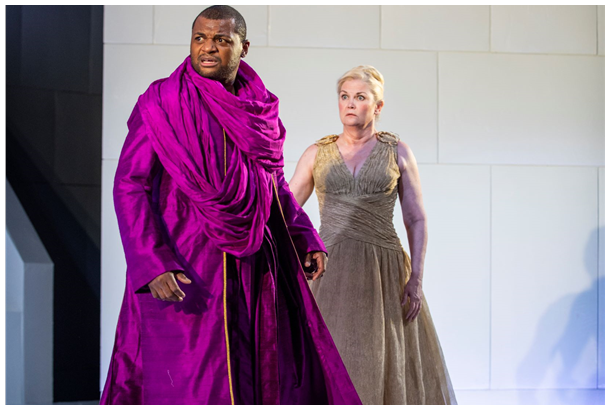 queenly gold lame gown with a small train.     
I thought it was very cool that, with the exception of Oedipus, Creon and Jocasta, everyone in the cast, whether they had a speaking part or not, was in the chorus.  Their every movement was disciplined choreography designed by Erin Kilmurray.  A good example – every member of the chorus jerks and gasps in unison when Oedipus beats his breast. 
Minor characters: Priest (Sheldon D. Brown), Tieresius (Christopher Donahue), Death Messenger (Kai Ealy), Corinth Shepherd (Wendy Robie), Chorus Leader (Mark Spates Smith), Theban Shepherd (Stef Tovar), and Antigone (Aeriel Williams).  Chorus: TayLar, Jennifer Glasse, Sonya Madrigal and Angie Shriner.  
Northwest Indiana theater-goers should recognize that last name in the chorus.  Valparaiso's own Angie Shriner.  I've been watching Angie since she was a tween.  It was obvious, even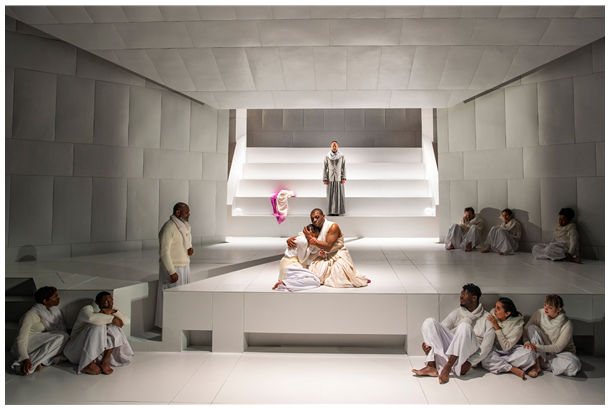 then, that she had talent.  In fact, I can remember seeing her play Elaine in a production of "The Graduate" at Dunes Summer Theatre back in 2006.  More recently (2017), she was featured in a Shattered Globe production of "The Tall Girls". 
I don't think I've seen a production of "Oedipus Rex" since college (don't ask when I was in college).  Kudos to the Court, which has plans to stage the complete trilogy this year – "The Gospel at Colonus" in May, 2020 and "Antigone" in the 2020/21 season.  Both Kelvin Roston, Jr. and Timothy Edward Kane have committed to return for both sequels. 
"Oedipus Rex" runs through December 8th at the Court Theatre, 5535 S. Ellis Avenue.  Parking is free in the garage next door to the Court – you have to take a ticket to enter but you won't need it to exit, the gate stays up for 30 minutes after the performance. 
Running time is one hour, 15 minutes, no intermission.  Performances are Wednesday through Friday at 7:30 pm; Saturday and Sunday at 2:00 and 7:30 pm.  Tickets range from $37.50-$84.  FYI (773) 753-4472 or www.CourtTheatre.org.