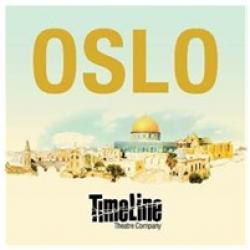 Playwright J. T. Rogers said, "…I burrowed into this sliver of history as deeply as I could, in order to summarize a specific moment in time and place.  Then I took the who, what, when, and where of journalism and threw them into a blender."  He went on, "I wanted to write a play, not a textbook or a reenactment.  I sought to capture the spirit of those real events – their craziness, fear, joy, and heartbreak.  I wanted to tell a story about men and women risking their own lives and challenging their own beliefs as they struggle without a road map toward peace." 
Rogers did end up with a play about real people, every single one of whom had his/her real hopes and fears.  The play runs an emotional gamut as the characters – who all have their own agendas – try to find common ground.  Some surprisingly funny jokes are told over a round or two of adult beverages. 
The people can be grouped into the Norwegians, the Israelis and the Palestinians.  First, the Norwegians.
Mona Juul (Bri Sudia), who worked for the Norwegian Ministry of Foreign Affairs, is the narrator, and more or less the deus ex machina of the meeting although she convinced her husband that it was all his idea.  At one point, she explains that she works for the Minister, while his wife works for her husband, adding "We're a small country." 
Terje Rød-Larson (Scott Parkinson), Mona's husband, ran the Institute, a kind of private think tank.  Terje was willing to put his personal prestige behind the effort. While traveling in the Mideast, the couple witnessed a bombing, which became their inspiration for the effort.  Although he and Mona were never directly involved in the talks, they were always present at the private guest house rented for the meetings facilitating and encouraging the participants. 
Johan Jørgen Holst (David Parker), the Minister of Foreign Affairs, was willing to put Norwegian credibility on the line to host these meetings.
Jan Egeland (Bernard Balbot), the Deputy Foreign Minister, provided political cover, facilities and finances for the negotiations. 
The Israelis
Yossi Beilin (Stef Tovar), an Israeli politician and acquaintance, was the individual Terje Larson tapped to send a delegation to the talks.  He was only willing to send a couple of professors initially.
Yair Hirschfeld (Ron E. Rains), a professor at the University of Haifa (apparently a hotbed of free thinking), was the first to offer a handshake to a Palestinian
Ron Pundak (Balbot), another professor, took part in the talks
Uri Savir (Jed Feder), an Israeli politician/diplomat, took over the negotiations once progress began to be made.
Shimon Peres (Rains), the Israeli Foreign Minister, joined the negotiations at a key point in a tense phone call.
Joel Singer (Tom Hickey) an Israeli lawyer who stood to the left of Shimon Peres when the Accords were signed. 
The Palestinians
Ahmed Qurie (Anish Jethmalani), who later became the Prime Minister of the Palestine National Authority, answered directly to Yasser Arafat.  Ahmed and Uri found common ground when they learned they each had a daughter named Maya.
Hassan Asfour (Amro Salama) was a rather rigid supporter of Arafat and the Palestinian people. 
I can't say enough about the supporting cast either. 
Juliet Hart played four characters, Marianne Heiberg (the Minister's wife), Toril Grandal (chef extraordinaire at the guesthouse), a German wife and a Swedish hostess. 
Bassam Abdlefattah played Trond Gunderson and a German husband.
Victor Holstein played Thor Bjornevog and an American diplomat.   
"Oslo" premiered in fall 2016 at New York's Lincoln Center.  It opened on Broadway in April 2017, winning the Tony Award for Best Play that year.  It swept the 2016-17 New York award season, winning the New York Critics, Outer Critics, Drama Desk, Drama League, Lucille Lortel, and Obie awards. 
By the way, while you're waiting to be seated, check out the Oslo timelines on the pillars in the lobby.  If you have questions about the backstory of "Oslo", there's a handy insert in the program chock full of information about everyone involved. 
Timeline Theatre production of "Oslo" runs through October 20th at Broadway in Chicago's Broadway Playhouse, 175 E. Chestnut, Chicago.  Parking is available in the Watertower Place garage, $14 with theater discount (get a voucher card from an usher). 
Running time is 2 hours, 45 minutes, with an intermission.  Performances are Tuesdays through Fridays at 7:30 pm, with a 2:pm matinee on Wednesdays; Saturdays at 2:00 and 8:00 pm; Sundays at 2:00.  Tickets range from $30-$75.   FYI (312) 977-1710 or www.timelinetheatre.com or www.broadwayinchicago.com.