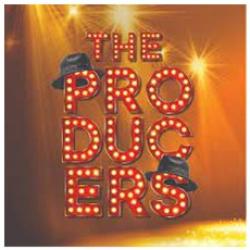 **** Recommended   Music Theatre Works has a hit with their 150th production, The Producers A Mel Brooks Musical, an outrageously funny musical based on Mel Brooks' 1968 Academy Award winning black and white cult classic film.  If you like fast-paced dialogue, clever lyrics, slapstick comedy, pratfalls and sight gags, you'll love this show.  No matter how many times I've seen The Producers it always makes me laugh.  4 Spotlights. 
You may remember (if you're a person 'of a certain age') that The Producers got its start right here in Chicago with a pre-Broadway tryout at the Cadillac Palace on February 1st, 2001.  That production, which starred Nathan Lane as Max Bialystock and Matthew Broderick as Leo Bloom, opened on Broadway on April 19th that same year.  The Producers won 12 Tony Awards, setting a new record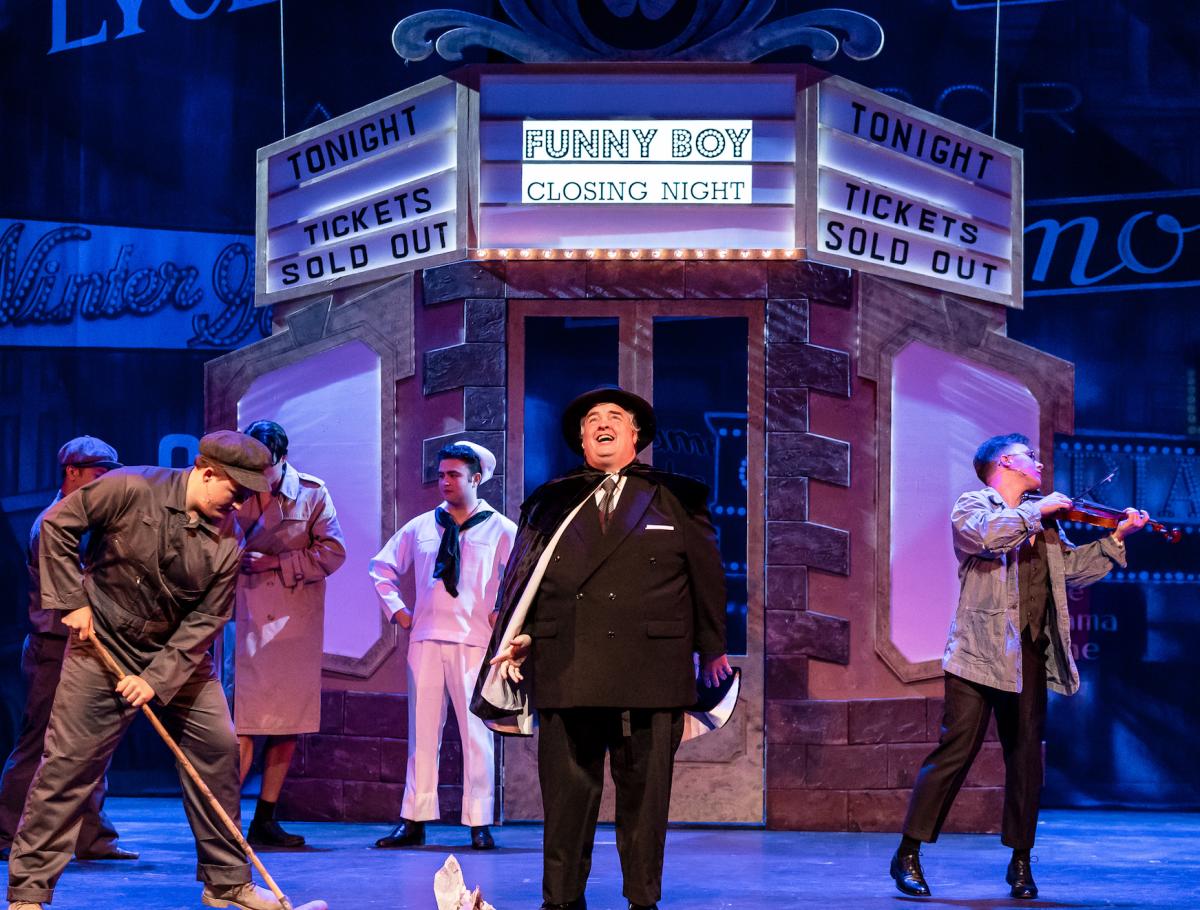 The Music Theatre Works production is directed by L. Walter Stearns.  Eugene Dizon is the Music Director, Darryl K. Clark the Choreographer assisted by Nick Johnson.   
Down-on-his-luck Max Bialystock (Thomas M. Shea) can't get a break.  Once the hottest producer on Broadway, he's fallen so far!  His string of flops has made him a laughingstock – and he's dead broke.  When his neurotic accountant, Leo Bloom (David Geinosky), muses that a producer could get make a lot more money by producing a flop than a success, Max comes up with a get-rich-quick scheme.  He'll find the worst play ever written, hire Broadway's worst director, produce a spectacular flop and scarper with the proceeds.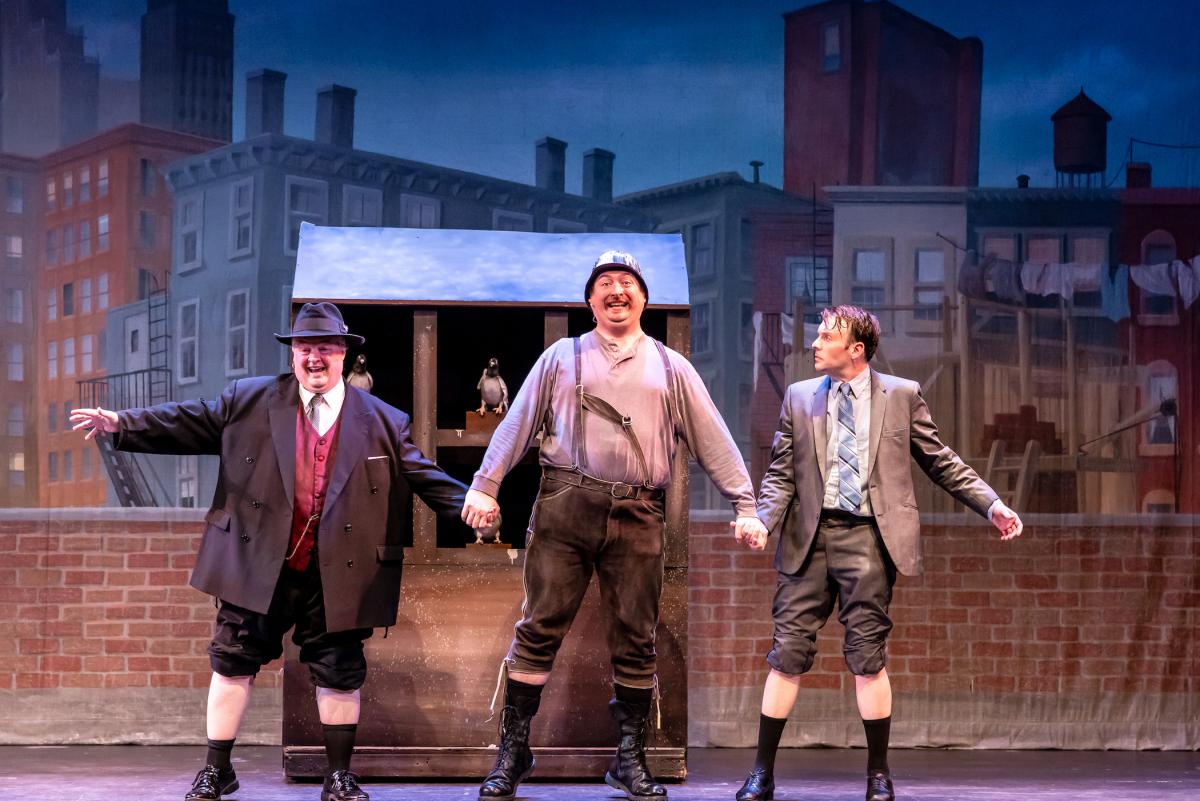 Springtime for Hitler, written by one of the Fuhrer's faithful, Franz Liebkind (Sam Nachison), fits the bill.  Max and Leo find Franz, wearing his lederhosen, his helmet and his swastika armband, tending his pigeons.  Franz demands Max and Leo show loyalty to the Fuhrer by singing the Fuehrer's favorite song, Der Guten Tag Hop Clop with him before he'll sign a contract.
Their next destination – the swanky apartment of Broadway's worst director, Roger de Bris (Steve McDonagh), where they're greeted by Roger's very flamboyant live-in butler/assistant, Carmen Ghia (Eustace J. Williams).  Following his instruction, "walk this way," Max and Leo copy Carmen's swishy walk. 
Roger is wearing his costume for an upcoming ball – a sparkly dress and headpiece which make him look like the Chrysler Building.  Roger says he's not interested in directing but introduces his theatrical assistants anyway.  When Max appeals to his ego, he signs up.  Roger, Carmen and assistants have a treatment in mind for the play, Keep It Gay! 
Back at the office, a gorgeous blond girl from Sweden named Ulla Inga Hansen Benson Yonsen Tallen-Hallen Svaden-Svanson (Kelsley MacDonald) wanders into the office for a casting call.  Dazzled by her audition routine, If You've Got It, Flaunt It, Max not only gives her a part, he hires her as a secretary/receptionist. You just have to hear Ulla say "…tidy up the office" to believe it!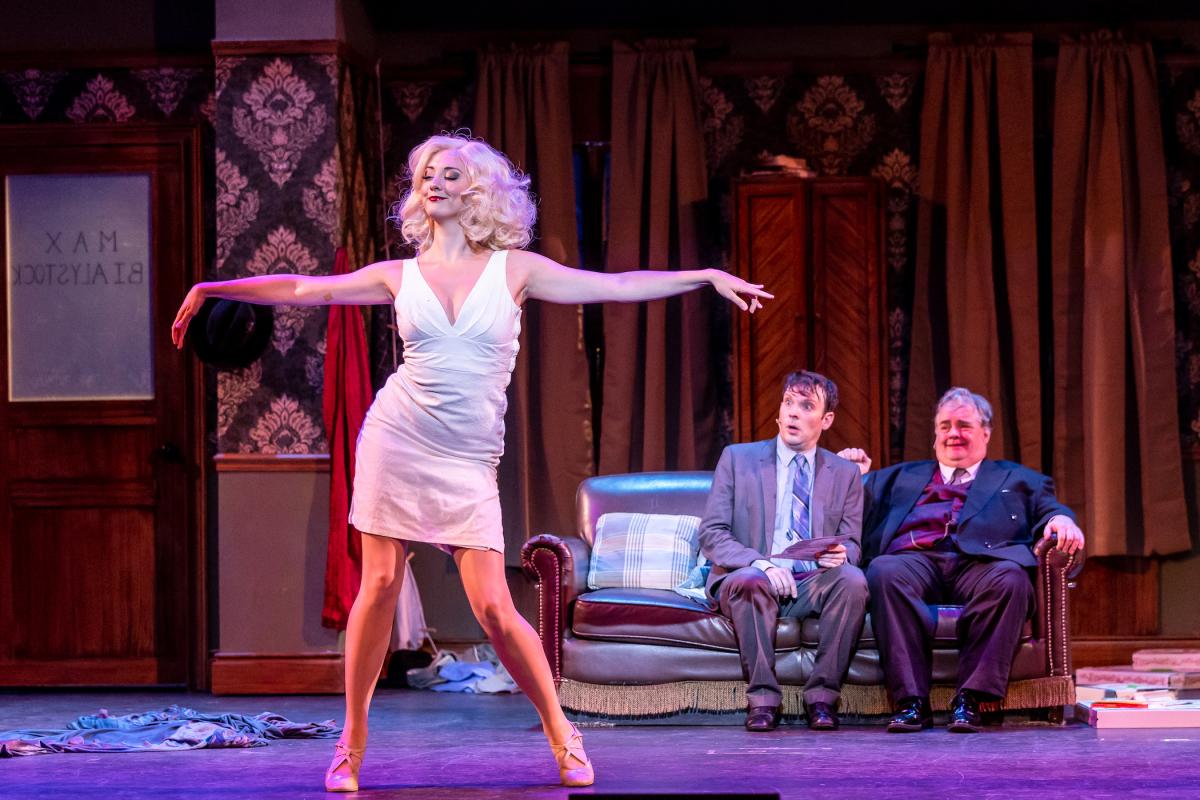 Once the play and director are signed, Bialystock starts raising money, which means he's going to schtup most of the 'little old ladies' in town.  Wielding their walkers, Hold-Me-Touch-Me, Lick-Me-Bite-Me and Kiss-Me-Feel-Me are joined by the rest Max's little old ladies and their walkers in a great routine called Along Came Bialy. 
As the show is about to open, Leo, who doesn't know any better, says "Good Luck" to Max, Roger and Carmen who freeze in horror!  When Max explains the old theater superstition about saying Good Luck, which leads to a fun song, You Never Say 'Good Luck' on Opening Night.  Of course, when told to break a leg, Franz does. 
Roger, who is prone to hysteria, steps into the part of Hitler.  When his fake moustache won't stay in place, he throws it away, sits down, dangles his legs into the orchestra pit, and has a very funny conversation with the audience.   His big moment, an over-the-top production number, Springtime for Hitler.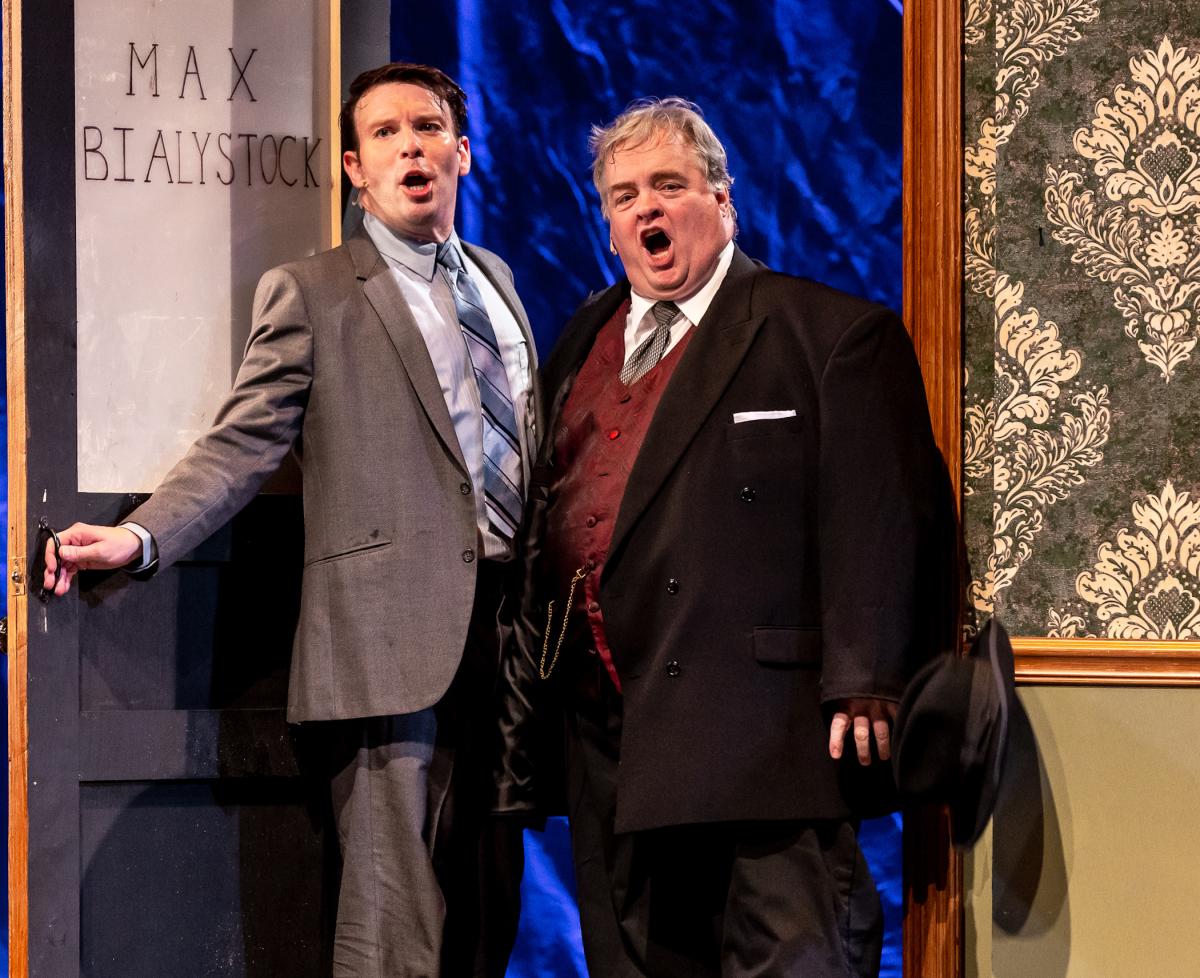 The Producers ensemble includes Jack Bowes, Karylin Veres, David Blakeman, Justin Payton Nelson, Andrew John Baker, Anna Brown, Alexander Christie, Renée Dwyer, Lacey Jack, Nick Johnson, Katie Kotila, Rachel Livingston, Kelly Lohrenz, Ethan Lupp, Caitlyn Porayko, Palash Ranjit, Erol Ibrahimovic, Melody Rowland and Alex Villasenor. 
Orchestra: Eugene Dizon (Conductor), Linda Madonia (Piano), Alison Tatum (Violin 1), Hillary Bayley (Violin 2), Lewis Rawlinson (Cello), Joseph Krysniak (Bass), Cara Strauss (Reed 1), David Orlicz (Reed 2), Sophie Creutz (Reed 3), Matthew Beck (Reed 4), Gregory Stauss (Trumpet 1), Amy Nelson (Trumpet 2), Stephanie Lebens (Trombone 1), Joshua Torrey (Trombone 2), Sarah Younger (French Horn), Lindsay Williams (Drums), Tina Laughlin (Percussion).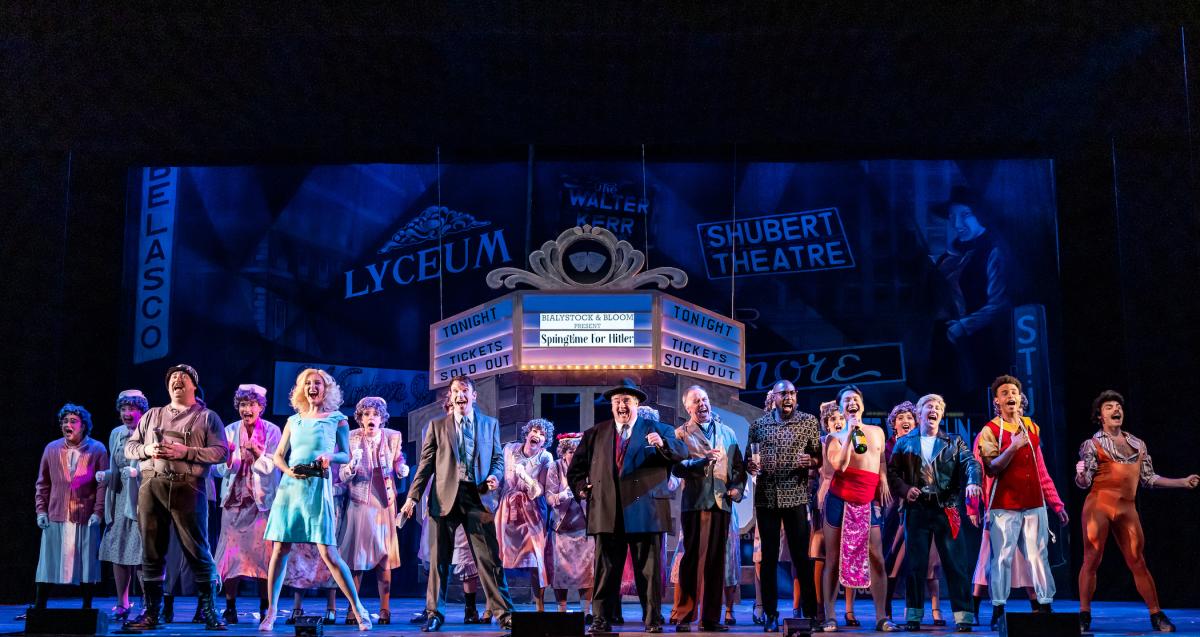 The Producers runs through August 20th in the Center Theatre at the North Shore Center for the Performing Arts in Skokie, 9501 N. Skokie Blvd., Skokie.  Parking is free.  Running time is approximately two hours, 50 minutes, with an intermission.  Remaining performances are Wednesday, August 16th at 1:00 pm; Thursday, August 17th at 7:30 pm; Friday, August 18th at 8:00 pm; Saturday, August 19th at 2:00 & 8:00 pm; and Sunday, August 20th at 2:00 pm.  Tickets range from $39-$106 (guests 25 years of age and younger are eligible for half-price).  FYI (847) 673-6300 or  www.musictheaterworks.com.