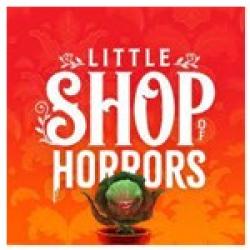 **** Recommended   Paramount Theatre's production of Little Shop of Horrors was – as every production on that stage – very well done.  Talented cast, clever music, just enough choreography, an interesting '80s take on costumes and a well-designed set – all the ingredients for a fabulous show – but this one just didn't pop for me.  This is not to say you shouldn't see it, you absolutely should.  4 Spotlights
Paramount's production is directed by Landree Fleming, choreographed by Michael George and Mariah Morris, with music directed and conducted by Kory Danielson.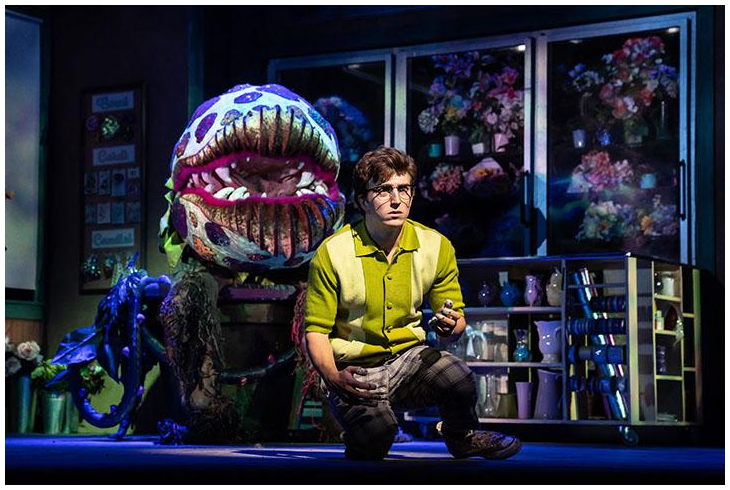 Little Shop of Horrors takes the 'boy meets girl, overcomes difficulties to be together' plot and turns it upside down – into the most charming horror story to ever hit Broadway.  Howard Ashman based his 1982 musical with music by Alan Menken, on Roger Corman's 1960 low budget cult classic of the same name. 
Ashman and Menken, who later went on to write The Little Mermaid, Beauty and the Beast and Aladdin for Disney, created a marvelously hum-able score.  Songs like title song, Little Shop of Horrors, Suddenly Seymour and Somewhere That's Green, are catchy and clever – while Dentist! is just plain brilliant!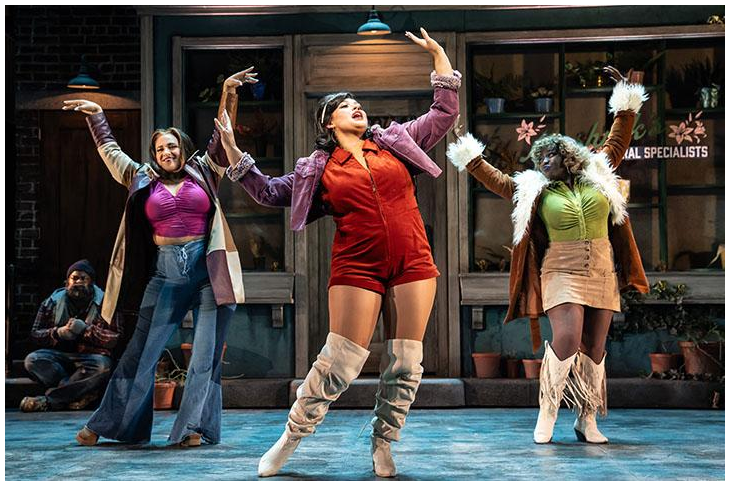 The main issue I have with this production is the way the director minimized the role of the chorus.  I think these three gals – Chiffon (Lydia Burke), Crystal (Marta Bady) and Ronette (Tickwanya Jones) whose names represent famous girl groups of the '60s, are a kind of Greek chorus calling attention to something important to the story.  They open the show with Little Shop of Horrors, and should be belting out Da-Doo or Don't Feed the Plants as well as singing backup for the leads.  Here, however, they disappeared into the ensemble most of the time.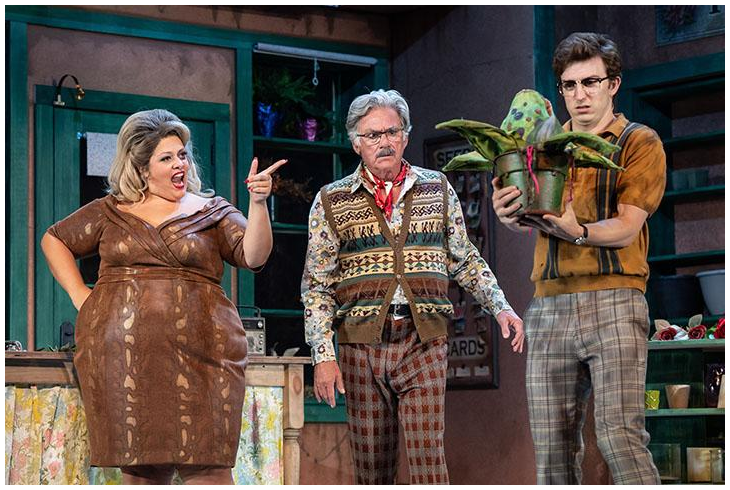 Seymour (Jack Ball), an orphan, was taken in by Mr. Mushnik (Gene Weygandt), owner of the Skid Row Florist Shop.  Seymour is infatuated with Audrey (Teressa LaGamba), but alas, she's involved with Orin Scrivello (Russell Mernagh), a sadistic dentist who loves to knock her around.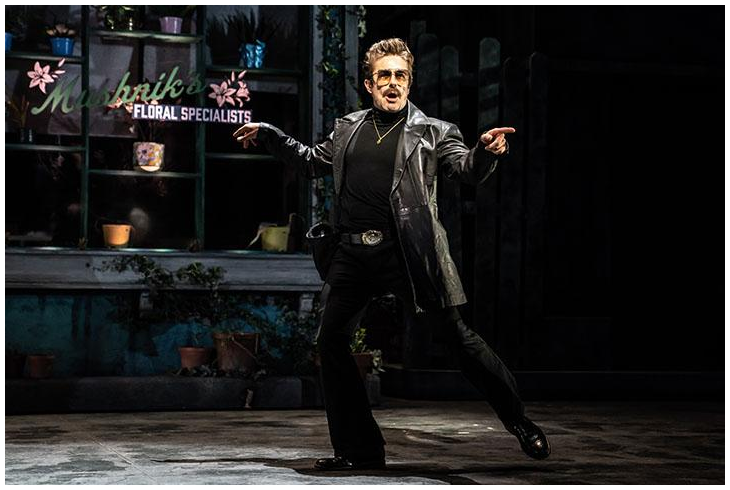 One day, Seymour shows Mr. Mushnik and Audrey an unusual plant he acquired during a total eclipse of the sun, which he's named the Audrey II.  When he accidentally drips a drop of blood on a wilting Audrey II, the plant perks up.  Soon Seymour realizes he's created a monster as Audrey's demands escalate.  On the other hand, the plant does scarf up a lot of human garbage!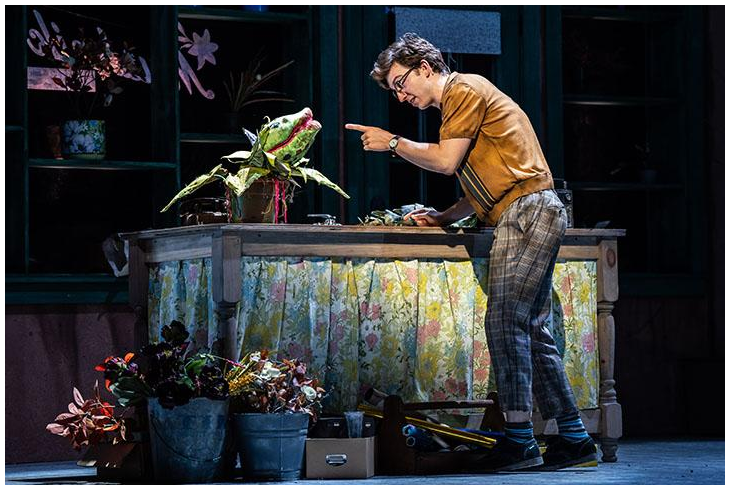 I always marvel when I watch the different stages of Audrey II.  It's easier to figure out how they make the huge Audrey II move, but how so they make that tiny plant in a pot droop on cue?  It's the same stage magic that lets Mary Poppins pull a hat stand out of her carpet bag!  By the way, Je'Shaun Jackson was the creepy but melodious voice of Audrey II, Adam Fane is the puppeteer.  All 'man-eating' plants used in this production were designed and created by Skylight Music Theatre with support fro Rockwell Automation.   
Also appearing were: Winos (Darian Goulding and Jared David Michael Grant), Customer (August Forman), Mr. Bernstein (Sean Patrick Fawcett), Mrs. Luce (Ann Delaney), Skip Snip (Darian Goulding) and Patrick Martin (August Forman).  Additional ensemble members: Brandon Acosta, Lexie Bailey, Jeff Pierpoint and Shelbi Voss.
By special arrangement, A Voice Not Unlike God was recorded by Hollis Resnik.  
Little Shop of Horrors runs through October 15th at the Paramount Theatre, 23 East Galena Blvd, Aurora.  Valet parking is available, plenty of street parking too.  Running time is just about 2 hours with an intermission. 
Performances are Wednesdays at 1:30 and 7:00 p.m.; Thursdays at 7:00 p.m.; Fridays at 8:00 p.m.; Saturdays at 3:00 and 8:00 p.m.; Sundays at 1:00 and 5:30 p.m.  Tickets range from $28-$79.  FYI (630) 896-6666 or www.paramountaurora.com