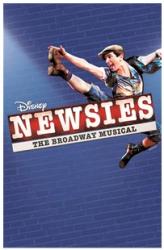 I'm always curious to see how a theater company can make "Newsies" uniquely their own.  Where the Broadway/touring production used scaffolding to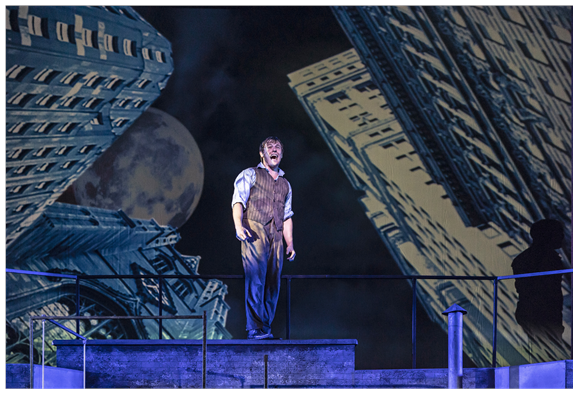 represent the tenements, fire escapes and rooftops of New York, Paramount Scenic Designer William Boles takes us right to 'newsies' square in turn-of-the-century New York.
Up on the roof of a tenement (a small scaffolding), Crutchie (Michael Kurowski) is afraid the bosses won't let him sell papers because of his bad leg so he figures he'll be first in line.  Crutchie can't imagine another life, but his best friend, Jack Kelly (Alex Prakken) shares his dream of moving to Santa Fe, promising to take Crutchie along.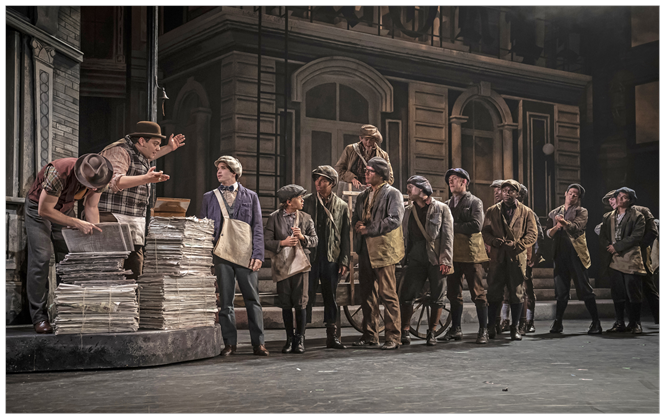 When the newsies gather to get their papers, two newcomers, Davey (Koray Tarhan) and his little brother, Les (Nathaniel Buescher/Daniel Font-Wilets), get in line.  Davey doesn't know the drill, so he tries to get his papers on credit.  When Wiesel (Vasily Deris) shoots that down, he asks if the "World" will buy back any he papers can't sell.  With the bosses sneering at his naiveté, Jack decides to take Les and Davy under his wing.   
Meanwhile, Joseph Pulitzer (Bret Tuomi) is upset because circulation is down, so he decides to raise the price the newsboys pay from $.50 per hundred to $.60.  He figures that will force the newsies to sell more papers to make same amount of money, thus raising his circulation – and his profits. 
When the newsies find out about the new prices, they vehemently object.  When they find out that all the papers have followed Pulitzer's example, they walk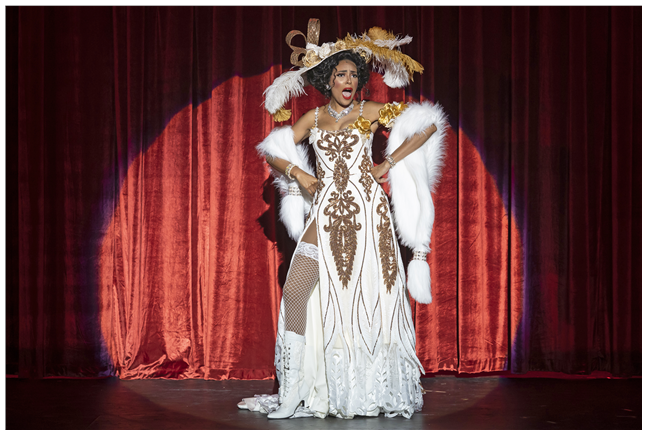 away, refusing to sell any papers that day. 
The next morning at the gate, when nothing has changed, the newsies declare a strike.  Outside the gate, the Delancey brothers (Kevin Corbett & Ken Singleton) get rough.  Everyone gets away except for Crutchie, who is taken to the Refuge, an orphanage run by the greedy – and downright evil – Warden Snyder (Michael Ehlers).  Jack's friend, Medda Larkin (Jerica Exum), a famous nightclub owner and singer, offers him a safe place when he needs it.  In return, he paints scenery for her – and refuses to take payment.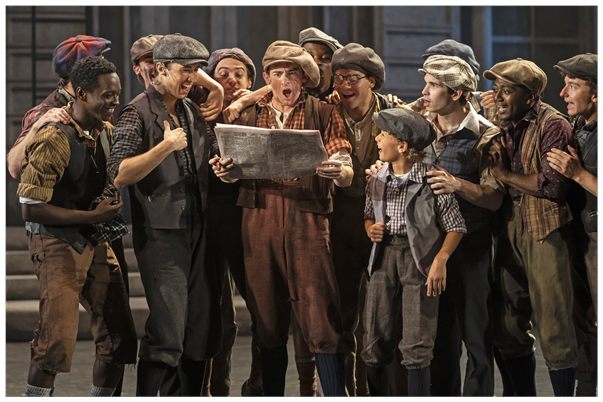 As they're trying to get organized – and get the newsies from Brooklyn and the other boroughs to join them – a girl reporter, who says her name is Katherine Plumber (Justine Cameron), turns up and promises to get them on the front page. 
After Katherine gets them on the front page, Pulitzer is enraged.  When Jack turns up in his office representing the striking newsies, he's threatened with jail.  Then Pulitzer has him locked in the World's cellar where he finds an old printing press which will come in handy later. 
Although Jack went back to work (exactly what Pulitzer forced him to do), the Delanceys still attacked Davey and Les.  Jack stepped in to help them, joined by the newsies from Brooklyn and the other boroughs.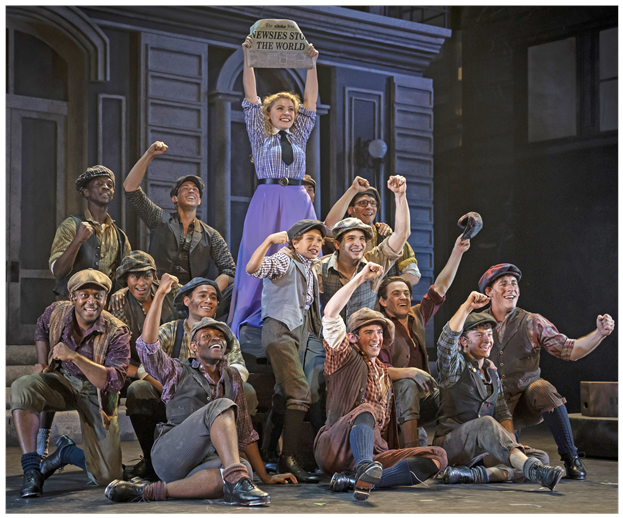 The newsies decide to put out their own paper, so they use Pulitzer's own press against him.  By the way, Katherine – who turns out to be Pulitzer's daughter -  doesn't just help the newsies, she brings the sons of the competition too!  
I was blown away by "Seize the Day" and "King of New York".  "Seize the Day", is the true beginning of the strike.  During a riot sequence, the newsies throw the papers in the air, then dance on them when they fall to the floor.  Incredible!  
The second act opener, "King of New York", is a huge tap dance number which takes place inside a deli.  By the way, Katherine is right in the middle of the newsies.  Everything they do, she does, while wearing a long skirt and petticoats!  
The newsies (ensemble) include: Tom Avery, Katherine Lee Bourné, Joe Capstick, Grant Carriker, Ann Delaney, Jordan De Leon, Evan C. Dolan, Ryan Dooley, Neil lee Friedman, John Gurdian, Luke Halpern, Christopher John Kelley, Ivory Leonard IV, Jarais Musgrove, Nich O'Neill, Jessica Palkovic, Drew Porrett, Haley Jan Schafer, Jonny Stein and Travis Austin Wright.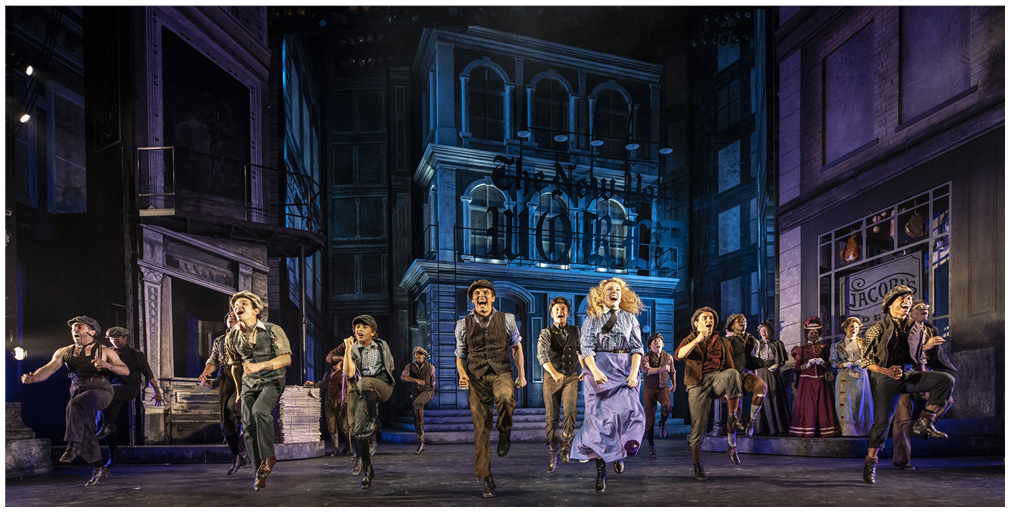 "Newsies" runs through October 20th at the Paramount Theatre, 23 E. Galena Blvd, Aurora. Valet parking is available, $10-$20.  Park for a small fee in the municipal garage, at the corner of Stolp Ave. & Downer Pl.  Free street parking is also available. 
Running time is 2 hours, 30 minutes, with an intermission.  Performances are Wednesdays at 1:30 and 7:00 pm; Thursdays at 7:00 pm; Fridays at 8:00 pm; Saturdays at 3:00 and 8:00 pm; and Sundays at 1:00 and 5:30 pm.  ASL performance: Friday, October 18th at 8:00 pm; for $30 tickets, use code ASLPARAMOUNT.  Regular tickets range from $36-$74.  FYI (630) 896-6666 or www.paramountaurora.com.