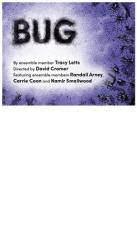 Buckle up. Rehearsals have begun for Steppenwolf Theatre Company's production of Bug, the skin-crawling, mind-bending cult classic by Pulitzer Prize and Tony Award-winning ensemble member Tracy Letts, directed by Tony Award winner David Cromer. The cast of this highly anticipated Steppenwolf debut features ensemble members Randall Arney (Dr. Sweet), Carrie Coon (Agnes White) and Namir Smallwood (Peter Evans) along with Chicago favorites Jennifer Engstrom (R.C.) and Steve Key (Jerry Goss). 
In a seedy Oklahoma motel room, a lonely waitress begins an unexpected love affair with a young drifter. And then they see the first bugs...Tracy Letts's mind-bending cult classic — a luridly funny tale of love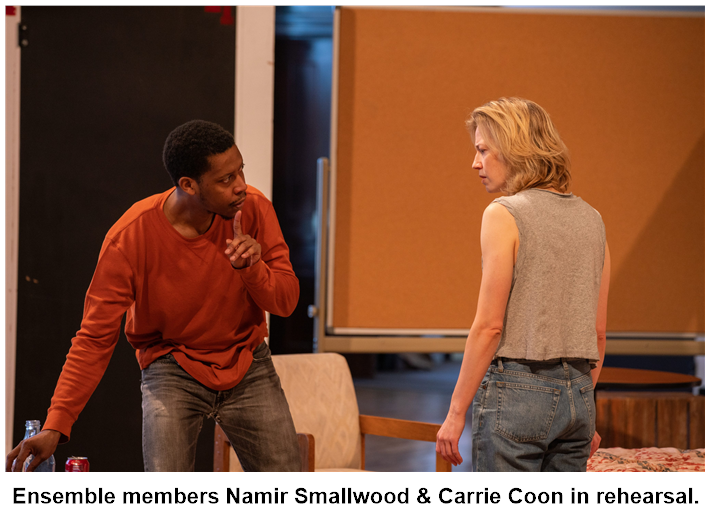 , paranoia, and government conspiracy — roars back to Chicago for its Steppenwolf debut.
Bug begins previews January 23, 2020 (opening night Monday, February 3 at 7:00pm; press performance Wednesday, February 5 at 7:30pm) and runs through March 8, 2020 in the Downstairs Theatre (1650 N. Halsted St). Single tickets ($20 - $122) are available through Audience Services at 312-335-1650 or steppenwolf.org.
Tracy Letts shares, "Bug explores folie à deux, a psychological term that means the madness of two—it's when one person literally catches another person's psychosis, which also seemed to me kind of like love…It's a love story. Bug has primarily been done in really small spaces, normally in theaters of 100 seats or fewer, so to see it in our theater with the caliber of our actors and David Cromer directing…I can't wait."
Cast bios
Randall Arney (Dr. Sweet) has been a member of the Steppenwolf ensemble since 1984 and was the Artistic Director from 1987 to 1995. He was last on the Steppenwolf stage in The Seafarer in 2009. He directed last season's acclaimed revival of True West and the 2013 production of Slowgirl, among others. Broadway transfers under his leadership as Steppenwolf Artistic Director included The Rise and Fall of Little Voice, The Song of Jacob Zulu (six Tony Award nominations) and The Grapes of Wrath (1990 Tony Award, Best Play). Arney recently served as the artistic director of the Geffen Playhouse in Los Angeles (1999 - 2017). He has an M.F.A. degree in Acting from Illinois State University.
Carrie Coon (Agnes White) joined the Steppenwolf ensemble in 2019, and was last seen at Steppenwolf in the world premiere of Tracy Letts's Mary Page Marlowe. Other Steppenwolf credits include Tracy Letts's adaptation of Three Sisters, The March and Edward Albee's Who's Afraid of Virginia Woolf? as "Honey," a role that led to a Tony nomination and a Theatre World Award. She won a Critics' Choice Television Award for her performance in HBO's The Leftovers and a TCA Award for Individual Achievement in Drama for her performances in HBO's The Leftovers and FX's Fargo. For her performance in Amy Herzog's world premiere Mary Jane, she garnered a 2018 Lucille Lortel Award, an Obie Award and a Drama Desk Award nomination. Current film projects include The Nest with Jude Law and Ghostbusters (Summer 2020).
Namir Smallwood (Peter Evans) joined the Steppenwolf ensemble in March 2017, where he has been seen in True West, Aziza Barnes' BLKS, Steppenwolf for Young Adults' Monster, Christina Anderson's Man In Love and The Hot L Baltimore. Other Chicago credits include The Lost Boys of Sudan (Victory Gardens Theater); the world premiere of Philip Dawkins' Charm (Northlight Theatre); The Grapes of Wrath (Gift Theatre) and East Texas Hot Links (Writers' Theatre). Regional credits include Marin Theatre Company, Pillsbury House Theatre, Ten Thousand Things and Guthrie Theater. New York credits include Lincoln Center Theater's productions of Pipeline by Dominique Morisseau and Pass Over by Antoinette Nwandu. Television credits include Chicago Fire and Betrayal.
Jennifer Engstrom (R.C.) was recently on stage at Steppenwolf in Lindiwe. Additional Chicago credits include One Flew Over the Cuckoo's Nest, The North Plan, Small Mouth Sounds, Simpatico, The Mutilated, Fatboy, 3C (A Red Orchid); Sweet Bird of Youth (Goodman); A Streetcar Named Desire, Death of a Streetcar Named Virginia Woolf (Writer's); Sky Girls (Northlight); and Hot L Baltimore (Mary-Arrchie). Regional credits include Simpatico (McCarter Theatre); Angels in America (Kansas City Rep); and A Streetcar Named Desire (Williamstown Theatre Fest). In New York, she curated and performed in Excuse My Dust, a Dorothy Parker Portfolio. Film and TV credits include SLICE, Swing Shift and Chicago Fire.
Steve Key (Jerry Goss) was in the National Tour of Steppenwolf's August: Osage County, and in previous Steppenwolf productions of One Arm, The Libertine, As I Lay Dying. His Broadway credits include SWEAT and Off Broadway The Effect (Barrow Street Theatre) and Blue Surge (The Public Theatre). Additional Chicago credits include Feathers & Teeth, Vigils, Zoo Story and Blue Surge (Goodman); Grace, Better Late (Northlight Theatre); Rest, Circle Mirror Transformation (Victory Gardens); Brothers Karamazov (Lookingglass); The Unseen (A Red Orchid), among others. TV credits include Boss, Chicago Fire, Elementary, Chicago Code, Mob Doctor and on film, Public Enemies, 1,000 Acres, Blackmail.
Playwright and Director Bios
Tracy Letts is a multifaceted award-winning actor and playwright. He is the author of The Minutes (Pulitzer finalist), Linda Vista, Mary Page Marlowe, The Scavenger's Daughter, Superior Donuts, August: Osage County (Pulitzer Prize, Tony Award for Best Play), Man from Nebraska (Pulitzer finalist), Bug, and Killer Joe. He also wrote the screenplays for the films The Woman in the Window, August: Osage County, Bug, and Killer Joe. He won the 2013 Tony Award for Best Leading Actor in a Play for his performance as George in the Tony Award-winning revival of Edward Albee's Who's Afraid of Virginia Woolf?, which premiered at Chicago's Steppenwolf Theatre. He joined the Steppenwolf ensemble in 2002, where he has appeared in American Buffalo, Betrayal, The Pillowman, The Pain and the Itch, The Dresser, Homebody/Kabul, The Dazzle, Glengarry Glen Ross, Three Days of Rain, many others. Other productions include The Realistic Joneses (Broadway) and Orson's Shadow (Barrow Street Theatre, NY). Film appearances include Little Women, Ford v Ferrari, The Post, Lady Bird, The Lovers, Indignation, Christine, The Big Short, Imperium, Wiener-Dog, Guinevere. Steppenwolf production of his Letts's play Linda Vista recently completed a successful run at Broadway's Hayes Theater and was a New York Times Critic's Pick. Steppenwolf's production of Letts's play The Minutes begins performances on Broadway at the Cort Theatre on February 25, 2020 with Letts in the cast.
David Cromer is a director and actor originally from Chicago, currently based in New York. As a director, his New York credits include The Sound Inside, which is currently running on Broadway; The Band's Visit (2018 Tony Award for Best Direction of a Musical, Ethel Barrymore Theatre); the Broadway revivals of Brighton Beach Memoirs and The House of Blue Leaves; The Treasurer (Playwrights Horizons); Man from Nebraska (Second Stage Theatre); The Effect, Orson's Shadow and Tribes (Barrow Street Theatre); Women or Nothing (Atlantic Theater Company); Really Really (MCC Theater); When the Rain Stops Falling and Nikolai and the Others (Lincoln Center Theater); and Adding Machine (Minetta Lane Theatre). Other directing credits include Next to Normal (Writers Theatre); Come Back, Little Sheba (Huntington Theatre Company); The Sound Inside (Williamstown Theatre Festival); and Our Town in London, Chicago, Los Angeles, Boston and Kansas City. As an actor, he recently appeared on Broadway as Howard Fine in the 2018 production of The Waverly Gallery. Prior to that, he appeared on Broadway as Karl Lindner in the 2014 revival of A Raisin in the Sun, and Off-Broadway as the Stage Manager in Our Town, which he also directed, at the Barrow Street Theatre. He appeared in the HBO series "The Newsroom," the Showtime series "Billions," and in the motion picture The Meyerowitz Stories (New and Selected). Cromer has received a Tony Award, Drama Desk Award, three Obie Awards, three Lucille Lortel Awards, a Joe A. Callaway Award, four Jeff Awards, and in 2010 was made a MacArthur Foundation Fellow.
The Bug creative team includes Takeshi Kata (Scenic Design); Sarah Laux (Costume Design); Heather Gilbert (Lighting Design); Josh Schmidt (Sound Design); Matt Hawkins (Fight Choreographer); Tonia Sina (Intimacy Choreographer); Sydney Charles (Dramaturg); Gigi Buffington (Company Voice, Text & Dialect Coach); Hallie Gordon (Artistic Producer); Tom Pearl (Director of Production); JC Clementz, CSA (Casting Director); Christine D. Freeburg (Production Stage Manager); and Jaclynn Joslin (Assistant Stage Manager). For full cast & creative team bios, visit steppenwolf.org/bug.