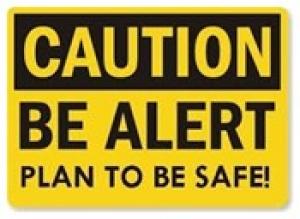 • Be alert to your surroundings and the people around you—especially if you are alone or it is dark outside. Walk confidently and at a steady pace.
• Whenever possible, you should walk, jog, bike, or shop with a friend.
• Park in well-lit areas when shopping. If you do not feel safe walking out to your vehicle, notify a manager to ask an employee to watch you walk out to your vehicle or you can also call our police department to request an escort, depending on our availability.
• Be ready to defend yourself if necessary. If you carry pepper spray, have it out, unlocked, and ready to use. You will not have time to take it out of your pocket or purse if you are confronted by someone.
• If you see someone suspicious standing in your path, go another route. If the person begins to move to intercept you, walk the other way and call 911.
• If you feel that you are being followed while driving, get to a well-populated area if possible or call 911.
• If you work alone or with only a few employees, encourage family members to call and check on you at work when possible. Notify police or management if you are feeling unsafe while at work.