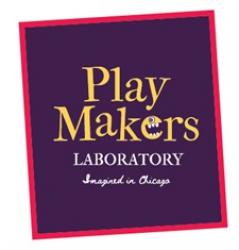 PlayMakers Laboratory is pleased to announce the March 2021 line-up for its popular online revue That's Weird, Grandma: House Par-Tay, celebrating Women's History Month, St. Patrick's Day and Easter, plus a special Poetry Slam edition. The creative series of stories written by elementary school students, adapted and performed by PML's professional actors streams Mondays at 8 pm CST from March 1 – 29, 2021 via Patreon. Tickets ($2 - $4 subscriptions) are currently available at playmakerslab.org.
Now in its 20th year, That's Weird, Grandma features adaptations of stories written during PlayMakers Laboratory's creative writing residencies in Chicago elementary schools. PML's ensemble of professional actors, comedians and musicians bring the young authors' stories to life as raucous sketches, songs and movement pieces, performing first for students in their schools and then for the public. These stories – from hilarious dialogues between unlikely characters to poignant pleas for social change – resonate with adults while celebrating the imaginations of young people. 
That's Weird, Grandma: House Par-Tay Performance Schedule:
Monday, March 1 at 8 pm CST
That's Weird, Grandma: House Par-Tay: Women's History Month Pt. 1
Directed by Cedar Larson
Monday, March 8 at 8 pm CST
That's Weird, Grandma: House Par-Tay: Poetry Slam!
Directed by Artistic Director Brandon Cloyd
Monday, March 15 at 8 pm CST
That's Weird, Grandma: House Par-Tay: Happy St. Patrick's Day!
Directed by Artistic Director Brandon Cloyd
Monday, March 22 at 8 pm CST
That's Weird, Grandma: House Par-Tay: Women's History Month Pt. 2
Directed by Kaylyn Carter
Monday, March 29 at 8 pm CST
That's Weird, Grandma: House Par-Tay: Happy Easter!
Directed by Artistic Director Brandon Cloyd
That's Weird, Grandma: House Par-Tay includes stories from PML's "Submit Your Story Challenge," which encourages students from across the nation to submit stories from home during the COVID-19 pandemic. For more information, visit playmakerslab.org/education.
About the Directors
Kaylyn Carter is an actor and teaching artist based in Chicago, IL, and Asheville, NC. She received her BA in Theatre from the School of Theatre at Florida State University. In addition to Playmakers Laboratory Theatre, Kaylyn has been a teaching artist with Northlight Theatre. As a performer, Kaylyn is a company member with Playmakers Laboratory Theatre and a frequent collaborator with Hot Kitchen Collective. Her work has been seen on the stages of Steppenwolf, The Hideout, Rhino Fest, Salonathon and High Concept Labs.
Brandon Cloyd joined PlayMakers Laboratory in 2007 and has been deeply involved in many facets of the company ever since. Prior to joining PML, Brandon graduated from Northwestern University with a Bachelor of Arts in Theatre and a minor in Business Institutions. Within PML, Brandon has served as an actor, teaching artist, lead teacher, a member of Teacher Corps, as well as directing shows for schools and public performances of That's Weird, Grandma. Before becoming the company's Artistic Director in September 2017, Brandon served as PML After-School Program Coordinator at Loyola Park from 2014-2016 and Program Director from 2016-2017. Outside of PML, he worked as the Associate Director of Camp Echo, where he has spent 13 summers managing campers and staff at a co-ed sleep away camp in Upstate New York. Brandon has worked with other theatre companies including Urban Theatre Company, American Theater Company, Filament Theatre, InGen Productions, ACLE's Teatrino in Italy and Purple Crayon Players at Northwestern University. Brandon recently joined the Board of Directors for the League of Chicago Theatres.
Cedar Larson is the Producer and Company Manager for Playmakers Laboratory and has been a Company Member since 2016. She is an alumni of North Park University and is an Ensemble Member with The New Colony and a technician with The Neo-Futurists. She has worked all around Chicago in various positions with companies such as Shattered Globe, Governors State University, North Park University, WildClaw Theatre, The House Theatre, TimeLine Theatre, Adventure Stage Chicago and Filament Theatre.
About PlayMakers Laboratory
Since PlayMakers Laboratory's inception in 1997 as Barrel of Monkeys, its teaching artists have served more than 60 Chicago Public Schools. Over 15,000 elementary school students have participated in the PlayMakers programs, which aim to build students' writing skills, improve self-esteem, and instill confidence in their ideas and abilities.
PlayMakers Laboratory is sponsored in part by Wintrust Financial, Allscripts, Inc., Ernst and Young and Punchkick Interactive. It receives generous support from the Illinois Arts Council Agency; the National Endowment for the Arts; a CityArts Grant from the City of Chicago Department of Cultural Affairs and Special Events; the Chicago Community Trust; Crown Family Philanthropies; Alphawood Foundation of Chicago; the Maurice R. and Meta G. Gross Foundation; Polk Bros Foundation; the Richard H. Driehaus Foundation; the Robert and Isabelle Bass Foundation, Inc.; The Saints; The Topfer Family Foundation, and many other generous individuals and foundations.