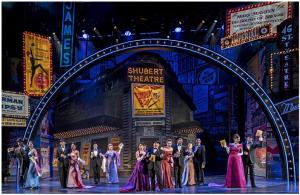 Down-on-his-luck Max Bialystock (Blake Hammond) can't get a break.  At one time the hottest producer on Broadway, his string of flops has made him a laughingstock.  He's dead broke and reduced to begging for small checks from little old ladies.  When a neurotic accountant, Leo Bloom (Jake Morrissy), muses that a producer could get make a lot more money by producing a flop than a success, Max comes up with a brilliant get-rich-quick scheme – find the worst play ever written, hire Broadway's worst director, produce a spectacular flop and scarper with the proceeds.   
After reading a gajillion scripts, Bialystock and Bloom find the worst play ever written, "Springtime for Hitler", written by one of the Fuhrer's faithful, Franz Liebkind (Ron E. Rains), fits the bill.  Max and Leo find Franz, wearing his lederhosen, his helmet and his swastika armband, tending his pigeons.  Franz demands Max and Leo show loyalty to the Fuhrer by singing the Fuehrer's favorite song, "Der Guten Tag Hop Clop" with him before he'll sign a contract.
The worst play ever written secured, the partners are ready to hire the worst director in New York.  At his residence, his live-in butler/assistant, the flamboyant Carmen Ghia (Adam Fane), admit them.  When he says "… walk this way", strutting across the stage, Max and Leo try to imitate his gait.  Roger DeBris (Sean Blake) is wearing a sparkly dress – which makes him look like the Chrysler Building – his costume for a ball.  He's not interested in directing but Max appeals to his ego so he ultimately agrees. 
When a gorgeous blond girl from Sweden, who says her name is Ulla Inga Hansen Benson Yonsen Tallen-Hallen Svaden-Svanson (Elyse Collier) wanders into the office for a casting call, she not only gets a part, she's hired as a secretary/receptionist. You just have to hear Ulla say "Tidy up the office" to believe it! 
Once he had the play and the director are signed, Bialystock goes off to 'Little Old Lady Land' to raise money.  Ulla explains to Leo that he's going to schtup most of the 'little old ladies' in town.  Singing "Along Came Bialy", Hold-Me, Touch-Me (Sara Reinecke), Lick-Me, Bite-Me (Jenna Coker-Jones), Kiss-Me, Feel-Me (Haley Jane Schafer) and the rest of the little old ladies do a 'synchronized swim' in front of the stage while the gorgeous pool boys dance on pool deck.    
As the show is about to open, Leo, who doesn't know any better, says "Good Luck" to Max, Roger and Carmen who freeze in horror!  Max's explanation of the old theater superstition leads into a fun song, "It's Bad Luck to Say Good Luck on Op'ning Night".  Of course, when Leo tells Franz to break a leg, he does, which means Roger steps into the part and gets to sing "Springtime for Hitler".   
"The Producers" runs through March 17th at the Paramount Theatre, 23 E. Galena Blvd., Aurora.  Although valet parking is available, there is plenty of free street/lot parking also.  Running time is about 2 hours, 45 minutes, with an intermission.  Performances are Wednesdays at 1:30 and 7:00 pm; Thursdays at 7:00 pm; Fridays at 8:00 pm; Saturdays at 3:00 and 8:00 pm; and Sundays at 1:00 and 5:30 pm.  Tickets range from $36-$69.  FYI (630) 896-6666 or www.paramountaurora.com.