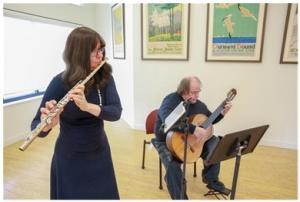 Debra Silvert, a critically acclaimed flutist, is one-half of Duo Sequenza, a flute and classical guitar chamber ensemble.  The other half, Paul Bowman, is a world renowned classical guitarist.  Together, they love to play contemporary pieces with tie-ins to popular music, including Latin, Rock, Folk & Tango references.   
From 1988 to 1993, Duo Sequenza was a highly successful ensemble, then life happened.  Bowman, a Chesterton native, married and moved away; meanwhile Silvert spent the next 21 years home-schooling her four children.  In 2014, when her youngest was eighteen, Silvert was ready to play again.  She and Bowman reunited for their first concert in 2015.
Silvert returned to a different classical music scene, however.  Audiences for chamber music have dwindled while booking associations have disappeared.  Bowman, now living in Ashville, North Carolina, has found a niche playing gigs of what he calls background music in upscale restaurants or at weddings and other events.  He said "These days making a living playing classical music has become a gig economy." 
Silvert is positive there's an audience for contemporary classical music, her goal is to identify them.  Her idea – take the music to potential listeners, connecting with them at non-traditional venues – became Project Listen Up.  Her plan was to look for places where people might hang out - coffeehouses, microbreweries and/or wineries, beauty salons, shops, libraries, corporate or factory lunchrooms, or even South Shore stations.     
After creating Chamber Music, Inc., a 501 (c) 3 not-for-profit corporation, for Duo Sequenza, Silvert applied for and received a grant from the Indiana Arts Commission to fund Project Listen Up.  The grant will allow Duo Sequenza to embark on a mini-tour, playing at fifteen different venues across three counties during the month of March.
Silvert said that she is devoted to the work of certain contemporary composers whose music can only be done by flute and guitar.  She says she hopes audiences will experience idea synesthesia while listening, letting the senses inform each other.  For example, she said "I can make my flute sound dark and chocolatey or velvety." 
The music selections for Project Listen Up will be specifically tailored to the venue including titles such as:
"Bach's Lunch Hour" at NIPCSO's corporate dining room
"Inner Space" at Marc t. Nielsen Interiors Antique Shop
"Signs of the Times" at Simko Signs
"Five Senses Tasting" LambStone Cellars Winery
The mini-concerts may be preceded by a discussion of the music and what to listen for.  music – particularly context and relevance; or followed by engagement questions such as:
What do you think?
What did you hear?
How many people do you think agree/disagree with you?
Later this year Duo Sequenza will present two free-to-the-public Audience Interactive Concert Experiences featuring the "South Shore Suite" by Indiana composer Jorge Muñiz at the Gene Stratton-Porter and Limberlost State Historical Sites.  "South Shore Suite" is a 26-minute musical epilog to the sights along the South Shore Railroad including South Bend, Princess Mishawaka, Mount Baldy, Lake Michigan, Diana of the Dunes, and Dillinger's run. 
The interactive experience is way more than just a formal dialogue.  Duo Sequenza will
Play outtakes from the music, then have audiences doing activities with Duo Sequenza in relation to the music
Audiences participate so they "experience music from the inside out"
Audiences listened to music & identified what stood out as musical moment & composer's intent – tied together so audience can understand why composer wrote this way
Program concludes with Duo Sequenza playing the entire piece. 
The Audience Interactive Concert Experiences are funded through an Arts in the Parks and Historic Sites grant through the Indiana Department of Natural Resources.  Grant funding will be used toward artist stipends, venue rental, event promotion and publicity, transportation, and park entrance fees.
If wishes were dreams, Silvert says, she'd like to have a South Shore Sequenza Day in multiple South Shore stations (five interactive events, ideally in every other station between Michigan City and Randolph Street).  The event, entitled "Train your ears for a journey beyond the ordinary", would include a 15-minute piece from the South Shore Suite which is imitative of the trains. 
Duo Sequenza will be releasing their new album, "Yes…It's a Thing!" April 26th.  The centerpiece of the album is "South Shore Suite" by Jorge Muñiz.  Project Listen Up will conclude April 7th with an Album Pre-release event at Barnes & Noble in Valparaiso.  Since chamber music is on the upswing in Latin America, Duo Sequenza has a Latin album is in the works which will feature an 18-minute piece of gorgeous Latin music, "Sonatina Eceratorial", by Marcelo Beltran.