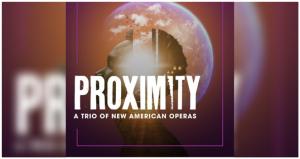 ****HIGHLY RECOMMENDED****   If you are hesitant to explore contemporary operas because you fear that the music will be too atonal or discordant, then you need to hear the soaring and oft-times ethereal score of "Proximity." If you shy away from modern operatic productions because you feel that they have nothing of any importance to state or that they are out-of-touch with reality and are completely irrelevant, then you need to let the profound importance of "Proximity" wash over you. And if all of that isn't enough to engage you, the visually stunning stagecraft of "Proximity" alone is well worth the price of admission to this bold, daring and highly inventive new work.  4 BIG SPOTLIGHTS
For the second time in as many months, Lyric Opera of Chicago is presenting a world premiere ("The Factotum" opened in early February). Like that previous opera, "Proximity," which is a trio of new American operas, shares some similarities in the case of locale -- both are set in the city of Chicago in the 21st century -- and feature voices that have been underrepresented in the world of opera for far too long. Enough praise cannot be bestowed upon the entire artistic and administrative staffs at Lyric for taking the risk to commission and guide these two new operas to its stage. Not many opera companies can boast having one, and certainly not two, world premieres within the same season. The eyes of the opera world are clearly set on Chicago currently, and we should all be proud of and grateful for these two works that Lyric has gifted to each and every one of us.
Director Yuval Sharon, who is also the curator of "Proximity," has done a brilliant job of seamlessly interweaving all three of the operas into one cohesive and stylishly impactful work. Production designers Jason H. Thompson and Kaitlyn Pietras have created a massive, gleaming curved arch of a set which is comprised of over 400 LED screens upon which appear, at varying times, live video feed of the performers, computer-generated imagery and graphics as well as aerial photography. It all blends into a stunning and eye-popping spectacle the likes of which you have never seen in any opera house before. Beautifully complementing this is the masterful conductor Kazem Abdullah, who effortlessly leads the orchestra (which has added extra musicians to play a drum set, electric bass, piano/synthesizer, etc.) through the varied styles of the three individual composers.
As stated, "Proximity" is a trio of three operas. The section entitled "The Walkers" (music by Daniel Bernard Roumain, libretto by Anna Deavere Smith) is perhaps the most easily accessible, has a strong narrative and the most characters as well as being the one that has the most stage time. Smith, who has spent decades creating and performing her "documentary theater" pieces, interviewed countless Chicago residents. Many of these extensive interviews were facilitated by Chicago CRED (Create Real Economic Destiny) and detail the gang structure within Chicago as well as the effects and repercussions of gun violence. Their powerful stories are told in their own words.
"Four Portraits" (music by Caroline Shaw, libretto by Caroline Shaw and Jocelyn Clarke) is four different vignettes illustrating the relationship between a couple who are desperately searching for each other, and ultimately themselves, within a very modern, urban landscape. These two individuals, simply named "A" and "B" must learn to make technology work for them. Each segment is an honest exploration of loneliness and/or social isolation as well as a reminder of the endless need for human connection.
"Night" (music by John Luther Adams, libretto by John Haines) is the shortest of the three pieces. Based on a poem by the late Haines, it is sung by a Sibyl, or oracle, floating above the earth. What she has to say about our current state of the environment is not very encouraging.
_____________________________________________________
"Proximity" continues through April 8, 2023 at the Lyric Opera House, 20 N. Wacker Drive, Chicago. 
The remaining performances are as follows:
Wednesday, April 5 at 2:00 PM
Saturday, April 8 at 7:30 PM
Running time is approximately 2 hours and 10 minutes with one intermission