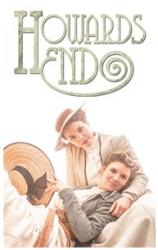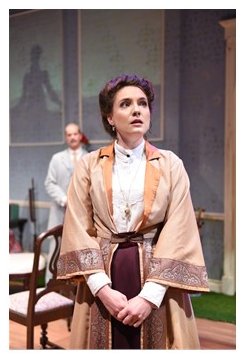 At the turn of the century, people lived their lives within the limits imposed by society; restricted by class, money and gender.  The very fact that they were independent – and of German descent – made the Schlegel sisters, Margaret (Eliza Stoughton) and Helen (Heather Chrisler), an anomaly in Victorian England. 
The sisters lived together without the benefit of an older female living-in as chaperone.  They were independently wealthy, managing their own affairs without the benefit of a male family member overseeing their affairs.  In other words, they were perfectly respectable ladies who were also 'blue stockings' – a derogatory term for educated women.  Their friends, the upper middleclass Wilcox family, derive their wealth from the dealings of shrewd businessman, Henry Wilcox (Mark Ulrich). 
Wearing mourning (unrelieved black clothing), the Wilcox family files into a drawing room for the reading of their wife/mother's will.  Henry reveals that his wife has left a handwritten note indicating that she wants her friend, Margaret Schlegel to have her house, Howard's End, although he knew nothing of it. 
None of them particularly love Howard's End, but they definitely don't want someone else to have it.  Charles Wilcox (Michael McKeogh) objects, stating that he was to get the house.  His wife, Dolly (Emily Tate), hints at skullduggery since Margaret has her own house.  Second son, Paul (Tommy Malouf) and daughter, Evie (Natalie Santoro) are not as upset, but then they're not in line to inherit anything.  They tacitly agree not to tell Margaret anything about Howard's End.
A few months later, the Wilcox family rents a flat in a building across the road from the Schlegel sisters.  On a visit, Evie complements them on their lovely home only to learn that they've been given notice of eviction – the building is to be torn down.  Margaret confesses that she's been looking everywhere for a new place but hasn't found anything that will suit them as well as their present home. 
When Henry proposes marriage to Margaret, she is surprised but pleased.  Her sister Helen, a true idealist, is appalled.  Margaret begs her sister to
understand that while she'd never thought she'd marry, this is her one chance at happiness.  When Henry tells his family, Charles and Dolly object to the marriage. 
Meanwhile, Helen has befriended a poor but respectable clerk, Leonard Bast (Terry Bell) and his wife, Jacky (Jodi Kingsley).  When he loses his job, she begs Henry to give him a job at the bank.  When Henry refuses, Helen gives Leonard the only thing she can, herself, an act that has consequences.  To say more would reveal too much of the story – and I know you'll want to see for yourself!
The Remy Bumppo production of Howard's End runs through October 5th at Theater Wit, 1229 W. Belmont Ave., Chicago.  Parking for Theater Wit is available in a lot directly across the street for $8.  Stop in Kubo Chicago (restaurant) to pay.   
Running time is 2 hours, 30 minutes, with an intermission.  Performances are Wednesdays through Saturdays at 7:30 pm; Sundays at 2:30 pm.  Additional performances: Saturday, September 21 at 2:30 pm, Thursday, September 26 at 2:30 pm, Thursday, October 3 at 2:30 pm, and Saturday, October 5 at 2:30 pm.  Tickets range from $37.75-$62.75.  FYI (773) 975-8150 or www.remybumppo.org.