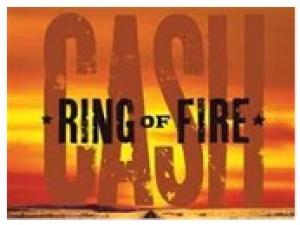 **** Recommended   Drury Lane's production of Ring of Fire: The Music of Johnny Cash is a fabulous musical experience but if you're looking for a story, this is not for you.  This production is all music, no dialog.  About the music, I must say, this is one of the most talented casts I've seen in a long time.  They're all strong musicians, they all play multiple instruments – and they all sing!  For that alone, Ring of Fire is well worth seeing.  4 Spotlights  
Ring of Fire is unique among jukebox musicals in that it cast two actors as Johnny Cash.  The older Johnny (Ron E. Rains), is also the only speaker in the show; the younger was called J.R. (Michael D. Potter) at home.  The cast also includes June (Aja Wiltshire), Viv (Elleon Dobias), Luther (Erik Hellman) and Marshall (Roy James Brown).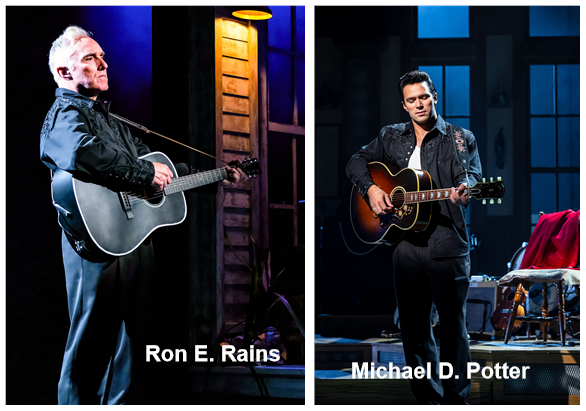 The Cash family, who acquired their land through a government homesteading grant, worked hard in their cotton fields.  A spring flood, which might have ruined them, turned out to be a boon, depositing rich black dirt on their fields.  Many of the gospel songs Cash recorded like Waiting on the Far-Side Banks of Jordan, were things he sang with his family as they worked in the fields.    A tragic accident took his brother's life devastating the family, but they were back at work the next day. 
The music selections in Ring of Fire roughly follow the life Cash lived – highs and lows.  The songs Johnny Cash wrote aren't just country, they have elements of rock and roll, blues, folk and gospel.  The talented cast does justice to the score, in solo and ensemble performances.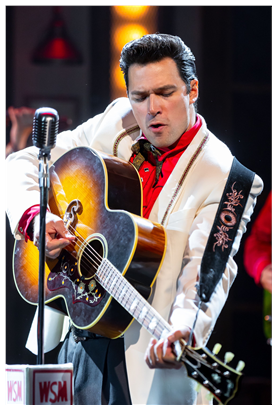 The song list includes Johnny Cash hits like Daddy Sang Bass, Folsom Prison Blues, Jackson, I Walk the Line, Orange Blossom Special, Man in Black, Five Feet High and Rising, Ring of Fire, Going to Memphis.  The cast has a lot of fun I've Been Everywhere.
By the way, I loved Angela Weber Miller's revolving set – on one side a railroad trestle in front of a country home with a large front porch; on the other a beautiful rustic room perfect for country music. 
Ring of Fire was created by Richard Maltby, Jr., conceived by William Meade with additional arrangements by David Abbinanti and orchestrations by Steven Bishop and Jeff Lisenby.  This production was adapted from the Broadway Production by Richard Maltby, Jr. and Jason Edwards.  The Drury Lane production was directed by Scott Weinstein with Music Direction by Chuck Mead. 
Ring of Fire: The Music of Johnny Cash runs through October 22nd at Drury Lane Theatre, 100 Drury Lane, Oakbrook Terrace.  Parking is free.  Running time is approximately one hour, 40 minutes, with an intermission.  Performances are Wednesdays at 1:30 pm; Thursdays at 1:30 & 8:00 pm; Fridays at 8:00 pm; Saturdays at 3:00 and 8:00 pm; Sundays at 2:00 & 6:00 pm.  Tickets range from $85-$95.  FYI (630) 530-0111 or www.drurylanetheatre.com.