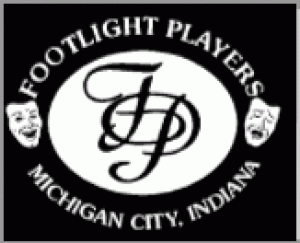 Footlight Players, Inc. is a community theater company located at 1705 Franklin Street in Michigan City, Indiana. The group has a history of 70 consecutive theatre seasons as well as assisting with community projects and events. The group has had two very successful youth theater workshops these past two summers and are planning to continue with that portion of our youth committee's work later this summer.. 
To qualify for this scholarship, the Footlight Players are on the look-out for individuals with a personal interest in theater and have graduated from High School or will do so by the end of this school term. The individual must have a home address in LaPorte County and are interested in continuing in any type of performing arts education.
A  committee of judges  will be the deciding factor in who will be the recipient of the $1,000.00 scholarship.  They will judge the content of the registration forms they receive by checking the information and the three references provided by the applicant. It is imperative that the application being submitted be complete and legible.
Registration forms are now available on the website (www.FootlightPlayers.org) and MUST BE RETURNED to the committee no later than midnight, on March 9th. The scholarship recipient will be notified no later than April 30th.
The individual receiving this scholarship will also receive 4 complimentary passes to view our Sunday, May 3rd matinee of STEEL MAGNOLIAS. This can be shared with family and friends. The scholarship will be awarded at the end of the evening.
There are 3 ways to obtain a registration form:
By telephone: Call the Theater hot-line at (219) 874-4035 and request a form to be sent in the mail to you. If you must leave a message be sure to speak clearly and provide a telephone number that a Footlight Representative will use to call you back. 
In Person: There will be registration forms available in our box-office when the theatre is open.  Theatrical Programs…etc.)  If you should need assistance simply ask any Footlight Representative.
Via the Internet: Simply go to our website at footlightplayers.org. Print the registration form, fill in all of the requested information, and send back to us. A Footlight Representative will confirm that it has been received by the telephone number provided in less than a week.
Hopefully the Board of Directors will, with the financial generosity of our theatre family, be financially able to make this an annual event.