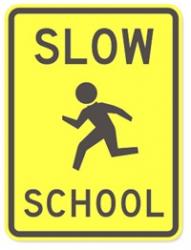  During arrival and dismissal periods, the speed limit in school zones is 20mph.  The Munster Police Department assigns regular school zone patrols in addition to our school resource officers who are often monitoring the areas.
 Be aware of and always yield to students who are crossing at crosswalks.  Be alert for students who are walking out from behind vehicles in parking lots or at crosswalks that run through car lines.
 Always cross at crosswalks in the school parking lots and never walk children in between vehicles.
 Always follow the drop-off and pick-up procedures that have been provided by your child's school and do not look for ways around them.  They are there for the safety of everyone.
 Stay off of your cell phone and avoid other distractions while you are in school zones or waiting to pick up or drop off your child.
 Report individuals immediately to the police department who are driving recklessly through school zones or in school parking lots.  If it is an ongoing situation, contact one of the school resource officers.